SCARS OF ACNE VULGARIS - REVIEW OF TREATMENTS
Natacha Allgayer

Biomédica Esteta/ Medical Aesthetician; Laboratório Toxigen, Universidade Luterana do Brasil, Brasil
Keywords:
Acne vulgaris, Cicatrix/therapy
Abstract
Acne vulgaris is a common disease in society, particularly affecting teenagers and young adults. Acne often results in secondary damage in the form of scarring that can generate negative psychological effects. Currently there are several treatments for the different types of scars leading to a complex therapeutic challenge. For these reasons the article seeks, through a literature review, describing one of the classifications for different types of scars from acne vulgaris with their best treatments. The research serves as an aid to qualified professionals for such cosmetic procedures, developing a plan of treatment for scars, facilitating the proper operation thereof.
Downloads
Download data is not yet available.
References
Sadove R. Injectable Poly-L-Lactic Acid: A novel sculpting agent for the treatment of dermal fat atrophy after severe acne. Aesth Plast Surg. 2009; 33:113-6.
Avram MR, Tsao S, Tannous Z, Avram MM. Atlas colorido de dermatologia estética. Rio de Janeiro: McGraw-Hill Interamericana do Brasil; 2008.
Fabbrocini G, Annunziata MC, D'Arco V, De Vita V, Lodi G, Mauriello MC, Pastore F, Monfrecola G. Acne scars: pathogenesis, classification and treatment. Dermatol Res Pract. 2010; 10:1-13.
Handog EB, Datuin MSL, Singzon IA. Chemical peels for acne and acne scars in Asians: evidence based review. J Cutan Aesthet Surg. 2012; 5(4):287-9.
O'Daniel TG. Multimodal management of atrophic acne scarring in the aging face. Aesth Plast Surg. 2011; 35:1143-50.
Rivera AE. Acne scarring: A review and current treatment modalities. J Am Acad Dermatol. 2008; 59(4): 659-76.
Taub AF, Garretson CB. Treatment of acne scars of skin types II to V by sublative fractional bipolar radiofrequency and bipolar radio frequency combined with diode laser. J Clin Aesthet Dermatol. 2011; 4(10):18-27.
Rendon MI, Berson DS, Cohen JL, Roberts WE, Starker I, Wang B. Evidence and considerations in the application of chemical peels in skin disorders and aesthetic resurfacing. Clin Aesthet Dermatol 2010; 7:32-43.
Kede MP, Sabatovich O. Dermatologia Estética. 2ed. São Paulo: Editora Atheneu; 2009.
Khunger, N. Standard guidelines of care for acne surgery. Indian J Dermatol Venereol Leprol. 2008; 74:28-36.
Fife D. Practical evaluation and management of atrophic acne scars tips for the general dermatologist. Clin Aesthet Dermatol. 2011; 8:50-7.
Doddaballapur S. Microneedling with dermaroller. J Cutan Aesthet Surg. 2010; 3(2):125-6.
Shah S, Alam M. Laser resurfacing pearls. Semin Plast Surg. 2012; 26(3):131-6.
Alster TS, Tanzi EL, Lazarus M. The use of fractional laser photothermolysis for the treatment of atrophic scars. Dermatol Surg. 2007; 33:295-9.
Alajlan AM, Alsuwaidan SN. Acne scars in ethnic skin treated with both non-ablative fractional 1,550 nm and ablative fractional CO2 lasers: comparative retrospective analysis with recommended guidelines. Lasers Surg Med. 2011; 43(8):787-971.
Goodman GJ. The use of botulinum toxin as primary or adjunctive treatment for post acne and traumatic scarring. J Cutan Aesthet Surg. 2010; 3(2):90-2.
Chandrashekar BS, Nandini AS. Acne scar subcision. J Cutan Aesthet Surg. 2010; 3(2):125-6.
Asilian A, Salimi E, Hosseini SM. Comparison of Q-Switched 1064-nm Nd: YAG laser and fractional CO2 laser efficacies on improvement of atrophic facial acne scar. J Res Med Sci. 2011; 16(9):1189-95.
Oh BH, Hwang YJ, Lee YW, Choe Y, Ahn KJ. Skin characteristics after fractional photothermolysis. 2011; 4:448-54.
Palmer A. Types of acne scars. 2008 [consultado em Dez 2013]. Disponível em: http://acne.about.com/od/livingwithacne/tp/acnescartypes.htm.
Esmat SM, Abdel HR, Abu ZO, Hosni HN. The efficacy of laser-assisted hair removal in the treatment of acne keloidalis nuchae; a pilot study. Eur J Dermatol. 2012; 22(5):645-50.
Jih MH, Kimyai AA. Laser treatment of acne vulgaris. Semin Plast Surg. 2007; 3:167-74.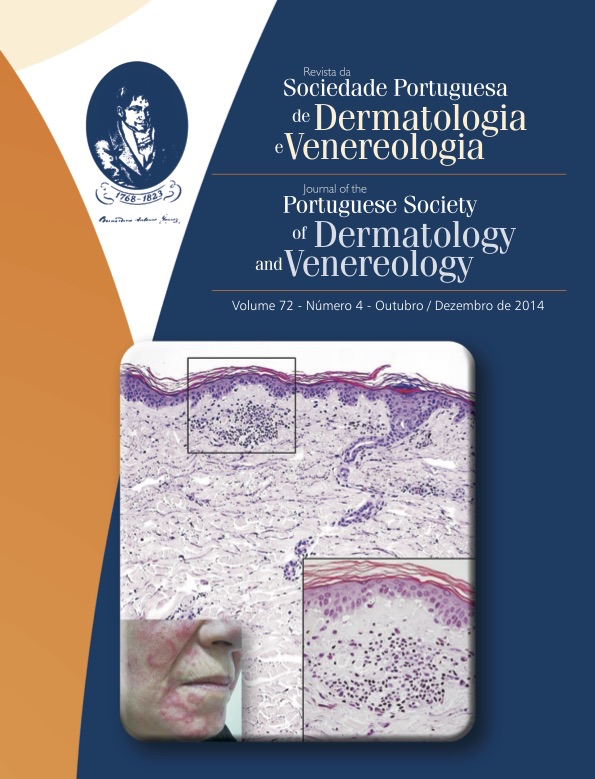 How to Cite
Allgayer, N. (1). SCARS OF ACNE VULGARIS - REVIEW OF TREATMENTS. Journal of the Portuguese Society of Dermatology and Venereology, 72(4), 505-510. https://doi.org/10.29021/spdv.72.4.319
All articles in this journal are Open Access under the Creative Commons Attribution-NonCommercial 4.0 International License (CC BY-NC 4.0).