CALCINOSIS CUTIS, RENAL INSUFFICIENCY AND LOWMOLECULAR- WEIGHT CALCIUM-CONTAINING HEPARINS
Pedro Mendes-Bastos

Interno de Dermatovenereologia/Resident, Dermatology and Venereology, Serviço de Dermatologia e Venereologia, Hospital de Curry Cabral, Centro Hospitalar de Lisboa Central, Lisboa, Portugal

Vasco Coelho-Macias

Assistente Hospitalar de Dermatovenereologia/Consultant of Dermatology and Venereology, Serviço de Dermatologia e Venereologia, Hospital de Curry Cabral, Centro Hospitalar de Lisboa Central, Lisboa, Portugal

Rodrigo Carvalho

Assistente Hospitalar de Dermatovenereologia/Consultant of Dermatology and Venereology, Serviço de Dermatologia e Venereologia, Hospital de Curry Cabral, Centro Hospitalar de Lisboa Central, Lisboa, Portugal

Adelaide Milheiro

Assistente Hospitalar Graduada de Anatomia Patológica/Consultant of Pathology, Serviço de Anatomia Patológica, Hospital de Curry Cabral, Centro Hospitalar de Lisboa Central, Lisboa, Portugal

Jorge Cardoso

Diretor de Serviço, Serviço de Dermatologia e Venereologia/Consultant Chief and Head of Dermatology and Venereology Department, Hospital de Curry Cabral, Centro Hospitalar de Lisboa Central, Lisboa, Portugal
Keywords:
Calcinosis, Nadroparin, Renal insufficiency, Skin diseases
Abstract
A 35-year old black woman was referred to a Dermatology appointment due to subcutaneous nodules located in the right paraumbilical region and right flank that had appeared 2 weeks before. Her medical history was relevant for renal insuficiency on hemodialysis and infection by the human immunodeficiency virus (HIV-1). On physical examination there were two well-defined subcutaneous nodules; upon palpation, these lesions had a hard consistency, were painful and not adherent to the deep planes. An incisional biopsy was performed and histopathological examination was consistent with the diagnostic hypothesis of calcinosis cutis. A careful review of all medication established a temporal relationship between the skin nodules and subcutaneous administration of nadroparin calcium in that location. The nodules resolved spontaneously within 2 months after stopping the nadroparin calcium subcutaneous injections. Calcinosis cutis due to subcutaneous administration of low-molecular-weight calcium-containing heparins is rare and it is assumed that an elevated calcium-phosphorus product may be decisive in its pathophysiology. It is generally self-limited, resolving spontaneously.
Downloads
Download data is not yet available.
References
Eich D, Scharffetter-Kochanek K, Weihrauch J, Krieg T, Hunzelmann N. Calcinosis of the cutis and subcutis: an unusual nonimmunologic adverse reaction to subcutaneous injections of low-molecular-weight calcium-containing heparins. J Am Acad Dermatol. 2004; 50(2):210-4.
Touart DM, Sau P. Cutaneous deposition diseases. Part II. J Am Acad Dermatol. 1998; 39:527-44.
Reiter N, El-Shabrawi L, Leinweber B, Berghold A, Aberer E. Calcinosis cutis Part I diagnostic pathway. J Am Acad Dermatol. 2011; 65:1-12.
Boccara O, Prost-Squarcioni, Battistella M, Brousse N, Rongioletti F, Fraitag S. Calcinosis Cutis: A rare reaction to subcutaneous injections of calcium-containing heparin in patients with renal failure. Am J Dermatopathol. 2010; 32:52-5.
Tumiati B, Azzarito C, lo Scocco G, Veneziani M, Bertani A. Medicina. 1988; 8(3):322-3.
Campanelli A, Kaya G, Masouyé I, Borradori L. Calcifying panniculitis following subcutaneous injections of nadroparin-calcium in a patient with osteomalacia. Br J Dermatol. 2005; 153(3):657-60.
Bonnecarrère L, Templier I, Carron PL, Maurizi J, Salameire D, Beani JC, et al. J Mal Vasc. 2009; 34(5):366-71.
van Haren FM, Ruiter DJ, Hilbrands LB. Nadroparin-induced Calcinosis cutis in renal transplant recipients. Nephron. 2001; 87(3):279-82.
Wanic-Kossowska M, Kozioł L, Roszkowiak B, Lacka M, Frankiewicz D, Mandel M. [Calcified subcutaneous nodules in patients with chronic renal failure as a result of injections with nadroparin (Fraxiparine)]. Pol Arch Med Wewn. 1998; 99(5):414-6.
Koch Nogueira PC, Giuliani C, Rey N, Saïd MH, Cochat P. Calcifying panniculitis in a child after renal transplantation. Nephrol Dial Transplant. 1997;12(1):216-8.
Taylor A, Parry G. Calcified subcutaneous nodule in a heart transplant recipient. Clin Exp Dermatol. 1996; 21(2):173-4.
Fox JG, Walli RK, Jaffray B, Simpson HK. Calcified subcutaneous nodules due to calcium heparin injections in a patient with chronic renal failure. Nephrol Dial Transplant. 1994; 9(2):187-8.
Nuno-Gonzalez A, Calzado-Villareal L, Gutierrez-Pascual M, Gamo-Villegas R, Sanz-Robles H, Sanchez-Gilo A, et al. An unusual effect of nadroparin injections: Calcinosis cutis. Dermatol Online J. 2011;17(11):4.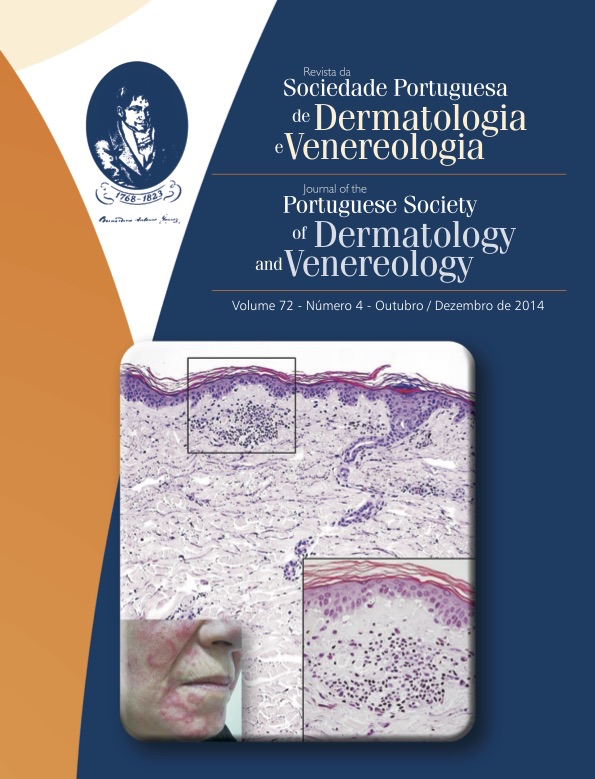 How to Cite
Mendes-Bastos, P., Coelho-Macias, V., Carvalho, R., Milheiro, A., & Cardoso, J. (1). CALCINOSIS CUTIS, RENAL INSUFFICIENCY AND LOWMOLECULAR- WEIGHT CALCIUM-CONTAINING HEPARINS. Journal of the Portuguese Society of Dermatology and Venereology, 72(4), 565-568. https://doi.org/10.29021/spdv.72.4.329
All articles in this journal are Open Access and meet the requirements of funding bodies or academic institutions. Each article published in the Journal is published under the Creative Commons Attribution-NonCommercial-NoDerivatives 4.0 International License (CC BY-NC-ND 4.0). Articles can be read, downloaded, printed, and shared.
Submission of an article for publication implies the authors' consent to publication under the applicable Creative Commons license and the terms and conditions of the Publisher's Licensing Agreement.
It is the author's responsibility to obtain permission to reproduce illustrations, tables, etc. from other publications.
Upon acceptance of an article, authors will be asked to complete a 'Journal Publishing Agreement'. An e-mail will be sent to the corresponding author confirming receipt of the manuscript together with a 'Journal Publishing Agreement' form or a link to the online version of this agreement.
Author rights: As an author you (or your employer or institution) have certain rights to reuse your work.
The Journal reserves the right to use plagiarism detection software on any submitted material.