JUVENILE SCLERODERMA
Chan I Lym

Sócio efetivo da Sociedade Brasileira de Dermatologia/Dermatologist certified by the Brazilian Society of Dermatology

Glaura Tinoco Plata

Sócio efetivo da Sociedade Brasileira de Dermatologia/Dermatologist certified by the Brazilian Society of Dermatology

Fernanda Silveira Costa

Graduada em Medicina/Medical Graduated, Universidade de Teresópolis, Brasil

Mariana de Campos Razé

Graduada em Medicina/Medical Graduated, Universidade Severino Sombra, Brasil

Michelle Cristine de Souza

Aluna do 6º ano de Medicina – FTESM/Medical Student of FTESM, Brasil

Rafael Figueiredo Gatti

Graduado em Medicina/Medical Graduated, Universidade de Ribeirão Preto, Brasil

Carlos Gustavo Carneiro de Castro

Sócio efetivo da Sociedade Brasileira de Dermatologia/Dermatologist certified by the Brazilian Society of Dermatology
Keywords:
Scleroderma, Juvenile scleroderma, Morphea
Abstract
Juvenile scleroderma is a disease that has different features in comparison to scleroderma in adults. Its incidence is rare on infancy. It can be systemic or localized and, this last form is more frequent. We report a case of juvenile scleroderma in a 3-year-old female child presenting with a yellow plaque on the trunk simulating a xantomathous lesion. The lilac ring around the lesion contributed to the construction of the correct diagnostic hypothesis which was confirmed by the histopathology. The precocious diagnosis on this case, allowed the beginning of the treatment on an initial phase of the disease, contributing to a better prognosis for the patient.
Downloads
Download data is not yet available.
References
Sung JJ, Chen TS, Gilliam AC, McCalmont TH, Gilliam AE. Clinicohistopathological correlations in juvenile localized scleroderma: studies on a subset of children with hypopigmented juvenile localized scleroderma due to loss of epidermal melanocytes. J AmAcadDermatol. 2011; 65(2):364-73.
Zancaro PCQ, Isaac AR, Garcia LT, Costa IMC. Esclerodermia localizada na criança: aspectos clínicos, diagnósticos e terapêuticos. An Bras Dermatol. 2009; 84(2):161-72.
Zulian F. Systemic sclerosis and localized scleroderma in childhood. RheumDisClin N Am. 2008; 34(1):239-55.
Sampaio SAP, Rivitti EA. Dermatologia. 3th ed. São Paulo: Artes Médicas; 2007. Capítulo 33, Afecções do conectivo; p. 455-86
Mâcedo PA, Shinjo SK, Goldenstein-Schainberg C. Esclerodermia juvenil. Acta Reumatol Port. 2008;33:289-97.
Tomiyoshi C, Wojcik ASL, Vencato EMO, Taques GR, Neto JF, Brenner FAM. Caso para diagnóstico. An Bras Dermatol. 2010; 85(3):397-9.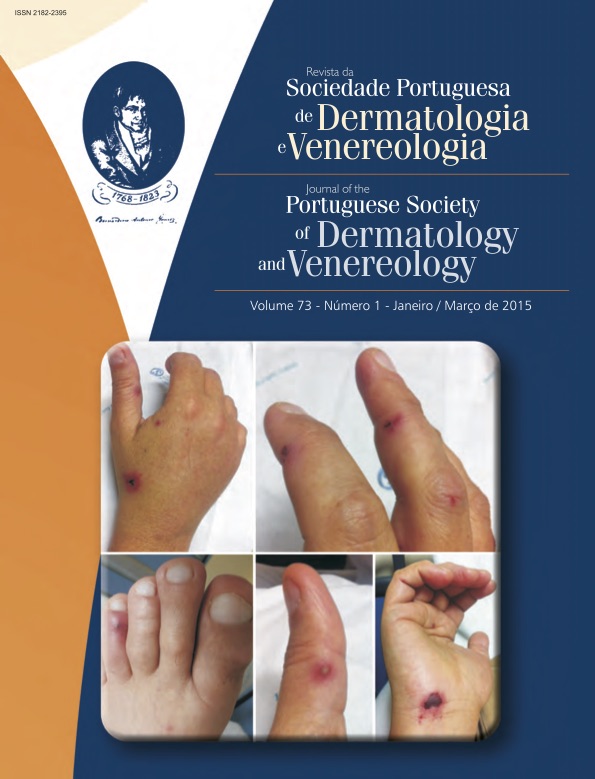 How to Cite
Lym, C. I., Tinoco Plata, G., Silveira Costa, F., de Campos Razé, M., de Souza, M. C., Figueiredo Gatti, R., & Carneiro de Castro, C. G. (2015). JUVENILE SCLERODERMA. Journal of the Portuguese Society of Dermatology and Venereology, 73(1), 105-108. https://doi.org/10.29021/spdv.73.1.349
Section
Pediatric Dermatology
All articles in this journal are Open Access under the Creative Commons Attribution-NonCommercial 4.0 International License (CC BY-NC 4.0).