PLAQUE-TYPE BLUE NEVUS – A SINGULAR VARIANT OF BLUE NEVUS
Inês Coutinho

Interna do Internato Complementar de Dermatologia e Venereologia/Resident, Dermatology and Venereology; Centro Hospitalar Universitário de Coimbra

Leonor Ramos

Interna do Internato Complementar de Dermatologia e Venereologia/Resident, Dermatology and Venereology; Centro Hospitalar Universitário de Coimbra

Rita Gameiro

Interna do Internato Complementar de Dermatologia e Venereologia/Resident, Dermatology and Venereology; Centro Hospitalar Universitário de Coimbra

Ricardo Vieira

Professor Doutor em Dermatologia e Venereologia, Chefe da Unidade de Cirurgia Dermatológica/Head of the Dermatologic Surgery Unit, MD, PhD; Centro Hospitalar Universitário de Coimbra

José Carlos Cardoso

Assistente Hospitalar de Dermatologia/Consultant in Dermatology; Centro Hospitalar Universitário de Coimbra

Óscar Tellechea

Professor Doutor em Dermatologia e Venereologia e Chefe de serviço/Senior Consultant, MD, PhD; Centro Hospitalar Universitário de Coimbra, Portugal
Keywords:
Nevus, blue, Skin neoplasms
Abstract
Introduction: Plaque-type blue nevus is a rare variant of blue nevus, presenting usually as blue-gray plaque with superimposed nodules, beginning at birth or in early childhood and becoming stable during puberty. Its clinical, dermoscopic and even histopathological features may be worrisome and distinction from malignant blue nevus can be difficult, although its prognosis is generally favourable.
Case Report: We present a 48 year-old male who had a blue-gray plaque with multinodularity arising in the left scapular region. The lesion had been present since birth, becoming stable during adolescence. Dermoscopy revealed a central structureless polychromatic plaque (blue, gray, black and brown areas) and extensive areas of blue-whitish veil. Adjacent to the central lesion, small blue satellite globules could be seen. Incisional biopsy showed a common blue nevus, and complete excision of the lesion confirmed the presence of a blue nevus predominantly of the common type, and focal cellular areas in its deeper portion. The patient is so far free of recurrence.
Conclusion: There are many variants of blue nevus, and plaque-type blue nevus is one of the rarest. Classically regarded as having good prognosis, recent case-reports have shown a tendency towards local and lymph-node recurrence, the reason why recognition of this entity and appropriate follow-up are important.
Downloads
Download data is not yet available.
References
Rabinovitz HS, Barnhill RL. Benign melanocytic neoplasms: Blue nevus and its variants. In: Bologna JL, Jorizzo JL, Schaffer JV, editors. Dermatology. 3rd ed. Philadelphia: Elsevier – Saunders; 2012. p.1851-80.
Dorsey CS, Montgomery H. Blue nevus and its distinction from Mongolian spot and the nevus of Ota. J Invest Dermatol 1954; 22:225.
Gerami P, Pouryazdanparast P, Venmula S, Bastian BC. Molecular analysis of a case of Nevus of Ota showing progressive evolution to a melanoma with intermediate stages resembling cellular blue nevus. Am J Dermatopathol. 2010; 32:301-5.
Ferrara G, Soyer HP, Malvehy J, Piccolo D, Puig S, Sopena J, et al. The many faces of blue nevus: a clinicopathologic study. J Cutan Pathol 2007; 34:543-51.
Murali R, McCarthy SW, Scolyer RA. Blue nevi and related lesions: a review highlighting atypical and newly described variants, distinguishing features and diagnostic pitfalls. Adv Anat Pathol 2009; 16:365-82.
Augusti-Mejias A, Messeguer F, Garcia R, Sanchez JL, Alegre V. Plaque-type blue nevus on the palm. Int J Dermatol 2013; 52:1398-1461.
Upshaw BY, Ghormley RK, Montgomery H. Extensive blue nevus of Jadassohn-Tieche: report of a case. Surgery 1947; 22:761.
Wen SY. Plaque-type blue nevus. Review and an unusual case. Acta Derm Venereol 1997; 77:458-9.
Held L, Metzler G, Eigentler TK, Leiter U, Messina J, Gogel J, et al. Recurrent nodules in a periauricular plaque-type blue nevus with fatal outcome. J Cutan Pathol 2012; 39:1088-93.
Sanada S. Higaki K, Torii Y, Higashi T, Yamaguchi R, Nakamura Y, et al. Malignant Melanoma arising in a plaque-type blue nevus. Pathol Int. 2012; 62:749-53.
North JP, Yeh I, McCalmont TH, LeBoit PE. Melanoma ex blue nevus: two case resembling large plaque-type blue nevus with subcutaneous cellular nodules. J Cutan Pathol. 2012; 39:1094-9.
Skowron F, Balme B. Large plaque-type blue naevus with subcutaneous cellular nodules. Clin Exp Dermatol. 2009; 34:e782-4.
del Rio E, Vazquez VA, Suarez PM. Blue nevus with satellitosis mimicking malignant melanoma. Cutis. 2000; 65:301-2.
Busam KJ, Woodruff JM, Erlandson RA, Brady MS. Large plaque-type blue nevus with subcutaneous cellular nodules. Am J Surg Pathol.2000; 24:92-9.
Tellechea O, Freitas JD, Cabral F, Martinho F, Poiares Batista A. Nevo azul maligno. Arq Patol. 1991;23:91-104.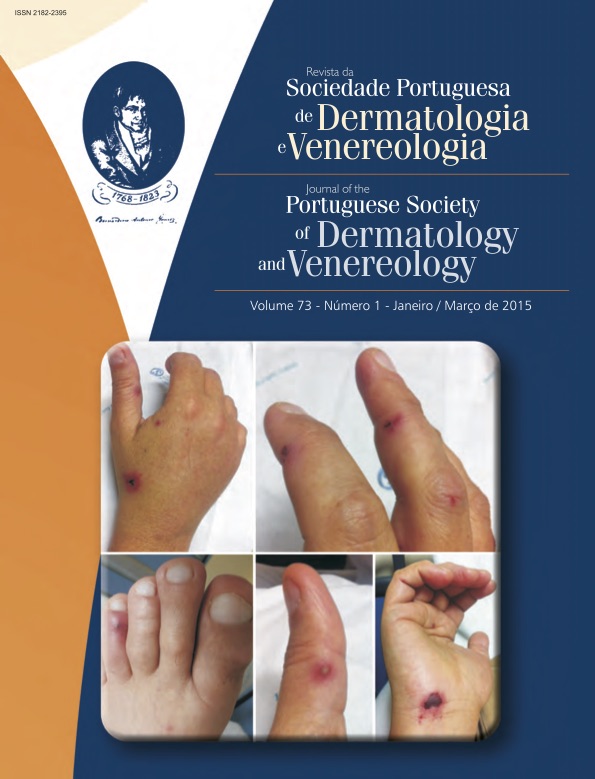 How to Cite
Coutinho, I., Ramos, L., Gameiro, R., Vieira, R., Cardoso, J. C., & Tellechea, Óscar. (2015). PLAQUE-TYPE BLUE NEVUS – A SINGULAR VARIANT OF BLUE NEVUS. Journal of the Portuguese Society of Dermatology and Venereology, 73(1), 133-138. https://doi.org/10.29021/spdv.73.1.355
All articles in this journal are Open Access under the Creative Commons Attribution-NonCommercial 4.0 International License (CC BY-NC 4.0).