ASYMPTOMATIC FLESH-COLORED PLAQUES ON THE SCALP
Tiago Mestre

Interno de Dermatologia/Resident of Dermatology, Serviço de Dermatologia e Venereologia, Hospital Curry Cabral

F. Assis Pacheco

Chefe de Serviço de Dermatologia e Venereologia/Consultant Chief, Serviço de Dermatologia e Venereologia, Hospital Curry Cabral

Jorge Cardoso

Chefe de Serviço e Director/Consultant Chief and Head of the Department, Serviço de Dermatologia e Venereologia, Hospital Curry Cabral Serviço de Dermatologia e Venereologia, Hospital Curry Cabral – CHLC, Lisboa, Portugal
Keywords:
Carcinoma, Non small cell lung, Mucinoses, Scalp dermatoses
Abstract
Cutaneus focal mucinosis is a histological reaction pattern described in several diseases, in which an abnormal focal deposition of mucins is found in the dermis. The authors present a case of a 62 years-old patient with asymptomatic flesh colored, infiltrated plaques on the frontal-occipital scalp with 3 month of evolution. Serial biopsies of scalp plaques during the following two years showed a moderated lymphoid infiltrate in dermis with a homogeneous deposition of mucins in the dermis. There were neither alterations of epidermis, pilosebaceous units, epidermotropism or granulomas. Further investigations showed a primary adenocarcinoma of the lung. Cutaneous focal mucinosis can have a wide spectrum of clinical presentation. We report this case to illustrate an unusual presentation of cutaneous focal mucinosis of the scalp and to call the attention to the importance of ruling out a secondary associated disorder. As far as we know this is the first reported case of an association between adenocarcinoma of the lung and cutaneous mucinosis.
Downloads
Download data is not yet available.
References
Rongioletti F, Rebora A. Cutaneous mucinoses: Microscopic criteria for diagnosis. Am J Dermatopathol
; 23(3):257- 67. [PMID: 11391115]
Schneider SW, Metze D, Bonsmann G. Treatment of so-called idiopathic follicular mucinosis with hydroxychloroquine. Br J Dermatol. 2010 Aug; 163(2):420-3. doi: 10.1111/j.1365--2133.2010.09759.x. [PMID: 20302581]
Brown HA, Gibson LE, Pujol RM, et al. Primary follicular mucinosis: long-term follow-up of patients younger than 40 years with and without clonal T-cell receptor gene rearrangement. J Am Acad Dermatol 2002; 47: 856.
Bragg, J, Soldano AC, Latkowski, J. Papular mucinosis (discrete papular lichen myxedematosus). Dermatology Online Journal, 2008; 14(5). [PMID: 18627750]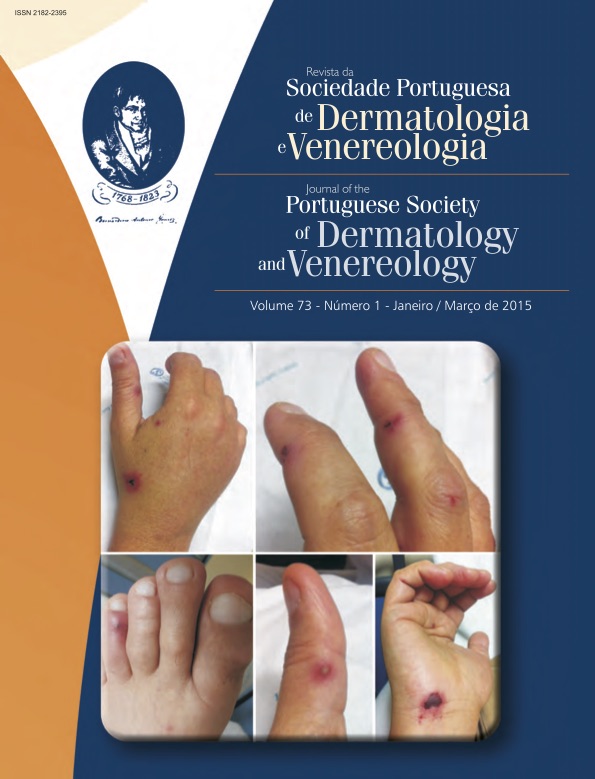 How to Cite
Mestre, T., Assis Pacheco, F., & Cardoso, J. (2015). ASYMPTOMATIC FLESH-COLORED PLAQUES ON THE SCALP. Journal of the Portuguese Society of Dermatology and Venereology, 73(1), 151-154. https://doi.org/10.29021/spdv.73.1.358
All articles in this journal are Open Access under the Creative Commons Attribution-NonCommercial 4.0 International License (CC BY-NC 4.0).