A PROBABLY RELATIONSHIP BETWEEN TWO AUTO-IMMUNE DISEASES: MULTIPLE SCLEROSIS AND BULLOUS PEMPHIGOID
Cristina Resende

1Interna do Internato Complementar de Dermatologia e Venereologia/Resident, Dermatology and Venereology, Serviço de Dermatologia e Venereologia, Hospital de Braga, Braga, Portugal

Catarina Araújo

Interna do Internato Complementar de Dermatologia e Venereologia/Resident, Dermatology and Venereology, Serviço de Dermatologia e Venereologia, Hospital de Braga, Braga, Portugal

Ana Paula Vieira

Assistente Hospitalar Graduada de Dermatologia e Venereologia/Graduated Consultant Dermatology and Venereology, Serviço de Dermatologia e Venereologia, Hospital de Braga, Braga, Portugal

Celeste Brito

Chefe de Serviço, Diretora do Serviço de Dermatologia e Venereologia/Consultant Chief, Head of Department of Dermatology and Venereology; Serviço de Dermatologia e Venereologia, Hospital de Braga, Braga, Portugal
Keywords:
Multiple sclerosis, Pemphigoid, bullous
Abstract
.
Downloads
Download data is not yet available.
References
Stinco G, Mattighello P, Zanchi M, Patrone P. Multiple sclerosis and bullous pemphigoid: a casual association or a pathogenetic correlation? Eur J Dermatol. 2002; 12:186-8.
Peramiquel L, Barnadas MA, Pimentel CL, García Muret MP, Puig LL, Gelpí C, et al. Bullous pemphigoid and multiple sclerosis: A report of two cases with ELISA test. Eur J Dermatol. 2007; 17:62-6.
Taghipour K, Kirtschig G, Palace J, Groves RW, Venning V, Wojnarowska F.The association of multiple sclerosis with bullous pemphigoid: is there a shared antigen response? J Am Acad Dermatol. 2012;67:160-1
Langan SM, Groves RW, West J. The relationship between neurological disease and bullous pemphigoid: a population-based case-control study. J Invest Dermatol. 2011; 131(3):631-6.
Stinco G, Codutti R, Scarbolo M, Valent F, Patrone P. A retrospective epidemiological study on the association of bullous pemphigoid and neurological diseases. Acta Derm Venereol. 2005; 85:136-9.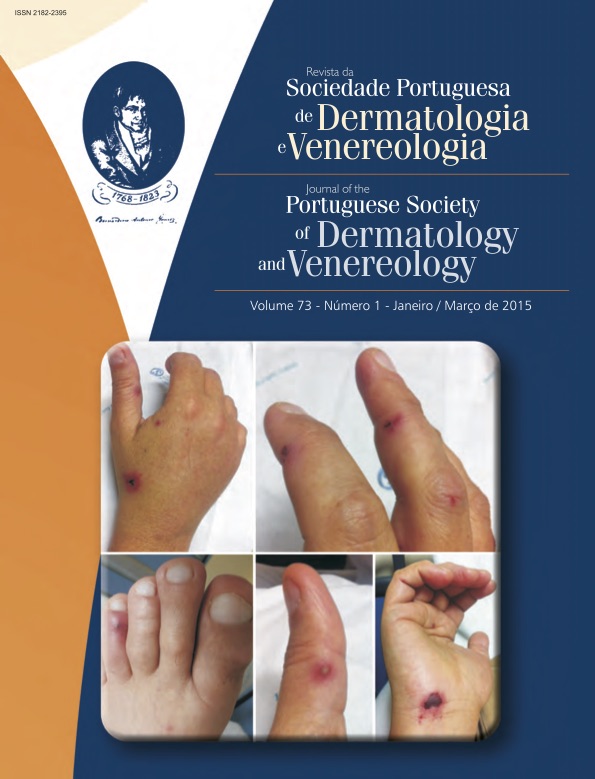 How to Cite
Resende, C., Araújo, C., Vieira, A. P., & Brito, C. (2015). A PROBABLY RELATIONSHIP BETWEEN TWO AUTO-IMMUNE DISEASES: MULTIPLE SCLEROSIS AND BULLOUS PEMPHIGOID. Journal of the Portuguese Society of Dermatology and Venereology, 73(1), 163-164. https://doi.org/10.29021/spdv.73.1.361
Section
Letter to the Editor
All articles in this journal are Open Access under the Creative Commons Attribution-NonCommercial 4.0 International License (CC BY-NC 4.0).