A PROBABLY RELATIONSHIP BETWEEN TWO AUTO-IMMUNE DISEASES: MULTIPLE SCLEROSIS AND BULLOUS PEMPHIGOID
Cristina Resende

1Interna do Internato Complementar de Dermatologia e Venereologia/Resident, Dermatology and Venereology, Serviço de Dermatologia e Venereologia, Hospital de Braga, Braga, Portugal

Catarina Araújo

Interna do Internato Complementar de Dermatologia e Venereologia/Resident, Dermatology and Venereology, Serviço de Dermatologia e Venereologia, Hospital de Braga, Braga, Portugal

Ana Paula Vieira

Assistente Hospitalar Graduada de Dermatologia e Venereologia/Graduated Consultant Dermatology and Venereology, Serviço de Dermatologia e Venereologia, Hospital de Braga, Braga, Portugal

Celeste Brito

Chefe de Serviço, Diretora do Serviço de Dermatologia e Venereologia/Consultant Chief, Head of Department of Dermatology and Venereology; Serviço de Dermatologia e Venereologia, Hospital de Braga, Braga, Portugal
Keywords:
Multiple sclerosis, Pemphigoid, bullous
Abstract
.
Downloads
Download data is not yet available.
References
Stinco G, Mattighello P, Zanchi M, Patrone P. Multiple sclerosis and bullous pemphigoid: a casual association or a pathogenetic correlation? Eur J Dermatol. 2002; 12:186-8.
Peramiquel L, Barnadas MA, Pimentel CL, García Muret MP, Puig LL, Gelpí C, et al. Bullous pemphigoid and multiple sclerosis: A report of two cases with ELISA test. Eur J Dermatol. 2007; 17:62-6.
Taghipour K, Kirtschig G, Palace J, Groves RW, Venning V, Wojnarowska F.The association of multiple sclerosis with bullous pemphigoid: is there a shared antigen response? J Am Acad Dermatol. 2012;67:160-1
Langan SM, Groves RW, West J. The relationship between neurological disease and bullous pemphigoid: a population-based case-control study. J Invest Dermatol. 2011; 131(3):631-6.
Stinco G, Codutti R, Scarbolo M, Valent F, Patrone P. A retrospective epidemiological study on the association of bullous pemphigoid and neurological diseases. Acta Derm Venereol. 2005; 85:136-9.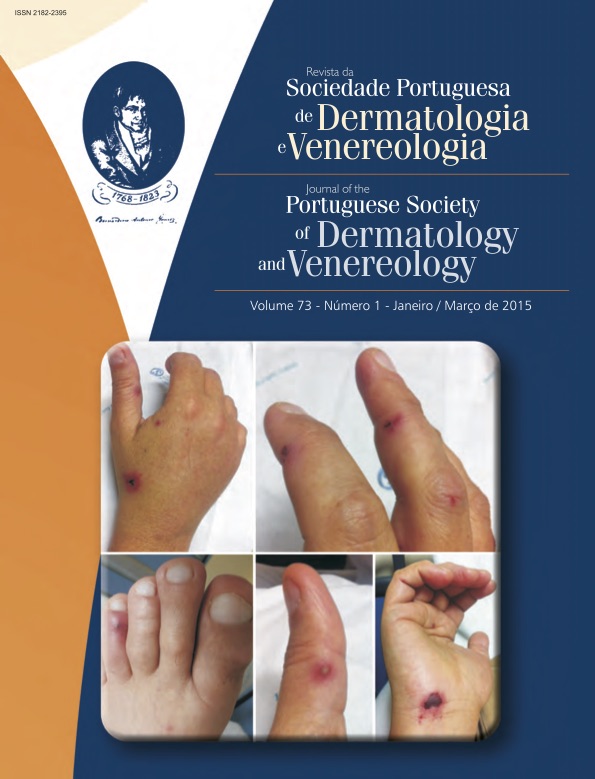 How to Cite
Resende, C., Araújo, C., Vieira, A. P., & Brito, C. (1). A PROBABLY RELATIONSHIP BETWEEN TWO AUTO-IMMUNE DISEASES: MULTIPLE SCLEROSIS AND BULLOUS PEMPHIGOID. Journal of the Portuguese Society of Dermatology and Venereology, 73(1), 163-164. https://doi.org/10.29021/spdv.73.1.361
Section
Letter to the Editor
All articles in this journal are Open Access and meet the requirements of funding bodies or academic institutions. Each article published in the Journal is published under the Creative Commons Attribution-NonCommercial-NoDerivatives 4.0 International License (CC BY-NC-ND 4.0). Articles can be read, downloaded, printed, and shared.
Submission of an article for publication implies the authors' consent to publication under the applicable Creative Commons license and the terms and conditions of the Publisher's Licensing Agreement.
It is the author's responsibility to obtain permission to reproduce illustrations, tables, etc. from other publications.
Upon acceptance of an article, authors will be asked to complete a 'Journal Publishing Agreement'. An e-mail will be sent to the corresponding author confirming receipt of the manuscript together with a 'Journal Publishing Agreement' form or a link to the online version of this agreement.
Author rights: As an author you (or your employer or institution) have certain rights to reuse your work.
The Journal reserves the right to use plagiarism detection software on any submitted material.