CLINICAL TRIALS IN DERMATOLOGY – PART II
Artur César

Serviço de Dermatologia e Venereologia/Department of Dermatology and Venereology, Centro Hospitalar São João EPE, Porto/Oporto, Portugal; Faculdade de Medicina, Universidade do Porto/Medical School, Oporto University, Portugal

Alberto Mota

Serviço de Dermatologia e Venereologia/Department of Dermatology and Venereology, Centro Hospitalar São João EPE, Porto/Oporto, Portugal; Faculdade de Medicina, Universidade do Porto/Medical School, Oporto University, Portugal

Filomena Azevedo

Serviço de Dermatologia e Venereologia/Department of Dermatology and Venereology, Centro Hospitalar São João EPE, Porto/Oporto, Portugal
Keywords:
Clinical trials, Data interpretation, statistical, Research design
Abstract
The increasing number of clinical trials in dermatology requires from the dermatologist the ability to evaluate the quality, understand, and synthesize information from multiple sources in order to make decisions regarding the therapeutic/ diagnostic strategies. This medical education article explains basic principles, relevant and adapted to the dermatology area, fundamental to an appropriate interpretation of outcomes of clinical trials. Part II of this article discusses the different analysis methods in clinical trials.
Downloads
Download data is not yet available.
References
Fredriksson T, Pettersson U. Severe psoriasis-oral therapy with a new retinoid. Dermatologica. 1978;
:238-44.
Naldi L. Scoring and monitoring the severity of psoriasis. What is the preferred method? What is the
ideal method? Is PASI passe? facts and controversies. Clin Dermatol. 2010; 28:67-72.
Lewis-Jones S. Quality of life and childhood atopic dermatitis: the misery of living with childhood eczema. Int J Clin Pract. 2006; 60:984-92.
Charman CR, Venn AJ, Williams HC. The patient-oriented eczema measure: development and initial validation of a new tool for measuring atopic eczema severity from the patients' perspective. Arch Dermatol. 2004; 140:1513-9.
Townshend AP, Chen CM, Williams HC. How prominent are patient-reported outcomes in clinical trials of dermatological treatments? Br J Dermatol. 2008; 159:1152-9.
Siegel JE, Weinstein MC, Russell LB, Gold MR. Recommendations for reporting cost-effectiveness analyses. Panel on Cost-Effectiveness in Health and Medicine. JAMA 1996; 276:1339-41.
Weiss SC, Rowell R, Krochmal L. Impact of seasonality on conducting clinical studies in dermatology. Clin Dermatol. 2008; 26:565-9.
U.S. Department of Health and Human Services FaDA, Center for Drug Evaluation and Research (CDER), Center for Biologics Evaluation and Research (CBER). International Conference of Harmonisation of Pharmaceuticals for Human Use (ICH) E9.
Statistical principles for clinical trials.1998. Disponível em:http://www.fda.gov/cder/guidance/ICH_E9-fnl.pdf.
Alosh M, Fritsch K, Soukup M, Wilkin J. Clinical trials and statistical analyses: what should dermatologists look for in a report? Dermatol Therap. 2009; 22:199-203.
van Lumig PP, Driessen RJ, Kievit W, Boezeman JB, van de Kerkhof PC, de Jong EM. Results of three analytical approaches on long-term efficacy of etanercept for psoriasis in daily practice. J Am Acad Dermatol. 2013; 68:57-63.
Blume J, Peipert JF. What your statistician never told you about P-values. The J Am Assoc Gynecolc Laparosc. 2003;10:439-44.
Katz HI, Prawer SE, Watson MJ, Scull TA, Peets EA. Mometasone furoate ointment 0.1% vs. hydrocortisone
ointment 1.0% in psoriasis. Atrophogenic potential. Int J Dermatol. 1989; 28:342-4.
Spruance SL, Rea TL, Thoming C, Tucker R, Saltzman R, Boon R. Penciclovir cream for the treatment of herpes simplex labialis. A randomized, multi center, double-blind, placebo-controlled trial. Topical Penciclovir Collaborative Study Group. JAMA.
; 277:1374-9.
Lehr R. Sixteen S-squared over D-squared: a relation for crude sample size estimates. Stat Med. 1992; 11:1099-102.
Bhardwaj SS, Camacho F, Derrow A, Fleischer AB, Jr., Feldman SR. Statistical significance and clinical relevance: the importance of power in clinical trials in dermatology. Arch Dermatol. 2004;140:1520-3.
Zachariae H, Sogaard H, Heickendorff L. Serum aminoterminal propeptide of type III procollagen. A non-invasive test for liver fibrogenesis in methotrexate-treated psoriatics. Acta Dermato-Venereol. 1989; 69:241-4.
Roenigk HH, Jr., Auerbach R, Maibach H, Weinstein G, Lebwohl M. Methotrexate in psoriasis: consensus conference. J Am AcadDermatol. 1998; 38:478-85.
Piaggio G, Elbourne DR, Pocock SJ, Evans SJ, Altman DG, Group C. Reporting of noninferiority and equivalence randomized trials: extension of the CONSORT 2010 statement. JAMA. 2012; 308:2594-604.
Moher D, Hopewell S, Schulz KF, Montori V, Gotzsche PC, Devereaux PJ, et al. CONSORT 2010 Explanation and Elaboration: Updated guidelines for reporting parallel group randomised trials. J Clin Epidemioly. 2010; 63:e1-37.
Revuz J, Moyse D, Poli F, Pawin H, Faure M, Chivot M, et al. A tool to evaluate rapidly the quality of clinical trials on topical acne treatment. Journal of the European Academy of Dermatology and Venereology: J Eur Acad Dermatol Venereol. 2008;22:800-6.
Juni P, Altman DG, Egger M. Systematic reviews in health care: Assessing the quality of controlled clinical trials. BMJ. 2001; 323:42-6.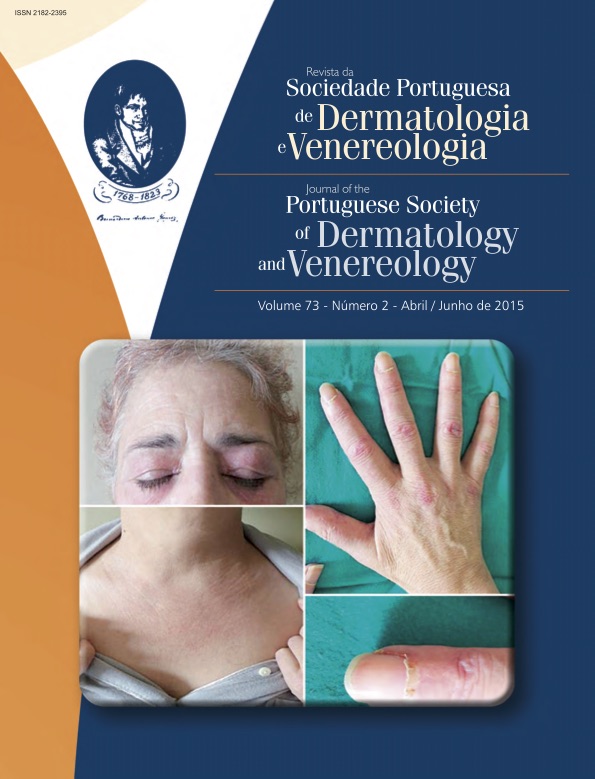 How to Cite
César, A., Mota, A., & Azevedo, F. (1). CLINICAL TRIALS IN DERMATOLOGY – PART II. Journal of the Portuguese Society of Dermatology and Venereology, 73(2), 185-192. https://doi.org/10.29021/spdv.73.2.364
Section
Continuous Medica Education
All articles in this journal are Open Access under the Creative Commons Attribution-NonCommercial 4.0 International License (CC BY-NC 4.0).