MANAGEMENT AND TREATMENT OF KAPOSI'S SARCOMA – THE IMPORTANCE OF THE MULTIDISCIPLINARY
André Mansinho

Serviço de Oncologia Médica do Centro Hospitalar Lisboa Norte, Portugal

Daniela Macedo

Serviço de Oncologia Médica do Centro Hospitalar Lisboa Norte, Portugal

Beatriz Nunes

Serviço de Radioterapia do Centro Hospitalar Lisboa Norte, Portugal

Isabel Fernandes

Serviço de Oncologia Médica do Centro Hospitalar Lisboa Norte, Portugal

Marília Jorge

Serviço de Radioterapia do Centro Hospitalar Lisboa Norte, Portugal

João Borges-Costa

Clínica Universitária de Dermatologia de Lisboa e Unidade de Investigação em Dermatologia, Faculdade de Medicina da Universidade de Lisboa, Centro Hospitalar Lisboa Norte, Portugal; Instituto de Higiene e Medicina Tropical, Lisboa, Portugal
Keywords:
Anti-retroviral agents, Sarcoma, Kaposi/therapy
Abstract
Kaposi's sarcoma is a rare tumor, mainly affecting skin and mucosa, in some cases the lymph nodes and visceral organs, with great epidemiological and clinical variability. There are four types of tumor (classic, endemic, immunosuppression related and associated with HIV), with differences in population, site and progression rate. Different therapeutic options exist between local intervention strategies, citoreductive surgery, radiotherapy, systemic therapy or therapeutic manipulations regarding the underlying cause, in the forms of disease associated to HIV or to immunosuppressive therapy. The authors used the PubMed database to identify articles published since 1990, in English language, using a predefined set of words, as well as manually identified content of interest, related to Kaposi's sarcoma treatment. In this article, we highlight the importance of the multidisciplinary approach to the disease, as well as the current state of the art existing therapies, organizing and stratifying the available options in the clinical practice setting.
Downloads
Download data is not yet available.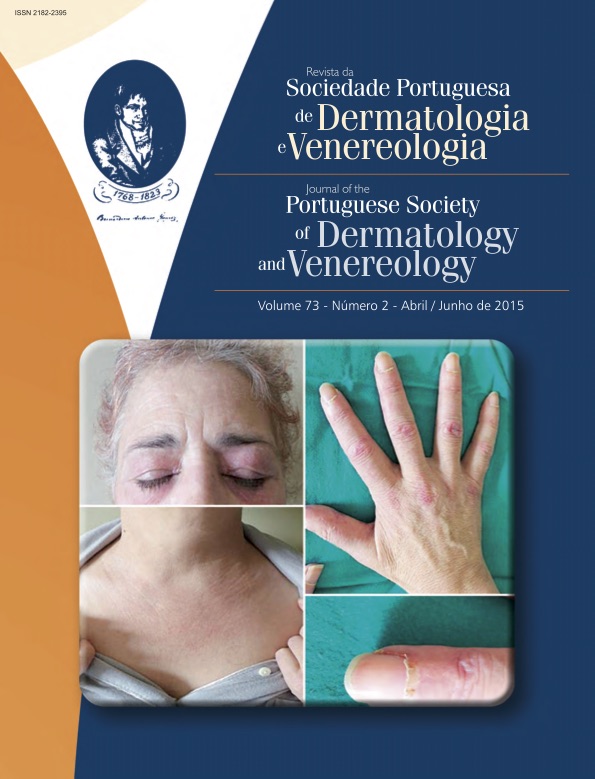 How to Cite
Mansinho, A., Macedo, D., Nunes, B., Fernandes, I., Jorge, M., & Borges-Costa, J. (1). MANAGEMENT AND TREATMENT OF KAPOSI'S SARCOMA – THE IMPORTANCE OF THE MULTIDISCIPLINARY. Journal of the Portuguese Society of Dermatology and Venereology, 73(2), 199-208. https://doi.org/10.29021/spdv.73.2.366
All articles in this journal are Open Access under the Creative Commons Attribution-NonCommercial 4.0 International License (CC BY-NC 4.0).