ONYCHOMYCOSIS IN PSORIATIC PATIENTS – AN UNDERESTIMATE FINDING?
Ana Brasileiro

Interna do Internato Complementar de Dermatovenereologia/Resident of Dermatology and Venereology

Célia Galhardas

Técnica de Diagnóstico e Terapêutica/Therapy and Diagnosis Thechnologist

Ana Fidalgo

Assistente Hospitalar do Serviço de Dermatovenereologia/Consultant of Dermatology and Venereology

Margarida Apetato

Chefe de Serviço de Dermatovenereologia/Consultant Chief of Dermatology and Venereology and Head of the Department, Serviço de Dermatologia e Venereologia, Hospital de Santo António dos Capuchos, Centro Hospitalar de Lisboa Central, Lisboa, Portugal
Keywords:
Nail diseases, Onychomycosis, Psoriasis, complications
Abstract
Introduction: Ungueal changes in psoriatic patients might occur or worsen due to mycotic infections, which are more likely to happen in the setting of immunosuppressive therapies and nail plate changes. There is still controversy about the prevalence of onychomycosis in psoriatic patients in the literature. The aim of this observational prospective study is to access the prevalence of ungueal mycotic infection in psoriatic patients with nail changes during one-year period.
Materials & Methods: Relevant clinical data and samples of affected nails were collected. The biological material was subject to direct mycological exam and culture. Statistical analysis was performed with Excel and R software.
Results: Of the 47 patients included, 33 were male. Mean age was 55 years. Twenty-seven patients (55%) had fingernail changes, with mean NAPSI 3.5. Candida albicans was isolated in 6 cultures (22%). Among the studied nail changes, pitting and longitudinal lines correlated with negative culture (p<0.05). Toenail changes were found in 44 patients (94%), with mean NAPSI 3.7. Culture was positive in 11 exams (25%), in seven of which were found dermatophytes. There was no statistical correlation between toenail changes and culture.
Conclusions: In our psoriatic population, onychomycosis was more prevalent than the reported data for non-psoriatic population. Pitting and longitudinal lines were negative predictors of fingernail onychomycosis.
Downloads
Download data is not yet available.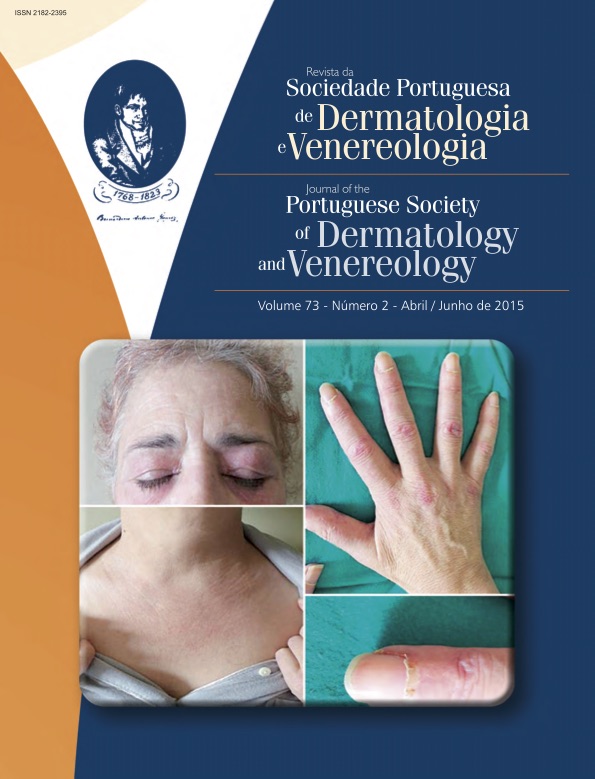 How to Cite
Brasileiro, A., Galhardas, C., Fidalgo, A., & Apetato, M. (1). ONYCHOMYCOSIS IN PSORIATIC PATIENTS – AN UNDERESTIMATE FINDING?. Journal of the Portuguese Society of Dermatology and Venereology, 73(2), 219-225. https://doi.org/10.29021/spdv.73.2.368
Section
Original Articles
All articles in this journal are Open Access under the Creative Commons Attribution-NonCommercial 4.0 International License (CC BY-NC 4.0).