CLINICAL EVIDENCE OF HUMAN SKIN FIELD CANCERIZATION ASSOCIATED WITH ACTINIC KERATOSES - DATA FROM CONFOCAL MICROSCOPY
Nuno Menezes

Assistente Hospitalar de Dermatologia e Venereologia/Consultant, Dermatology and Venereology Centro Hospitalar de Vila Nova de Gaia-Espinho-EPE, Vila Nova de Gaia, Portugal
Keywords:
Cell transformation, neoplastic, Keratosis, actinic, Carcinoma, squamous cell, Microscopy, confocal
Abstract
Introduction: Actinic keratoses are epidermal lesions of keratinocytic dysplasias that arise from chronic cutaneous exposure to ultraviolet radiation, with the potential to transform into squamous cell carcinoma. The normal-appearing skin areas contiguous to actinic keratoses lesions are believed to have the same potential to evolve to squamous cell carcinoma, which has led to the concept of skin "field cancerization". The aim of this study was to investigate keratinocytic morphologic changes in human skin with and contiguous to actinic keratoses with laser scanning confocal microscopy, and hence validate the concept of field cancerization to human skin.
Material and Methods: Observational study performed in four patients. Nine actinic keratoses lesions and four clinically normal skin 1cm contiguous to the referred lesions were analyzed with laser confocal microscopy. Discrimination of photodamaged skin from normal skin was performed according to the diagnostic morphologic criteria described by Horn M et al.
Results: Overall, four diagnostic morphologic criteria were visualized in 55% of actinic keratoses lesions, as well as the presence of keratinocyte atypia and inflammatory cells in all normal-appearing adjacent skin areas ("field cancerization") analyzed.
Conclusions: Results obtained validate the concept of field cancerization to the skin, showing subclinical changes in the normal appearing skin surrounding the actinic keratoses. On the other hand the results corroborate the utility of laser confocal microscopy for the in vivo diagnosis of skin damages in normal-appearing areas. As with actinic keratoses, these areas should be monitored and treated as early as possible.
Downloads
Download data is not yet available.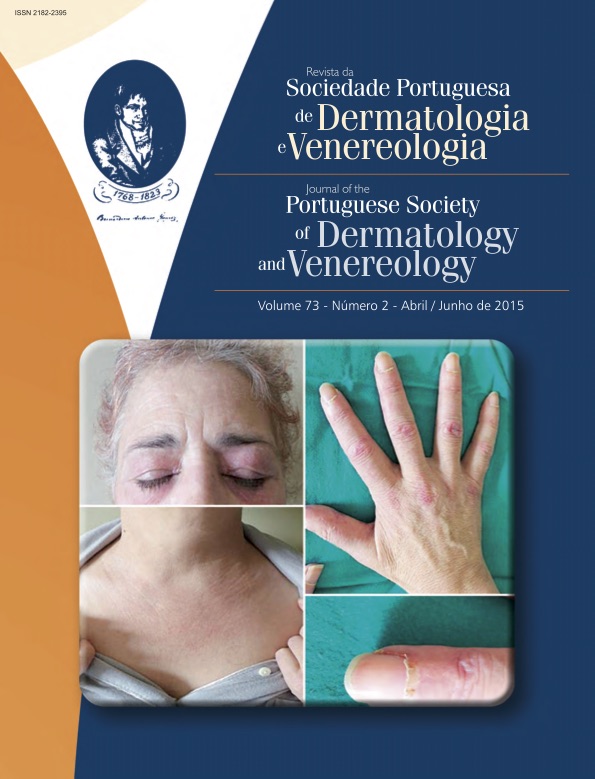 How to Cite
Menezes, N. (1). CLINICAL EVIDENCE OF HUMAN SKIN FIELD CANCERIZATION ASSOCIATED WITH ACTINIC KERATOSES - DATA FROM CONFOCAL MICROSCOPY. Journal of the Portuguese Society of Dermatology and Venereology, 73(2), 237-244. https://doi.org/10.29021/spdv.73.2.370
Section
Original Articles
All articles in this journal are Open Access under the Creative Commons Attribution-NonCommercial 4.0 International License (CC BY-NC 4.0).