MELANOMA? LOOK CLOSER
F. Mota

Second year Resident in Dermatology

I. Lobo

Consultant, Department of Dermatology, Hospital de Santo António – CHP, Portugal

Y. Mahia

Anatomopathologist, Laboratório de Anatomia Patológica Dr. Macedo Dias, Porto, Portugal

V. Costa

Senior consultant, Department of Dermatology, Hospital de Santo António – CHP, Portugal

M. Selores

Senior Consultant, Director of the Department of Dermatology, Centro Hospitalar do Porto, Portugal Dermatology Research Unit, Centro Hospitalar do Porto, Portugal; Instituto de Ciências Biomédicas Abel Salazar, University of Porto, Portugal
Keywords:
Carcinoma, Basal cell, Melanoma, Dermatoscopy
Abstract
Pigmented skin lesions are sometimes misdiagnosed due to clinical similarities between melanocytic and non-melanocytic lesions. We report the case of a patient with a pigmented lesion that clinically resembles melanoma. With dermoscopy, observed features, namely leaf-like areas, allowed us to make the diagnosis of pigmented basal cell carcinoma. This case represents a clinical setting in which clinical examination alone could lead to a misdiagnosis, but with the use of dermoscopy an accurate diagnosis was possible.
Downloads
Download data is not yet available.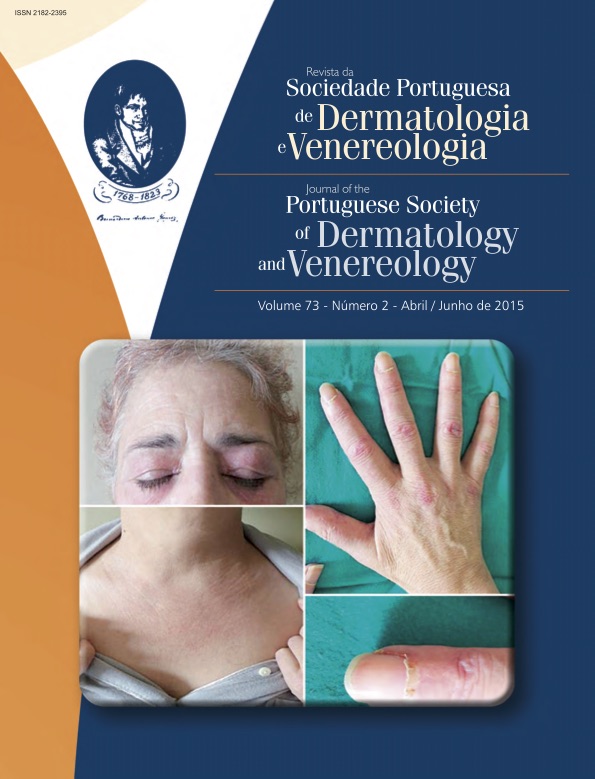 How to Cite
Mota, F., Lobo, I., Mahia, Y., Costa, V., & Selores, M. (1). MELANOMA? LOOK CLOSER. Journal of the Portuguese Society of Dermatology and Venereology, 73(2), 259-261. https://doi.org/10.29021/spdv.73.2.373
Section
Dermatoscopy Article
All articles in this journal are Open Access under the Creative Commons Attribution-NonCommercial 4.0 International License (CC BY-NC 4.0).