COMBINATION OF SIMPLE TECHNIQUES FOR RECONSTRUCTION OF A COMPLEX ALA OF NOSE DEFECT AFTER MOHS SURGERY
Tiago Mestre

Interno de Dermatologia e Venereologia/Resident of Dermatology and Venereology, Serviço de Dermatologia e Venereologia, Hospital Curry Cabral – CHLC, Lisboa, Portugal

Daniela Cunha

Assistente Hospitalar de Dermatologia e Venereologia/Graduated Consultant, Dermatology and Venereology, Serviço de Dermatologia e Venereologia, Hospital Curry Cabral – CHLC, Lisboa, Portugal

Jorge Cardoso

Chefe de Serviço e Director do Serviço de Dermatologia e Venereologia/Consultant Chief of Dermatology and Venereology and Head of the Department Serviço de Dermatologia e Venereologia, Hospital Curry Cabral – CHLC, Lisboa, Portugal
Keywords:
Mohs surgery, Nose, surgery, Nose neoplasms, Reconstructive surgical procedures, Surgical flaps
Abstract
The authors describe the combination of simple techniques to correct a complex surgical defect of malar area, nasolabial fold and ala of nose. The subcutaneous hinge flap restores the anatomic contour and enables the use of a simple flap or graft for reconstruction of the skin surface. Hinge flaps are an excellent alternative to more complex interpolated flaps for reconstruction of central facial surgical wounds.
Downloads
Download data is not yet available.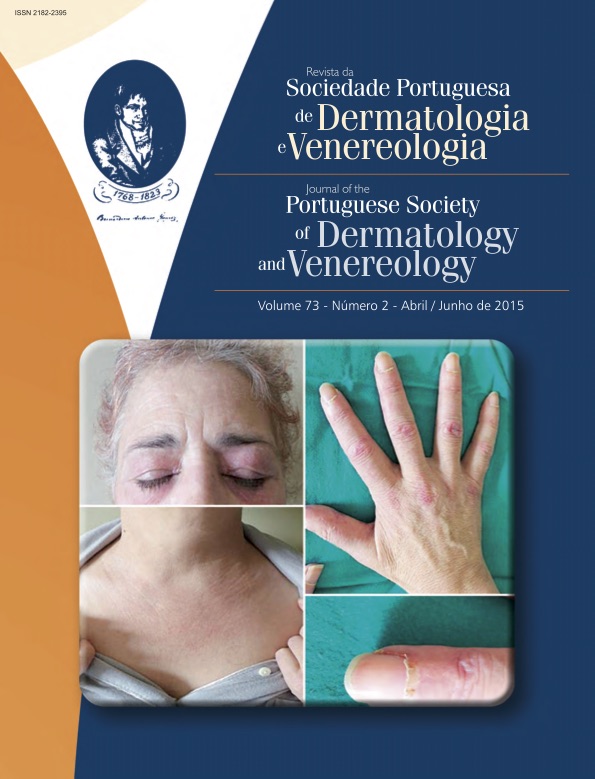 How to Cite
Mestre, T., Cunha, D., & Cardoso, J. (1). COMBINATION OF SIMPLE TECHNIQUES FOR RECONSTRUCTION OF A COMPLEX ALA OF NOSE DEFECT AFTER MOHS SURGERY. Journal of the Portuguese Society of Dermatology and Venereology, 73(2), 263-266. https://doi.org/10.29021/spdv.73.2.374
Section
Surgical Dermatology
All articles in this journal are Open Access under the Creative Commons Attribution-NonCommercial 4.0 International License (CC BY-NC 4.0).