NEISSERIA GONORRHOEAE INFECTION IN A STD CLINIC, HOSPITAL DE CURRY CABRAL – 8 YEARS RETROSPECTIVE STUDY (2006-2013)
Pedro Mendes-Bastos

Interno de Dermatovenereologia/Resident of Dermatology and Venereology, Serviço de Dermatologia e Venereologia, Hospital de Curry Cabral, Centro Hospitalar de Lisboa Central, Lisboa, Portugal

Helena Toda Brito

Interna de Dermatovenereologia/Resident of Dermatology and Venereology, Serviço de Dermatologia e Venereologia, Hospital Distrital de Santarém, Santarém, Portugal

Isaura Rodrigues

Assistente Hospitalar Graduada de Patologia Clínica/Graduated Consultant of Clinical Pathology, Serviço de Patologia Clínica, Hospital de Curry Cabral, Centro Hospitalar de Lisboa Central, Lisboa, Portugal

Teresa Pina

Assistente Hospitalar Graduada de Patologia Clínica/Graduated Consultant of Clinical Pathology, Serviço de Patologia Clínica, Hospital de Curry Cabral, Centro Hospitalar de Lisboa Central, Lisboa, Portugal

Cândida Fernandes

Assistente Hospitalar Graduada de Dermatovenereologia/ Graduated Consultant of Dermatology and Venereology, Serviço de Dermatologia e Venereologia, Hospital de Curry Cabral, Centro Hospitalar de Lisboa Central, Lisboa, Portugal

Ana Rodrigues

Assistente Hospitalar Graduada de Dermatovenereologia/ Graduated Consultant of Dermatology and Venereology, Serviço de Dermatologia e Venereologia, Hospital de Curry Cabral, Centro Hospitalar de Lisboa Central, Lisboa, Portugal

Jorge Cardoso

Chefe de Serviço, Director/Consultant Chief and Head of Dermatology and Venereology, Serviço de Dermatologia e Venereologia, Hospital de Curry Cabral, Centro Hospitalar de Lisboa Central, Lisboa, Portugal
Keywords:
Neisseria gonorrhoeae, Gonorrhea, Sexually transmitted diseases
Abstract
Introduction: There has been in the last decades an increasing number of reported gonorrhea cases in Europe.
Methods: We retrospectively reviewed the clinical records of patients attending Hospital de Curry Cabral's STD Clinic between January 2006 and December 2013 (8 years). The screening for Neisseria gonorrhoeae infection is performed systematically in all patients (molecular diagnosis technique – BD Probetec-SDA system). The authors assessed epidemiological and socio-demographic data and determined the frequency of N. gonorrhoeae infection.
Results: During the reviewed period, out of 1735 patients, gonorrhea was diagnosed in 114 cases (6.6%), 104 men and 10 women, with a median age of 29 years. The diagnosis of gonorrhea was found in 63 men who have sex with men (MSM) and 41 men who have sex with women. Of the totality of patients diagnosed with gonorrhea, 26 were HIV positive (24%). The urogenital site was the most frequent with 103 cases, followed by anorectal in 12 patients and oropharyngeal in 9 patients. Of all these diagnoses, 17% occurred in anatomic sites where patients did not report symptoms (13 men and 5 women).
Conclusions: The results of this study were similar to data recently published in the literature. The high number of gonorrhea cases in MSM must be highlighted. In this epidemiological context, the identification of this agent in asymptomatic anatomic sites is not negligible, supporting the importance of extragenital screening.
Downloads
Download data is not yet available.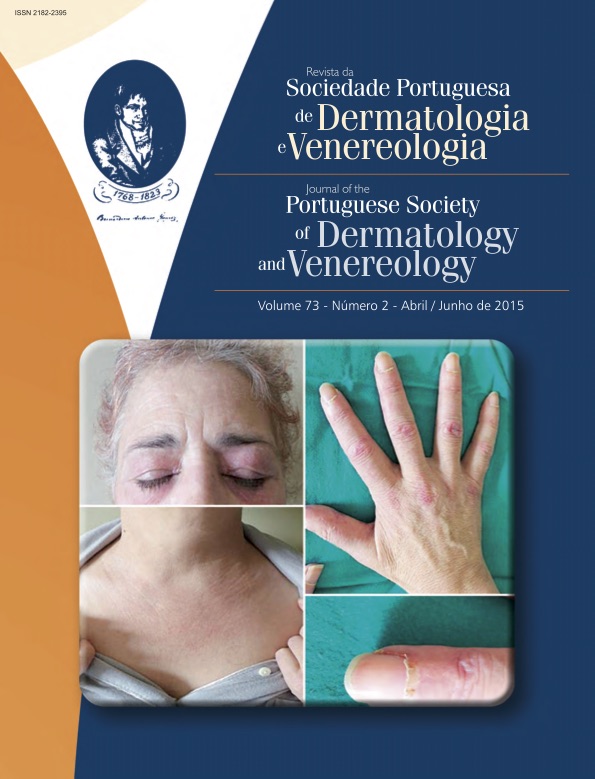 How to Cite
Mendes-Bastos, P., Toda Brito, H., Rodrigues, I., Pina, T., Fernandes, C., Rodrigues, A., & Cardoso, J. (1). NEISSERIA GONORRHOEAE INFECTION IN A STD CLINIC, HOSPITAL DE CURRY CABRAL – 8 YEARS RETROSPECTIVE STUDY (2006-2013). Journal of the Portuguese Society of Dermatology and Venereology, 73(2), 267-273. https://doi.org/10.29021/spdv.73.2.375
Section
Grupo para o Estudo e Investigação das Doenças Sexualmente Transmissíveis (GEIDS
All articles in this journal are Open Access under the Creative Commons Attribution-NonCommercial 4.0 International License (CC BY-NC 4.0).