DERMATOMYOSITIS WITH INTERSTITIAL LUNG DISEASE - AN ASSOCIATION WITH ANTI-MDA-5
Leonor Ramos

Interna Dermatologia e Venereologia/Resident, Dermatology and Venereology, Serviço de Dermatologia e Venereologia do Centro Hospitalar e Universitário de Coimbra, Coimbra, Portugal

Miguel Gouveia

Interno Dermatologia e Venereologia/Resident, Dermatology and Venereology, Serviço de Dermatologia e Venereologia do Centro Hospitalar e Universitário de Coimbra, Coimbra, Portugal

José Carlos Cardoso

Assistente Hospitalar de Dermatologia e Venereologia/Consultant, Dermatology and Venereology; Serviço de Dermatologia e Venereologia do Centro Hospitalar e Universitário de Coimbra, Coimbra, Portugal

Margarida Robalo Cordeiro

Assistente Hospitalar de Dermatologia e Venereologia/Consultant, Dermatology and Venereology; Serviço de Dermatologia e Venereologia do Centro Hospitalar e Universitário de Coimbra, Coimbra, Portugal
Keywords:
Autoantibodies, Dermatomyositis, Lung diseases, interstitial
Abstract
Dermatomyositis is a systemic autoimmune disease with cutaneous, muscular and pulmonary involvement. MDA-5 has recently been described as a specific dermatomyositis target antigen associated with a higher risk for interstitial lung disease. A 54-year-old female patient presented with proximal muscular weakness, myalgia and cutaneous signs of dermatomyositis. She presented with high aldolase and CK levels, and the muscular biopsy and electromyography were consistent with dermatomyositis. Pulmonary CT scan showed ground glass appearance. Autoimmunity revealed strong anti-MDA-5 positivity. No neoplasm was detected. She began treatment with prednisolone 20mg, hydroxicloroquine 400mg and methotrexate 20mg/week with very little improvement. She then began IVIG, with better clinical response. The authors report a case of dermatomyositis with interstitial lung disease associated with anti-MDA-5, an association unknown until recently.
Downloads
Download data is not yet available.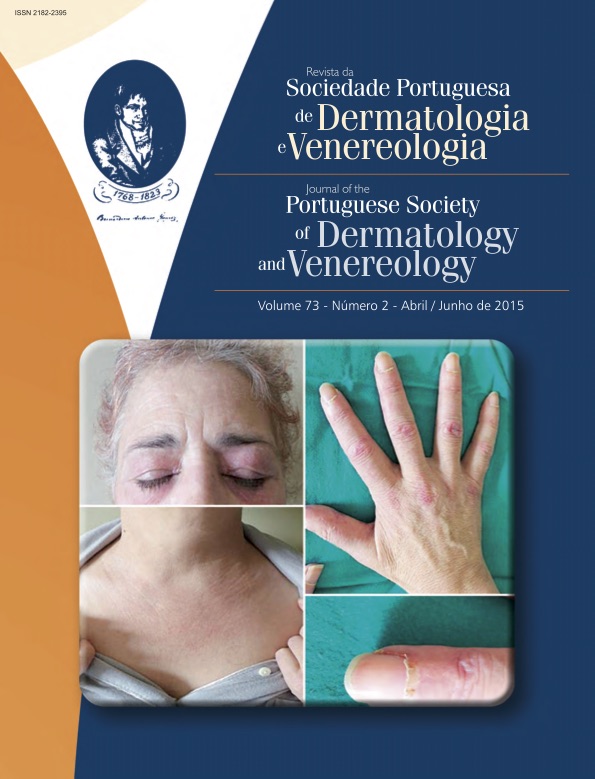 How to Cite
Ramos, L., Gouveia, M., Cardoso, J. C., & Robalo Cordeiro, M. (1). DERMATOMYOSITIS WITH INTERSTITIAL LUNG DISEASE - AN ASSOCIATION WITH ANTI-MDA-5. Journal of the Portuguese Society of Dermatology and Venereology, 73(2), 283-286. https://doi.org/10.29021/spdv.73.2.378
All articles in this journal are Open Access under the Creative Commons Attribution-NonCommercial 4.0 International License (CC BY-NC 4.0).