QUALITY OF LIFE IN PSORIASIS PATIENTS. VALIDATION OF THE PORTUGUESE VERSION OF THE PSORIASIS DISABILITY INDEX
Bárbara Fernandes

Assistente de Dermatologia e Venereologia/Consultant, Dermatology and Venereology, Serviço de Dermatologia, Instituto Português de Oncologia de Coimbra Francisco Gentil, E.P.E., Lisboa, Portugal

Pedro Lopes Ferreira

Professor Associado com Agregação da Faculdade de Economia da Universidade de Coimbra/Associated Professor of Economy, Coimbra University, Centro de Estudos e Investigação em Saúde da Universidade de Coimbra

Américo Figueiredo

Director de Serviço; Professor Doutor de Dermatologia e Venereologia dos Hospitais da Universidade de Coimbra/ Head of Dermatology Department; Professor of Dermatology and Venereology of Coimbra University, Portugal
Abstract
Introduction: The authors describe the process of translation, cultural adaption and validation of the instrument for measuring quality of life of patients with psoriasis PDI (Psoriasis Disability Index).
Methods: This questionnaire comprises 15 questions concerning the last four weeks, divided into five chapters; daily activities, work or school, personal relationships, leisure activities and treatment. The questionnaire was translated according to the standards for cross-cultural validation of health outcomes instruments.
Results: In a sample of 171 patients aged between 16 and 82 years, 61,9% were male. Content validity was assured by a cognitive debriefing and the reliability was verified by a reproducibility test (r=0,888) and by internal consistency (α=0,857). Criterion validity was tested by comparing PDI results with those obtai- ned by PASI, and there has been a positive correlation (p<0,05) in all dimensions of the questionnaire.
Conclusions: We can defend the performance quality of the Portuguese version of the PDI. The study of psychometric characteristics of PDI allows the use of this instrument for the Portuguese population, either in research or in clinical practice. There remains, however, the need to obtain values of clinical significance and national reference standards.
KEYWORDS – Quality of life; Psoriasis; Questionnaires.

Downloads
Download data is not yet available.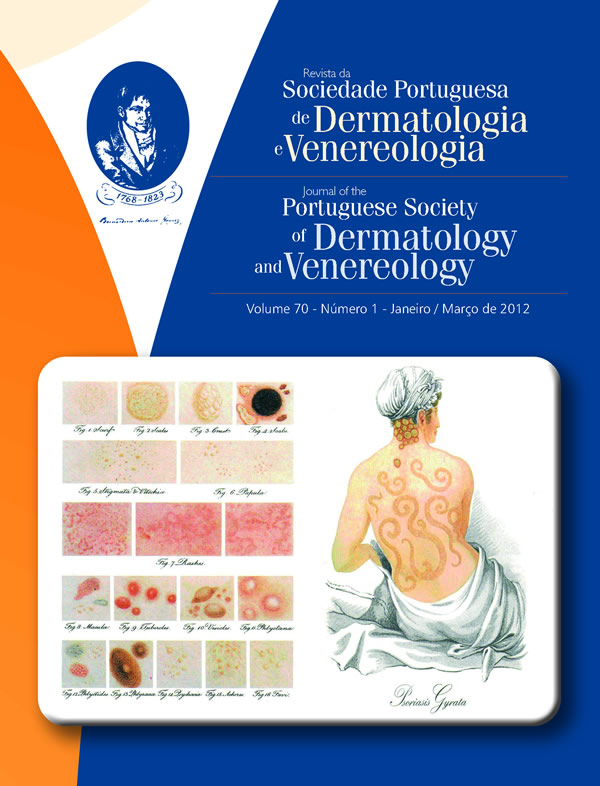 How to Cite
Fernandes, B., Ferreira, P. L., & Figueiredo, A. (2013). QUALITY OF LIFE IN PSORIASIS PATIENTS. VALIDATION OF THE PORTUGUESE VERSION OF THE PSORIASIS DISABILITY INDEX. Journal of the Portuguese Society of Dermatology and Venereology, 70(1), 53. https://doi.org/10.29021/spdv.70.1.38
Section
Original Articles
All articles in this journal are Open Access under the Creative Commons Attribution-NonCommercial 4.0 International License (CC BY-NC 4.0).