Achados dermatoscópicos do líquen estriado: relato de caso.
Abstract
Líquen estriado é uma erupção papulosa inflamatória que acomete principalmente crianças. Apresenta etiologia desconhecida e uma baixa prevalência. Surge menos frequentemente na idade adulta, e é caracterizado pelo aparecimento abrupto e assintomático de pápulas descamativas em disposição linear, por vezes seguindo as linhas de Blaschko, usualmente unilaterais e em extremidades. É importante considerar no diagnóstico diferencial outras dermatoses que acompanham as linhas de Blaschko, como por exemplo o líquen plano linear. Relata-se um caso atípico de líquen estriado com surgimento na idade adulta e localizado em flanco e região lombar à esquerda. Discutimos sobre a importância da dermatoscopia como ferramenta auxiliar no diagnóstico de líquen estriado.
Downloads
Download data is not yet available.
References
Al Ratrout JT, Al Nazer N, Ansari NA, Lichen Striatus in an Adult Female, Journal of Health Science, Vol. 5 No. 3A, 2015, 14-16. doi: 10.5923/s.health.201501.05.
Brennand S, Khan S, Chong AH. Lichen Striatus in a pregnant woman. Australas J Dermatol. 2005;46:184-6.
Campanati A, Brandozzi G, Giangiacomi M, Simonetti O, Marconi B, Offidani AM. Lichen striatus in adults and pimecrolimus: open, off-label clinical study. Int J Dermatol. 2008;47:732
Consuegra, DGP, Fabris MR, Vieira AG, Gama CM, Marquezini MAT, Brotas AM. Líquen estriado no adulto com acometimento do aparelho ungueal. Grupo editorial Moreira Junior. P20-21. Disponível em: http://www.moreirajr.com.br/revistas.asp?fase=r003&id_materia=5332
Errichetti E, Stinco G Trevisan G, Patrone P. Lichen striatus associated with psoriasis vulgaris treated with oral acitretin. Indian Dermatol Online J. 2014 Oct-Dec: 5 (4): 501-503.
Fogagnolo L, Barreto JA, Soares CT, Marinho FC, Nassif PW. Líquen estriado no adulto. An Bras Dermatol. 2011; 86(1):142-5.
Hofer T. Lichen Striatus in Adults or "Adult Blaschkitis"? There is no need for a new naming. J Dermatology. 2003;207:89-92.
Kurokawa M, Kikuchi H, Ogata K, Setoyama M. Bilateral LichenStriatus. J Dermatol. 2004; 31(2):129-32.
Ramos C, Rodríguez S, Quijano E, Gutiérrez Z, Cortez-Franco F, Fuertes C, et al. Liquen estriado del adulto: experiencia en un servicio de Dermatología. Dermatol Peru. 2012; 22(1):16-20.
Zhang Y, McNutt NS. Lichen striatus. Histological, immunohistochemical, and ultra structural study of 37 cases. J Cutan Pathol. 2001;28:65-71.
Segura P, Romero M, Gonzalvo P, Garcia S, Iglesias J, Juanes J. Lichen striatus in na adult folowing trauma with central nail plate involvement and its dermoscopy features. International Journal of Dermatology, 2008, 47; 1324-5.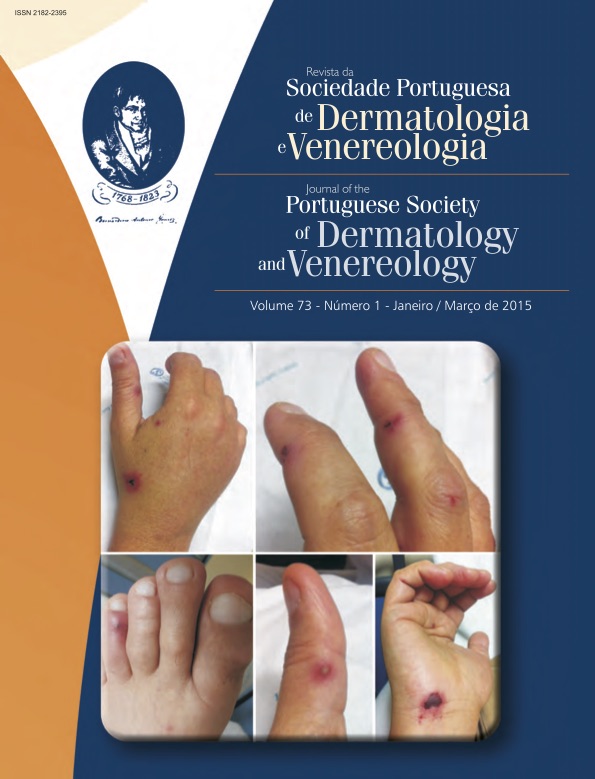 How to Cite
Braga, R. M. (2016). Achados dermatoscópicos do líquen estriado: relato de caso. Journal of the Portuguese Society of Dermatology and Venereology, 73(1). https://doi.org/10.29021/spdv.73.1.396
Section
Dermatoscopy Article
All articles in this journal are Open Access under the Creative Commons Attribution-NonCommercial 4.0 International License (CC BY-NC 4.0).