THE PSYCHOSOCIAL IMPACT OF ACNE
Vera Teixeira

Interna do Internato Complementar de Dermatologia e Venereologia/Resident, Dermatology and Venereology

Ricardo Vieira

Assistente Hospitalar de Dermatologia e Venereologia/Consultant, Dermatology and Venereology

Américo Figueiredo

Director de Serviço; Professor Doutor de Dermatologia e Venereologia dos Hospitais da Universidade de Coimbra/ Head of Dermatology Department; Professor of Dermatology and Venereology of Coimbra University Serviço de Dermatologia, Hospitais da Universidade de Coimbra, EPE, Coimbra, Portugal
Abstract
Introduction: Acne has a significant impact on patient's self-esteem and quality of life. Several studies have shown psychological changes including anxiety, social inhibition, depression and suicidal ideation in acne patients. Since the approval of isotretinoin for the treatment of refractory or severe acne, there have been reports of cases and with interest sparked by the media for an association between isotretinoin and depression/suicidal ideation. Material and Methods: We reviewed the literature in order to assess the impact of acne on the daily lives of patients and the relationship of isotretinoin with depression or suicidal ideation. Results: The patient perception of the severity of acne differs from the medical evaluation, which is reflected in psychological and social repercussions, sometimes difficult to predict. Of the review carried we did not find causal relationship between isotretinoin therapy and depressive states or suicidal behavior. In many cases, the treatment improves the symptoms. Conclusions: The impact of acne, far beyond the impact of skin, requires the recognition of relevant psychological signs in a routine consultation, to establish appro- priate treatment strategies, individualized for each case.
KEYWORDS – Acne vulgaris/psychology; Depression; Isotretinoin; Quality of life.

Downloads
Download data is not yet available.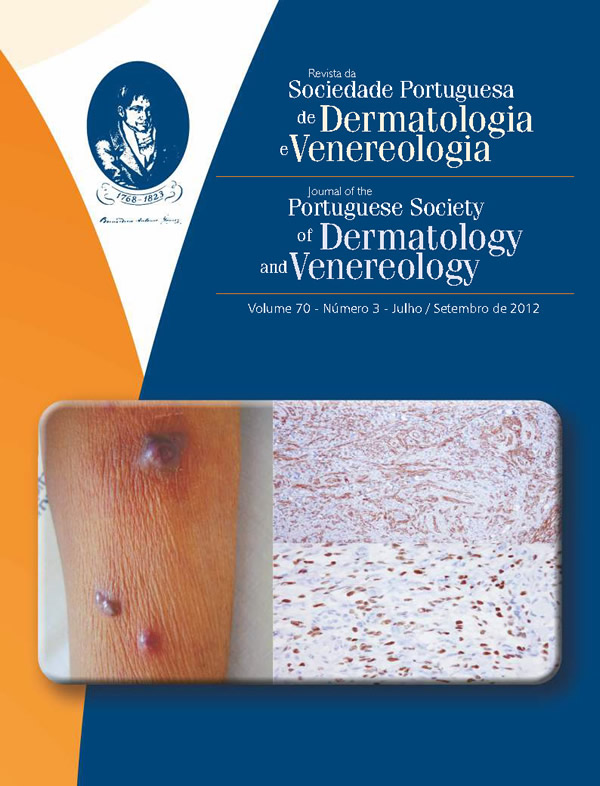 How to Cite
Teixeira, V., Vieira, R., & Figueiredo, A. (2013). THE PSYCHOSOCIAL IMPACT OF ACNE. Journal of the Portuguese Society of Dermatology and Venereology, 70(3), 291. https://doi.org/10.29021/spdv.70.3.4
All articles in this journal are Open Access under the Creative Commons Attribution-NonCommercial 4.0 International License (CC BY-NC 4.0).