Características e prevalência das feridas crónicas no ACeS Pinhal Litoral
Abstract
Introdução: As feridas são um problema de saúde pública, com forte impacto na qualidade de vida. Consideram-se crónicas as que evoluem durante mais de seis semanas. As feridas crónicas mais frequentes são as de pressão, as vasculares e as de origem diabética, sendo as venosas cerca de 80% das vasculares.
O presente estudo tem como objetivo caracterizar as feridas crónicas dos doentes da área de influência do ACeS PL.
Material e métodos: Trata-se de um estudo descritivo e transversal, com uma amostra de conveniência constituída pelos doentes com ferida crónica, identificados pelos profissionais de enfermagem, quer no domicílio, quer nas salas de tratamento dos centros de saúde.
Resultados: A prevalência de feridas crónicas na população estudada é 0.84/1000, sendo 1.01/1000 no sexo masculino e 0.69/1000 no feminino (p<0.05). Os doentes com mais de 80 anos apresentam uma prevalência de 5.68/1000, que é mais elevada relativamente aos mais novos (p<0.05). Em relação ao tipo de feridas, as de causa vascular são as mais frequentes (36%) e, destas, 77.7% são de origem venosa.
Discussão e Conclusão
A taxa de prevalência de ferida crónica é ligeiramente inferior à encontrada noutros estudos que utilizam a mesma metodologia, sendo mais elevada nos homens e nas idades mais avançadas. Considera-se excessiva a proporção de úlceras de pressão das categorias III e IV, verificando-se algumas inconformidades no diagnóstico e tratamento das mesmas. Por isso, foi sugerida a criação de um grupo multidisciplinar de consultadoria e formação em feridas no serviço de saúde em estudo.
Downloads
Download data is not yet available.
References
Alves, P. and L. Vales, Perspetiva histórica do tratamento de feridas, in Prevenção e tratamento de feridas - Da evidência à prática, Eugénio Pinto and Isabel Vieira, Editors. 2014.
Paço, R., Fisiologia da cicatrização e fatores que a influenciam, in Prevenção e tratamento de feridas - Da evidência à prática, Eugénio Pinto and Isabel Vieira, Editors. 2014.
Davini, R., et al., Tratamento de úlceras cutâneas crônicas por meio da estimulação elétrica de alta voltagem. Revista de Ciências Médicas, 2012. 14(3): p. 249-258.
Baker, S., et al., Aetiology of chronic leg ulcers. European Journal of Vascular Surgery, 1992. 6(3): p. 245-251.
Jockenhöfer, F., et al., Aetiology, comorbidities and cofactors of chronic leg ulcers: retrospective evaluation of 1 000 patients from 10 specialised dermatological wound care centers in Germany. International Wound Journal, 2014: p. n/a-n/a.
Favas, P., Prevalência e características das feridas na população do distrito de Leiria, in Instituto de Ciências da Saúde. 2012, Universidade Católica Portuguesa: Lisboa.
Prieto, B., Prevalencia de úlceras en Neda y diferencias entre la población rural y urbana. 2014, Facultade de enfermaría e podoloxía: Universidade da Coruña. Retrieve from http://ruc.udc.es/bitstream/2183/13646/2/TFG_Enfermaria_Escudero_Prieto_Beatriz.pdf.
Furtado, k., Úlceras de Perna - Tratamento Baseado na Evidência. Revista Nursing, 2003. 176: p. 14-23.
Direção Geral da Saúde, Orientação para a Prevenção da Infeção na Ferida Crónica, in NOC 19/2013. 2013, DGS.
Martinho, P. and P. Gaspar, Conhecimentos e práticas de terapia compressiva de enfermeiros de cuidados de saúde primários. Revista de Enfermagem Referência, 2012(6): p. 69-79.
Landis, S., Chronic wound infection and antimicrobial use. Advances in skin & wound care, 2008. 21(11): p. 531-540.
Souza, J., et al., Clinical and microbiologic evaluation of chronic leg ulcers: A cross-sectional study. Advances in Skin & Wound Care, 2014. 27(5): p. 222-227.
Pina, E., et al., Úlceras de perna em Portugal: um problema de saúde subestimado. Revista Portuguesa de Cirurgia Cardiotoracica Vascular, 2004. 11(4): p. 217-221.
Surber, C., et al., Principles of skin care in the elderly. Giornale italiano di dermatologia e venereologia : organo ufficiale, Societa italiana di dermatologia e sifilografia, 2015.
Maida, V., et al., Wounds in advanced illness: a prevalence and incidence study based on a prospective case series. International Wound Journal, 2008. 5(2): p. 305-314.
Rodrigues, I. and M.-F. Mégie, Prevalence of chronic wounds in Quebec home care: an exploratory study. Ostomy/wound management, 2006. 52(5): p. 46-57.
Ustrell-Olaria, A. and G. Amorós-Miró, Prevalencia de heridas de la piel en pacientes de atención domiciliaria de 2 áreas básicas de salud de Barcelona: implicaciones en la práctica enfermera. Enfermería Clínica, 2008. 18(5): p. 232-238.
Soldevilla Agreda, J., et al., 2º Estudio Nacional de Prevalencia de Úlceras por Presión en España, 2005: Epidemiología y variables definitorias de las lesiones y pacientes. Gerokomos, 2006. 17(3): p. 154-172.
Cruz, M.J., T. Baudrier, and F. Azevedo, Causas infrequentes de úlceras de perna e a sua abordagem. Revista da Sociedade Portuguesa de Dermatologia e Venereologia, 2013. 69(3): p. 383-394.
Callam, M., et al., Chronic ulceration of the leg: extent of the problem and provision of care. BMJ, 1985. 290(6485): p. 1855-1856.
Cornwall, J., C. Doré, and J. Lewis, Leg ulcers: epidemiology and aetiology. British Journal of Surgery, 1986. 73(9): p. 693-696.
Alves, P., et al., Úlceras de pressão, in Prevenção e tratamento de feridas - Da evidência à prática, Eugénio Pinto and Isabel Vieira, Editors. 2014.
Lichterfeld, A., et al., Evidence-based skin care. Journal of Wound, Ostomy and Continence Nursing, 2015. 42(5): p. 501-524.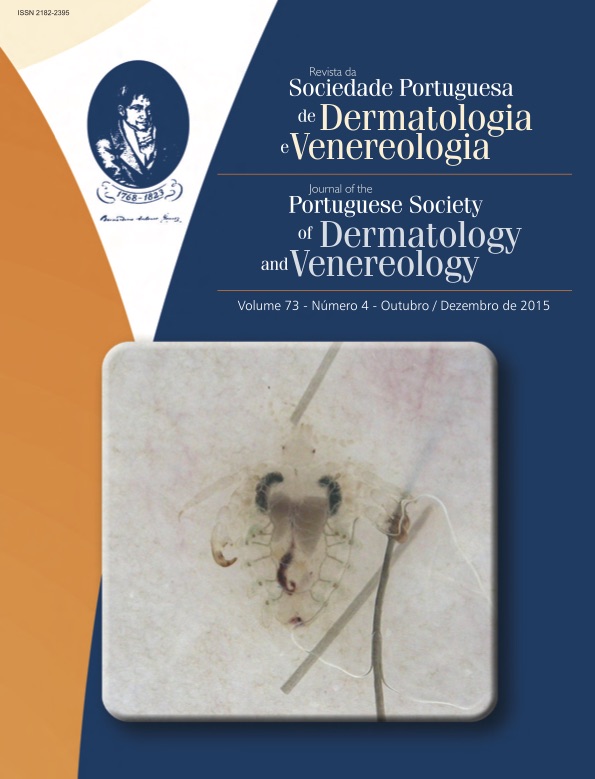 How to Cite
Passadouro da Fonseca, R. M. (2016). Características e prevalência das feridas crónicas no ACeS Pinhal Litoral. Journal of the Portuguese Society of Dermatology and Venereology, 73(4). https://doi.org/10.29021/spdv.73.4.449
Section
Original Articles
All articles in this journal are Open Access and meet the requirements of funding bodies or academic institutions. Each article published in the Journal is published under the Creative Commons Attribution-NonCommercial-NoDerivatives 4.0 International License (CC BY-NC-ND 4.0). Articles can be read, downloaded, printed, and shared.
Submission of an article for publication implies the authors' consent to publication under the applicable Creative Commons license and the terms and conditions of the Publisher's Licensing Agreement.
It is the author's responsibility to obtain permission to reproduce illustrations, tables, etc. from other publications.
Upon acceptance of an article, authors will be asked to complete a 'Journal Publishing Agreement'. An e-mail will be sent to the corresponding author confirming receipt of the manuscript together with a 'Journal Publishing Agreement' form or a link to the online version of this agreement.
Author rights: As an author you (or your employer or institution) have certain rights to reuse your work.
The Journal reserves the right to use plagiarism detection software on any submitted material.