Cancro anal em doentes com infecção por VIH – experiência do Hospital de Curry Cabral
Diana Póvoas

Hospital de Curry Cabral

Cândida Fernandes

Hospital de Curry Cabral

Vasco Macias

Hospital de Curry Cabral

Bárbara Flor de Lima

Hospital de Curry Cabral

Ana Rodrigues

Hospital de Curry Cabral

Fernando Maltez

Hospital de Curry Cabral

Jorge Cardoso

Hospital de Curry Cabral
Abstract
Introdução: Os homens que têm sexo com homens (HSH), particularmente os infectados pelo vírus da imunodeficiência humana (VIH) têm maior risco aumentado de cancro anal. Os factores de risco para esta neoplasia incluem maior prevalência de infecção do canal anal pelo vírus do papiloma humano (HPV), incluindo aumento da frequência de infecção por múltiplos tipos de HPV de alto risco nesta população, idade avançada e menor clearance vírico associado à imunossupressão. Ao contrário da maior partes dos eventos oportunistas e/ou definidores de SIDA, os dados são contraditórios no que diz respeito ao efeito da terapêutica antirretrovírica, não sendo claro o benefício da sua utilização precoce ou o impacto da supressão virológica e reconstituição imunitária na prevenção e evolução da infecção por HPV e neoplasias associadas.
Material e Métodos: Os autores apresentam as características clínicas e epidemiológicas dos doentes com infecção por VIH em seguimento no Hospital de Curry Cabral com o diagnóstico de cancro do canal anal num período de dez anos.
Resultados: O cancro anal foi diagnosticado em dez doentes, maioritariamente homens HSH, com infecção por VIH em média com  duração de 15.1 anos, com contagem média de linfócitos TCD4+ de 441 células/uL. O diagnóstico foi mais frequentemente realizado no estádio III e o tratamento mais frequente foi cirúrgico, ocasionalmente conjugado com radioterapia. Faleceram 4 doentes.
Conclusões: São necessários programas de rastreio consensuais do cancro anal a par da necessidade de reforço da vacinação contra o HPV nos homens, nomeadamente nos HSH, com ou sem infeção por VIH.  
Downloads
Download data is not yet available.
References
Riedel DJ, Tang LS, Rositch AF.The Role of Viral Co-Infection in HIV-Associated Non-AIDS-Related Cancers. Curr HIV/AIDS Rep. 2015 Sep;12(3):362-72. doi: 10.1007/s11904-015-0276-6.
Patel P, Hanson DL, Sullivan PS, Novak RM, Moorman AC, Tong TC, et al. Adult and Adolescent Spectrum of Disease Project and HIV Outpatient Study Investigators. Incidence of types of cancer among HIV-infected persons compared with the general population in the United States, 1992-2003. Ann Intern Med. 2008 May 20;148(10):728-36.
Chaturvedi AK, Madeleine MM, Biggar RJ, Engels EA. Risk of human papillomavirus-associated cancers among persons with AIDS. J Natl Cancer Inst. 2009 Aug 19;101(16):1120-30. doi: 10.1093/jnci/djp205. Epub 2009 Jul 31.
Fife KH, Wu JW, Squires KE, Watts DH, Andersen JW, Brown DR. Prevalence and persistence of cervical human papillomavirus infection in HIV-positive women initiating highly active antiretroviral therapy. J Acquir Immune Defic Syndr. 2009 Jul 1;51(3):274-82. doi: 10.1097/QAI.0b013e3181a97be5.
Konopnicki D, Manigart Y, Gilles C, Barlow P, de Marchin J, Feoli F, et al. High-risk human papillomavirus infection in HIV-positive African women living in Europe. Konopnicki D, Manigart Y, Gilles C, Barlow P, de Marchin J, Feoli F, Larsimont D, Delforge M, De Wit S, Clumeck N.
Minkoff H, Ahdieh L, Massad LS, Anastos K, Watts DH, Melnick S, et al. The effect of highly active antiretroviral therapy on cervical cytologic changes associated with oncogenic HPV among HIV-infected women. AIDS. 2001 Nov 9;15(16):2157-64.
Chiao EY, Hartman CM, El-Serag HB, Giordano TP. The impact of HIV viral control on the incidence of HIV-associated anal cancer. J Acquir Immune Defic Syndr. 2013 Aug 15;63(5):631-8. doi: 10.1097/QAI.0b013e3182968fa7.
Conley L, Bush T, Darragh TM, Palefsky JM, Unger ER, Patel P, et al. Study to Understand the Natural History of HIV and AIDS in the Era of Effective Therapy (SUN Study) Investigators. Factors associated with prevalent abnormal anal cytology in a large cohort of HIV-infected adults in the United States. J Infect Dis. 2010 Nov 15;202(10):1567-76. doi: 10.1086/656775. Epub 2010 Oct 6.
Worm SW, Bower M, Reiss P, Bonnet F, Law M, Fätkenheuer G, et al. D:A:D Study Group. Non-AIDS defining cancers in the D:A:D Study--time trends and predictors of survival: a cohort study. BMC Infect Dis. 2013 Oct 9;13:471. doi: 10.1186/1471-2334-13-471.
van der Snoek EM, van der Ende ME, den Hollander JC, Schutten M, Neumann HA, van Doornum GJ. Use of highly active antiretroviral therapy is associated with lower prevalence of anal intraepithelial neoplastic lesions and lower prevalence of human papillomavirus in HIV-infected men who have sex with men. Sex Transm Dis. 2012 Jul;39(7):495-500. doi: 10.1097/OLQ.0b013e31825aa764.
de Pokomandy A, Rouleau D, Ghattas G, Trottier H, Vézina S, Coté P, et al. HAART and progression to high-grade anal intraepithelial neoplasia in men who have sex with men and are infected with HIV. Clin Infect Dis. 2011 May;52(9):1174-81. doi: 10.1093/cid/cir064. Epub 2011 Mar 1.
Wilkin TJ. Screening for Anal Cancer: Who, When, and How. Medscape. Apr 22, 2010. Disponível em http://www.medscape.com/viewarticle/720388 A 16 de Fevereiro de 2014
Kreimer AR, González P, Katki HA, Porras C, Schiffman M, Rodriguez AC, et al; CVT Vaccine Group. Efficacy of a bivalent HPV 16/18 vaccine against anal HPV 16/18 infection among young women: a nested analysis within the Costa Rica Vaccine Trial. Lancet Oncol. 2011 Sep;12(9):862-70. doi: 10.1016/S1470-2045(11)70213-3. Epub 2011 Aug 22
Garland SM, Hernandez-Avila M, Wheeler CM, Perez G, Harper DM, Leodolter S, et al; Females United to Unilaterally Reduce Endo/Ectocervical Disease (FUTURE) I Investigators. Quadrivalent vaccine against human papillomavirus to prevent anogenital diseases. N Engl J Med. 2007 May 10;356(19):1928-43.
Palefsky JM, Giuliano AR, Goldstone S, Moreira ED Jr, Aranda C, Jessen H, et al. HPV vaccine against anal HPV infection and anal intraepithelial neoplasia. N Engl J Med. 2011 Oct 27;365(17):1576-85. doi: 10.1056/NEJMoa1010971.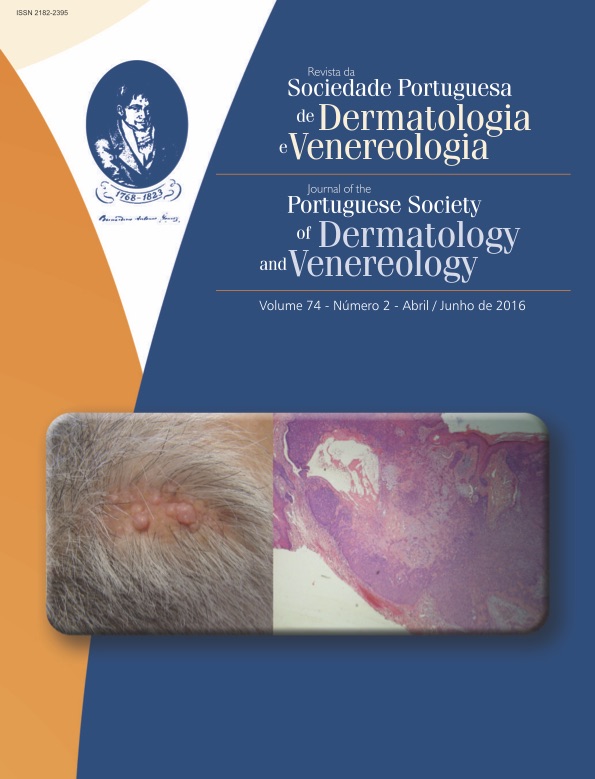 How to Cite
Póvoas, D., Fernandes, C., Macias, V., Flor de Lima, B., Rodrigues, A., Maltez, F., & Cardoso, J. (2017). Cancro anal em doentes com infecção por VIH – experiência do Hospital de Curry Cabral. Journal of the Portuguese Society of Dermatology and Venereology, 74(2). https://doi.org/10.29021/spdv.74.2.450
Section
Grupo para o Estudo e Investigação das Doenças Sexualmente Transmissíveis (GEIDS
All articles in this journal are Open Access and meet the requirements of funding bodies or academic institutions. Each article published in the Journal is published under the Creative Commons Attribution-NonCommercial-NoDerivatives 4.0 International License (CC BY-NC-ND 4.0). Articles can be read, downloaded, printed, and shared.
Submission of an article for publication implies the authors' consent to publication under the applicable Creative Commons license and the terms and conditions of the Publisher's Licensing Agreement.
It is the author's responsibility to obtain permission to reproduce illustrations, tables, etc. from other publications.
Upon acceptance of an article, authors will be asked to complete a 'Journal Publishing Agreement'. An e-mail will be sent to the corresponding author confirming receipt of the manuscript together with a 'Journal Publishing Agreement' form or a link to the online version of this agreement.
Author rights: As an author you (or your employer or institution) have certain rights to reuse your work.
The Journal reserves the right to use plagiarism detection software on any submitted material.