CUTANEOUS PORPHYRIAS IN PEDIATRICS
Andreia Guerreiro

Interna do Internato Complementar de Pediatria Médica/Resident in Pediatrics, Serviço de Pediatria, Hospital Garcia de Orta, Almada, Portugal

Cristina Amaro

Assistente Hospitalar de Dermatologia e Venereologia/Consultant, Dermatology and Venereology, Serviço de Dermatovenereologia, Hospital de Curry Cabral – Centro Hospitalar de Lisboa Central, Lisboa, Portugal
Keywords:
Diagnosis, Differential, Porphyrias, Child, Skin Diseases
Abstract
The porphyrias are a group of rare metabolic disorders that result mostly from a genetically determined dysfunction of specific enzymes involved in the heme biosynthetic pathway. Clinical presentation is highly variable, as well as its severity and prognosis. The photosensitivity defines the cutaneous porphyrias. Differential diagnosis can be difficult due to uncharacteristic clinical symptoms and overlapping laboratory findings. The treatment is still controversial, although sun avoidance is essential. In this article, we intend to conduct a theoretical review of the porphyrias with cutaneous manifestations in children, emphasizing the diagnosis and treatment of each subtype.
Downloads
Download data is not yet available.
References
Puy H, Gouya L, Deybach JC. Porphyrias. Lancet 2010;375: 924-37.
Pietrangelo A. The porphyrias: pathophysiology. Intern Emerg Med 2010; 5: S65-71.
Horner M, Alikhan S, Tortorelli S, Davis D, Hand J. Cutaneous porphyrias part I: epidemiology, pathogenesis, presentation, diagnosis, and histopathology. Int J Dermatol 2013; 52: 1464-80.
Sassa S. Modern diagnosis and management of the porphyria. Br J Haematol 2006; 135:281-92.
Balwani M, Desnick R. The porphyrias: advances in diagnosis and treatment. Blood 2012; 120:19-27.
Dinardo C, Fonseca G, Suganuma L, Gualandro S, Chamone D. Porfirias: quadro clínico, diagnóstico e tratamento.
Rev Med 2010; 89:106-14.
Sarkany RP. Making sense of the porphyrias. Photodermatol Photoimmunol Photomed 2008; 24:102-8.
Schulenburg-Brand D, Katugampola R, Anstey A, Badminton M. The cutaneous porphyrias. Dermatol Clin 2014; 32:369-84.
Poh-Fitzpatrick M. Molecular and cellular mechanisms of porphyrin photosensitization. Photodermatol 1986;
:148-57.
Brun A, Sandberg S. Mechanisms of photosensitivity in porphyric patients with special emphasis on erythropoietic protoporphyria. J Photochem Photobiol B 1991; 10:285-302.
Epstein J, Tuffanelli D, Epstein W. Cutaneous changes in the porphyrias. A microscopic study. Arch Dermatol 1973;107:689-98.
Chantorn R, Lim H, Schwayder T. Photosensitivity disorders in children. J Am Acad Dermatol. 2012; 67: 1093.
e1-18.
Fritsch C, Bolsen K, Ruzicka T, Goerz G. Congenital erythropoietic porphyria. J Am Acad Dermatol. 1997;
:594-610.
Dawe SA, Peters TJ, Du Vivier A, et al. Congenital erythropoietic porphyria: dilemmas in present day management. Clin Exp Dermatol 2002; 27:680-3.
Harada F, Shwayder T, Desnick R, Lim H. Treatment of severe congenital erythropoietic porphyria by bone marrow transplantation. J Am Acad Dermatol 2001; 45:279-82.
Shaw P, Mancini A, McConnell J, Brown D, Kletzel M. Treatment of congenital erythropoietic porphyria in children
by allogeneic stem cell transplantation: a case report and review of the literature. Bone Marrow Transplant 2001; 27:101-5.
Bruce AJ, Ahmed I. Childhood-onset porphyria cutanea tarda: successful therapy with low-dose hydroxychloroquine (Plaquenil). J Am Acad Dermatol 1998; 38:810-4.
Tintle S, Alikhan A, Horner M, Hand J, Davis D. Cutaneous porphyrias part II: treatment strategies. Int J Dermatol 2014; 53:3-24.
Jeanmougin M, Pedreiro J, Manciet J, Moulin J, Civatte J. Hydroa vacciniforme type eruption disclosing hereditary
coproporphyria. Ann Dermatol Venereol 1988; 115:1236-8.
Anderson K, Lee C, Desnick R. The Porphyrias. In: Behrman R, Kliegman R, Jenson H, Stanton B, editors. Nelson
Textbook of Pediatrics. 18th ed. Amsterdam: Elsevier; 2007. p. 91.
Mustajoki P, Tenhunen R, Niemi K, Nordmann Y, Kaariainen H, Norio R. Homozygous variegate porphyria.
A severe skin disease of infancy. Clin Genet 1987; 32:300-5.
Bonkovsky H. Neurovisceral porphyrias: what a hematologist needs to know. Hematol Am Soc Hematol Educ Program. 2005: 24-30.
Anderson K, Bloomer J, Bonkovsky H, Kushner J, Pierach C, Pimstone N, Desnick R. Recommendations for the
diagnosis and treatment of the acute porphyries. Ann Intern Med. 2005; 142:439-50.
Hift R, Meissner PN, Todd G, Kirby P, Bilsland D, Collins P, et al. Homozygous variegate porphyria: an evolving clinical syndrome. Postgrad Med J. 1993; 69:781-6.
Siegesmund M, van Tuyll van Serooskerken A, Poblete-Gutierrez P, Frank J. The acute hepatic porphyrias: current status and future challenges. Best Pract Res Clin Gastroenterol 2010; 24:593-605.
Horkay I, Emri G, Varga V, Simics E, Remenyik E. Photosensitivity skin disorders in childhood. Photodermatol
Photoimmunol Photomed 2008; 24:56-60.
Ten Berge O, Sigurdsson V, Bruijnzeel-Koomen CA, van Weelden H, Pasmans SG. Photosensitivity testing in children. J Am Acad Dermatol 2010; 63:1019-25.
Grossberg A. Pediatric photosensitivity. Photodermatol Photoimmunol Photomed 2012; 28:174-80.
Michaels B, Del Rosso J, Mobini N, Michaels J. Erythropoietic protoporphyria: a case report and review of the
literature. J Clin Aesthet Dermatol 2010; 3:44-8.
Murphy GM. Diagnosis and management of the erythropoietic porphyrias. Dermatol Ther 2003; 16:57-64.
Minder E, Schneider-Yin X, Steurer J, Bachmann LM. A systematic review of treatment options for dermal photosensitivity in erythropoietic protoporphyria. Cell Mol Biol 2009; 55:84-97.
Frank J, Christiano A. The genetic bases of the porphyrias. Skin Pharmacol Appl Skin Physiol 1998; 11:297-309.
Poblete-Gutiérrez, Wiederholt T, Merk HF, Frank J. The porphyrias: clinical presentation, diagnosis and treatment.
Eur J Dermatol 2006; 16:230-40.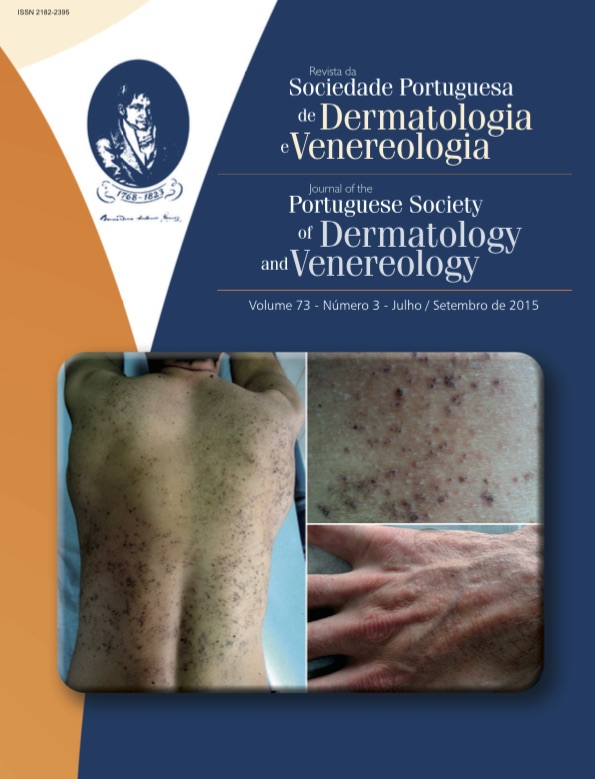 How to Cite
Guerreiro, A., & Amaro, C. (2015). CUTANEOUS PORPHYRIAS IN PEDIATRICS. Journal of the Portuguese Society of Dermatology and Venereology, 73(3), 333-341. https://doi.org/10.29021/spdv.73.3.456
Section
Continuous Medica Education
All articles in this journal are Open Access under the Creative Commons Attribution-NonCommercial 4.0 International License (CC BY-NC 4.0).