PSORIASIS TREATMENT WITH BIOLOGICS: BEYOND TUMOR NECROSIS FACTOR α INIHIBITORS – THE PRESENT AND THE FUTURE
Sandrina Carvalho

Interna de Dermatovenereologia/Resident, Dermatology and Venereology, Serviço de Dermatologia, Centro Hospitalar do Porto, Hospital Santo António, Porto, Portugal

Tiago Torres

Assistente Hospitalar de Dermatovenereologia/Consultant Dermatology and Venereology, Serviço de Dermatologia, Centro Hospitalar do Porto, Hospital Santo António, Porto, Portugal

Manuela Selores

Chefe de Serviço, Directora do Serviço de Dermatologia/Head of Dermatology and Venereology Department, Centro Hospitalar do Porto, Hospital Santo António, Porto, Portugal
Abstract
Psoriasis is a chronic systemic T-cell-mediated inflammatory disease with high morbidity. Psoriasis's investigation has been intense, improving knowledge on physiopathology and leading to new biologic therapies for moderate and severe psoriasis's treatment. This review will focus the present and the future of anti-cytokine therapies, beside the class of tumor necrosis factor-α (TNF-α) blockers.
KEYWORDS – Antibodies, Monoclonal; Biological agents; Dermatologic agents; Psoriasis.

Downloads
Download data is not yet available.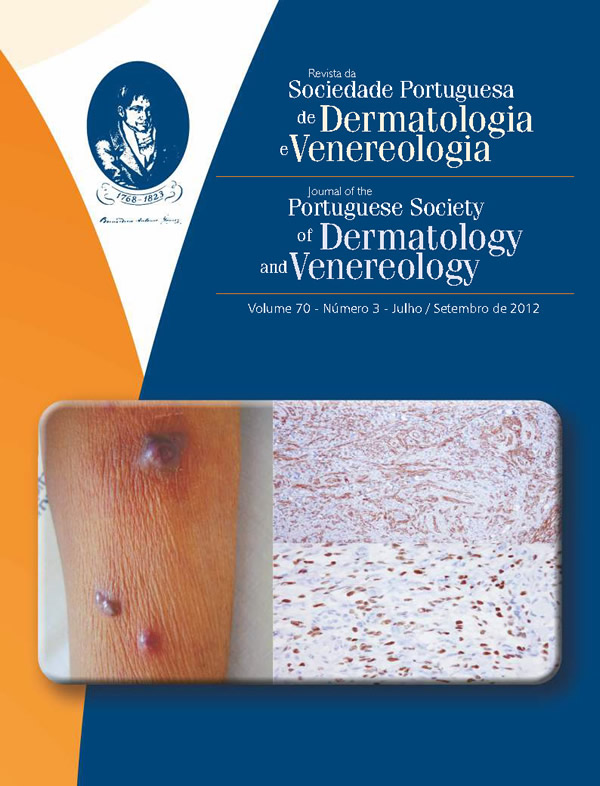 How to Cite
Carvalho, S., Torres, T., & Selores, M. (2013). PSORIASIS TREATMENT WITH BIOLOGICS: BEYOND TUMOR NECROSIS FACTOR α INIHIBITORS – THE PRESENT AND THE FUTURE. Journal of the Portuguese Society of Dermatology and Venereology, 70(3), 299. https://doi.org/10.29021/spdv.70.3.5
All articles in this journal are Open Access under the Creative Commons Attribution-NonCommercial 4.0 International License (CC BY-NC 4.0).