VULVAR INFLAMMATORY DERMATOSES
Ermelindo Tavares

Interno do Internato Complementar de Dermatologia e Venereologia / Resident, Dermatology and Venereology

César Martins

Assistente Hospitalar Graduado de Dermatologia e Venereologia / Graduated Consultant, Dermatology and Venereology

José Teixeira

Director do Serviço de Ginecologia e Obstetrícia / Head, Obstetrics and Gynecology Department Serviço de Dermatologia e Venereologia; Serviço de Ginecologia e Obstetrícia, Consulta de Patologia Vulvar; Hospital Distrital de Santarém, Portugal
Abstract
Vulvar skin diseases represent a heterogeneous group of skin diseases which display infectious, inflam- matory or malignant nature. The authors conducted a review of epidemiological, etiopathogenic, clínicopathological, therapeutic and prognostic aspects of five vulvar inflammatory skin diseases, namely lichen sclerosus, eczema, psoriasis, lichen planus and Zoon's vulvitis. Except for the Zoon's vulvitis, vulvar inflammatory skin diseases are more common in women compared to their counterparts in males. Their etiopathogenic features remain unknown. Itching and pain are the most common complaints. Extra-genital lesions may be present. The diagnosis of psoriasis and eczema is usually clinical and the definitive diagnosis of lichen sclerosus, Zoon's vulvitis and lichen planus is primarily histological. Althou- gh mostly treated by dermatologists, vulvar inflammatory skin diseases may require a multidisciplinary approach which includes gynecology, urology, pediatrics, psychology and psychiatry. Superpotent or potent topical corticosteroids are the primarily therapeutic approaches, followed by topical calcineurin inhibitors. The risk of malignancy is present in lichen sclerosus and lichen planus, requiring periodic examination.
KEYWORDS – Vulvar Diseases; Skin Diseases; Vulvar Lichen Sclerosus; Psoriasis; Lichen Planus; Vulvitis.

Downloads
Download data is not yet available.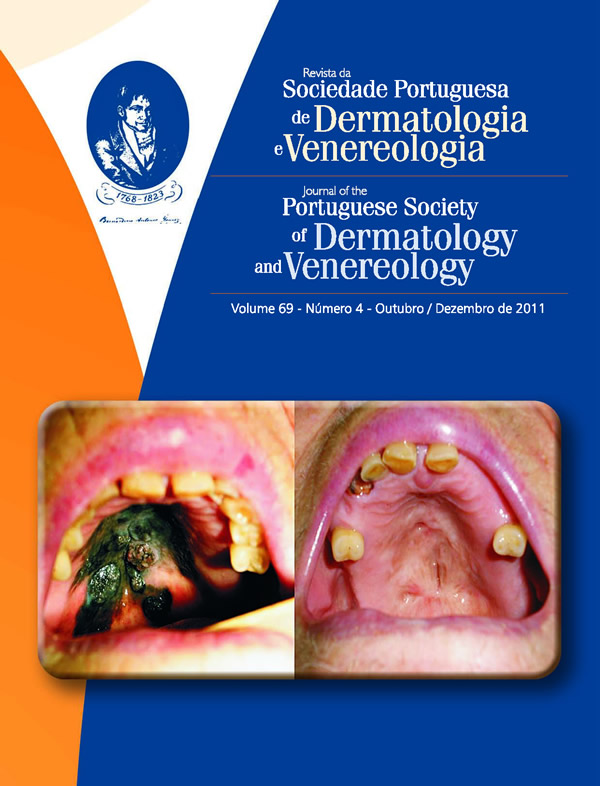 How to Cite
Tavares, E., Martins, C., & Teixeira, J. (2011). VULVAR INFLAMMATORY DERMATOSES. Journal of the Portuguese Society of Dermatology and Venereology, 69(4), 561. https://doi.org/10.29021/spdv.69.4.56
All articles in this journal are Open Access and meet the requirements of funding bodies or academic institutions. Each article published in the Journal is published under the Creative Commons Attribution-NonCommercial-NoDerivatives 4.0 International License (CC BY-NC-ND 4.0). Articles can be read, downloaded, printed, and shared.
Submission of an article for publication implies the authors' consent to publication under the applicable Creative Commons license and the terms and conditions of the Publisher's Licensing Agreement.
It is the author's responsibility to obtain permission to reproduce illustrations, tables, etc. from other publications.
Upon acceptance of an article, authors will be asked to complete a 'Journal Publishing Agreement'. An e-mail will be sent to the corresponding author confirming receipt of the manuscript together with a 'Journal Publishing Agreement' form or a link to the online version of this agreement.
Author rights: As an author you (or your employer or institution) have certain rights to reuse your work.
The Journal reserves the right to use plagiarism detection software on any submitted material.