A Rare Cause of Palpable Purpura: Eosinophilic Granulomatosis with Polyangiitis
Ana Isabel Teixeira

Interna do Internato Complementar de Dermatovenereologia/Resident, Dermatology and Venereology, Serviço de Dermatovenereologia, Centro Hospitalar Lisboa Norte, Lisboa, Portugal

Teresa Estanislau Correia

Assistente Hospitalar Graduado de Dermatovenereologia/Graduated Consultant, Dermatology and Venereology, Serviço de Dermatovenereologia, Centro Hospitalar Lisboa Norte, Lisboa, Portugal

Luis Soares-de-Almeida

Assistente Hospitalar Graduado de Dermatovenereologia/Graduated Consultant, Dermatology and Venereology, Professor associado de Dermatologia/Associated Professor - Unidade de Investigação em Dermatologia, IMM Lisboa, Lisboa, Portugal, Serviço de Dermatovenereologia, Centro Hospitalar Lisboa Norte, Lisboa, Portugal
Keywords:
Anti-Neutrophil Cytoplasmic, Antibody-Associated Vasculitis, Azathioprine, Churg-Strauss Syndrome, Granulomatosis with Polyangiitis, Prednisolone, Purpura
Abstract
Eosinophilic granulomatosis with polyangiitis is a systemic vasculitis that affects small to medium vessels, belonging to the spectrum of antineutrophil cytoplasm antibody-associated vasculitis. It is a rare disease that presents with vasculitis, asthma and other eosinophilic symptoms. We present the case of a 67-year-old male, with a palpable purpura affecting the superior and inferior limbs, and abdomen, for the past month. The patient complained of chronic cough for the past year, which aggravated in the last month. Complementary studies allowed the diagnosis of eosinophilic granulomatosis with polyangiitis and the patient was treated with prednisolone until remission followed by azathioprine as a maintenance therapy. After one year of follow-up no recurrence was seen.
Downloads
Download data is not yet available.
References
Jennette JC. Overview of the 2012 revised International Chapel Hill Consensus Conference nomenclature of vasculitides. Clin Exp Nephrol. 2013; 17:603-6.
Pereira N, Amaro C. Vasculites na infância. Rev Soc Port Dermatol Venereol. 2012; 0:174-80.
Churg J, Strauss l. Allergic granulomatosis, allergic angiitis, and periarteritis nodosa. Am J Pathol. 1951; 27:277-301.
Vaglio A, Casazza I, Grasselli C, Corradi D, Sinico RA, Buzio C. Churg-Strauss syndrome. Kidney Int.
;76:1006-11.
Cuchacovich R, Justiniano M, Espinoza LR. Churg–Strauss syndrome associated with leukotriene receptor
antagonists (LTRA). Clin Rheumatol. 2007; 26:1769-71.
Greco A, Rizzo MI, De Virgilio A, Gallo A, Fusconi M, Ruoppolo G, et al. Churg-Strauss syndrome. Autoimmun Rev. 2015; 14:341-8.
Vaglio A, Martorana D, Maggiore U, Grasselli C, Zanetti A, Pesci A, et al. HLADRB4 as a genetic risk factor
for Churg–Strauss syndrome. Arthritis Rheum. 2007; 56:3159-66.
Radice A, Bianchi L, Sinico RA. Anti-neutrophil cytoplasmic autoantibodies: methodological aspects and clinical significance in systemic vasculitis. Autoimmun Rev. 2013;12:487-95.
Masi AT, Hunder GG, Lie JT, Michel BA, Bloch DA, Arend WP, et al. The American College of Rheumatology 1990 criteria for the classification of Churg-Strauss syndrome (allergic granulomatosis and angiitis). Arthritis Rheum. 1990; 33:1094-100.
Groh M, Pagnoux C, Baldini C, Bel E, Bottero P, Cottin V, et al. Eosinophilic granulomatosis with polyangiitis (Churg-Strauss) (EGPA) Consensus Task Force recommendations for evaluation and management. Eur J Intern Med. 2015; 26:545-53.
Grayson PC, Monach PA, Pagnoux C, Cuthbertson D, Carette S, Hoffman GS, et al. Value of commonly measured laboratory tests as biomarkers of disease activity and predictors of relapse in eosinophilic granulomatosis with polyangiitis. Rheumatology. 2015; 54:1351-9.
Guillevin L, Pagnoux C, Seror R, Mahr A, Mouthon L, Le Toumelin P; French Vasculitis Study Group (FVSG). The Five-Factor Score revisited: assessment of prognoses of systemic necrotizing vasculitides based on the French Vasculitis Study Group (FVSG) cohort. Medicine. 2011; 90:19-27.0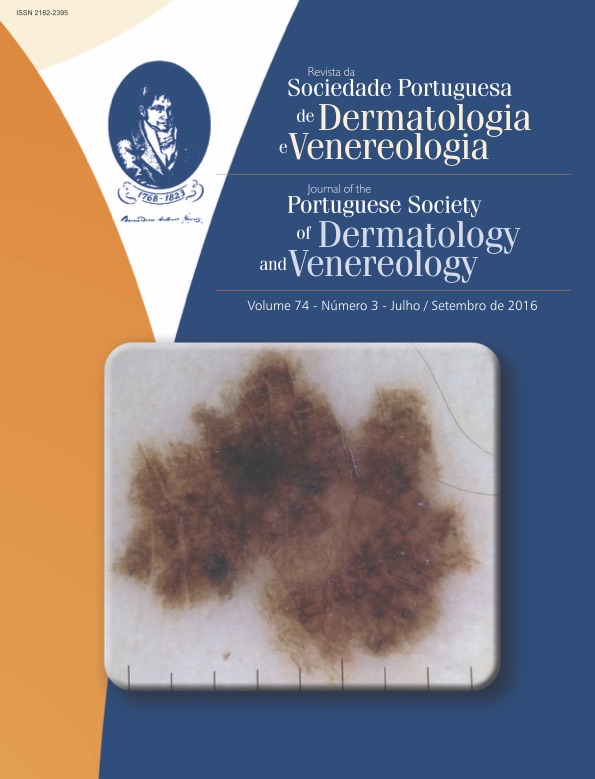 How to Cite
Teixeira, A. I., Estanislau Correia, T., & Soares-de-Almeida, L. (2016). A Rare Cause of Palpable Purpura: Eosinophilic Granulomatosis with Polyangiitis. Journal of the Portuguese Society of Dermatology and Venereology, 74(3), 273-276. https://doi.org/10.29021/spdv.74.3.597
All articles in this journal are Open Access and meet the requirements of funding bodies or academic institutions. Each article published in the Journal is published under the Creative Commons Attribution-NonCommercial-NoDerivatives 4.0 International License (CC BY-NC-ND 4.0). Articles can be read, downloaded, printed, and shared.
Submission of an article for publication implies the authors' consent to publication under the applicable Creative Commons license and the terms and conditions of the Publisher's Licensing Agreement.
It is the author's responsibility to obtain permission to reproduce illustrations, tables, etc. from other publications.
Upon acceptance of an article, authors will be asked to complete a 'Journal Publishing Agreement'. An e-mail will be sent to the corresponding author confirming receipt of the manuscript together with a 'Journal Publishing Agreement' form or a link to the online version of this agreement.
Author rights: As an author you (or your employer or institution) have certain rights to reuse your work.
The Journal reserves the right to use plagiarism detection software on any submitted material.