Unilateral Lichen Aureus in a Child - Case Report
Heliana Freitas de Oliveira Góes

Universidade Federal Fluminense, Niterói, RJ, Brazil

Marília Troyano de Castro Mendes

Universidade Federal Fluminense, Niterói, RJ, Brazil

Aline Falci Loures

Universidade Federal Fluminense, Niterói, RJ, Brazil

Ada Lobato Quattrino

Universidade Federal Fluminense, Niterói, RJ, Brazil

Caren dos Santos Lima

Universidade Federal Fluminense, Niterói, RJ, Brazil

Luciana Pantaleão

Universidade Federal Fluminense, Niterói, RJ, Brazil
Keywords:
Child, Leg, Lichenoid Eruptions, Pigmentation Disorders
Abstract
Lichen aureus is a subtype of a chronic benign pigmented purpuric dermatosis of unknown etiology. It shows predilection for lower limbs and generally affects young adults and, less often, children. We report a case of lichen aureus with a unilateral presentation in a child.
Downloads
Download data is not yet available.
References
Kim MJ, Kim BY, Park KC, Youn SW. A case of childhood lichen aureus. Ann Dermatol. 2009; 21:393-5.
Hermoza Rodríguez J. Liquen aureus. Dermatol Peru. 2003; 13:220-2.
Cunha Filho RR, Schwartz J, Zanol J. Líquen aureus "algesiogênico". An Bras Dermatol. 2006; 81: 163-5.
Portela PS, Melo DF, Ormiga P, Oliveira FJ, Freitas NC, Bastos Júnior CS. Dermatoscopia do líquen aureus. An
Bras Dermatol. 2013; 88: 253-5.
Tortelly VD, Silva RS, Mota ANCM, Piñeiro-Maceira J. Agminate Lichen Aureus. An Bras Dermatol. 2013;
(6):143-5.
Moche J, Glassman S, Modi D, Grayson W. Segmental lichen aureus: a report of two cases treated with methylprednisolone aceponate. Australas J Dermatol. 2011;52:e15-8.
Zeng YP, Fang K, Ma DL. Lichen aureus: clinicopathological features in a Chinese series. Eur J Dermatol. 2016 (in
press)
Aung PP, Burns SJ, Bhawan J. Lichen aureus: an unusual histopathological presentation: a case report and a review
of literature. Am J Dermatopathol. 2014; 36:e1-4.
Hong DK, Chang IK, Lee Y, Seo YJ, Kim CD, Lee JH, Im M. Treatment of segmental lichen aureus with a pulsed-
-dye laser: new treatment options for lichen aureus. Eur J Dermatol. 2013; 23:891-2.
Toro JR, Sander CA, LeBoit PE. Persistent pigmented purpuric dermatitis and mycosis fungoides: simulant,
precursor, or both? A study by light microscopy and molecular methods. Am J Dermatopathol. 1997; 19:108-18.
Fink-Puches R, Wolf P, Kerl H, Cerroni L. Lichen aureus: clinicopathologic features, natural history and
relationship to mycosis fungoides. Arch Dermatol. 2008:144:1169-73.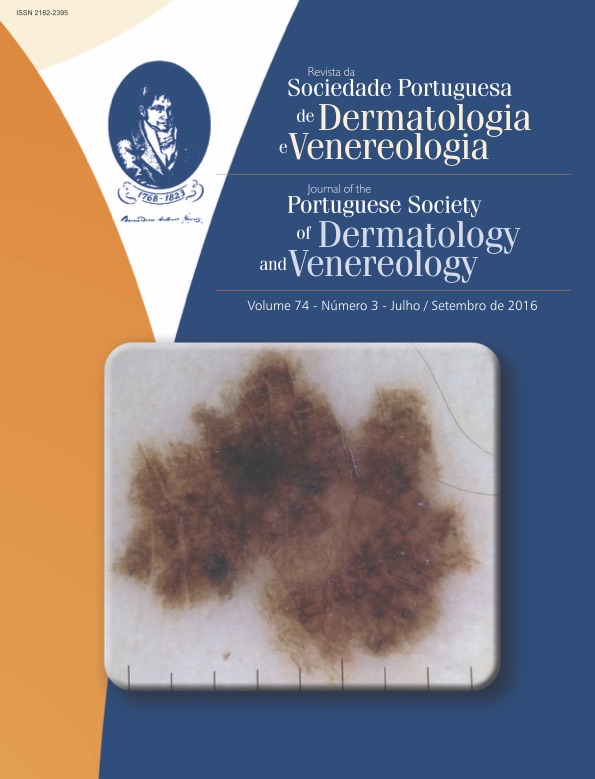 How to Cite
Freitas de Oliveira Góes, H., de Castro Mendes, M. T., Falci Loures, A., Lobato Quattrino, A., dos Santos Lima, C., & Pantaleão, L. (2016). Unilateral Lichen Aureus in a Child - Case Report. Journal of the Portuguese Society of Dermatology and Venereology, 74(3), 277-279. https://doi.org/10.29021/spdv.74.3.598
All articles in this journal are Open Access under the Creative Commons Attribution-NonCommercial 4.0 International License (CC BY-NC 4.0).