A New Insight over Telangiectasia Macularis Eruptiva Perstans
André Pinho

Interno complementar de Dermatologia e Venereologia/Residente, Dermatology and Venereology, Serviço de Dermatologia, Centro Hospitalar e Universitário de Coimbra, Coimbra, Portugal

José Carlos Cardoso

Assistente Hospitalar/Consultant of Dermatology and Venereology, Serviço de Dermatologia, Centro Hospitalar e Universitário de Coimbra, Coimbra, Portugal

Hugo Oliveira

Assistente Hospitalar/Consultant of Dermatology and Venereology, Serviço de Dermatologia, Centro Hospitalar e Universitário de Coimbra, Coimbra, Portugal

Óscar Tellechea

Chefe de Serviço/Consultant Chief of Dermatology and Venereology, Serviço de Dermatologia, Centro Hospitalar e Universitário de Coimbra, Coimbra, Portugal

Américo Figueiredo

Professor e Director do Serviço de Dermatologia/Professor and Head of Dermatology Department, Centro Hospitalar e Universitário de Coimbra, Portugal
Keywords:
Mastocytosis, Cutaneous, Telangiectasis, Urticaria Pigmentosa
Abstract
Telangiectasia macularis eruptiva perstans (TMEP) is a rare form of cutaneous mastocytosis with distinctive semiology and histopathology, but that is not free of controversy regarding its individualization as a nosological entity. For some authors, the presence of exclusively telangiectatic macules, along with superficial vascular plexus dilation and low density of mast cell infiltrates in the upper dermis is enough for diagnosis of TMEP. However, some current classifications do not consider this entity separately from other types of cutaneous mastocytosis, because in many cases with telangiectatic lesions, lesions of urticaria pigmentosa can also be observed. We sought to present a case of cutaneous mastocytosis first appearing in the eighth decade of life, with the characteristic clinical, dermoscopic and histopathological findings of TMEP and with no mast cell activation symptoms other than pruritus. However, the complementary workup revealed concurrently the presence of indolent systemic mastocytosis. We additionally revised the most recent evidence favouring the recognition and individualization of this entity.
Downloads
Download data is not yet available.
References
Horny H, Metcalfe D, Bennett J. Mastocytosis. In: Swerdlow SH, Campo E, Harris NL, Jaffe ES, Pileri AS, editors)
WHO Classification of Tumours of Haematopoietic and Lymphoid Tissues .4th ed. Lyon: International Agency of Research and Cancer (IARC); 2008.
Maluf LC, Barros JA, Machado Filho CD. Mastocitose. An Brasil Dermatol. 2009; 84: 213-25.
Sarkany RPE, Monk BE, Handfield-Jones SE. Telangiectasia macularis eruptiva perstans: a case report and
review of the literature. Clin Exp Dermatol.1998; 23:38-9.
Marrouche N, Grattan C. TMEP or not TMEP: That is the question. J Am Acad Dermatol. 2014; 70:581-2.
Hartmann K, Escribano L, Grattan C, Brockow K, Carter MC, Alvarez-Twose I, et al. Cutaneous manifestations in patients with mastocytosis: Consensus report of the European Competence Network on Mastocytosis; the American Academy of Allergy, Asthma & Immunology; and the European Academy of Allergology and Clinical Immunology. J Allergy Clin Immunol. 2016; 137:35-45.
Akay BN, Kittler H, Sanli H, Harmankaya K, Anadolu R. Dermatoscopic findings of cutaneous mastocytosis. Dermatology.
; 218:226-30.
Berezowska S, Flaig MJ, Rueff F, Walz C, Haferlach T, Krokowski M, et al. Adult-onset mastocytosis in the skin is highly suggestive of systemic mastocytosis. Mod Pathol. 2014; 27:19-29.
Fraitag-Spinner S. Mastocytoses cutanées. Ann Dermatol Vénéréol. 2007; 134:589-92.
Ackerman AB. Urticaria Pigmentosa. In: Ackerman AB, editor. Histologic diagnosis of inflammatory skin diseases.
An algorithmic method based on pattern analysis Baltimore: Williams and Wilkins; 1997.p. 887-1.
Severino M, Chandesris M-O, Barete S, Tournier E, Sans B, Laurent C, et al.. Telangiectasia macularis eruptiva
perstans (TMEP): A form of cutaneous mastocytosis with potential systemic involvement. J Am Acad Dermatol. 2016; 74:885-91.
Martin-Fuentes A, Pastor-Nieto MA, De Eusebio-Murillo E. Telangiectatic macules in a 90-year-old woman. Actas
Dermosifiliogr. 2012; 103:65-6.
Fernandes IC, Teixeira MA, Freitas I, Selores M, Alves R, Lima M. Adult mastocytosis: a review of the Santo António
Hospital 's experience and an evaluation of World Health Organization criteria for the diagnosis of systemic disease. An Brasil Dermatol. 2014; 89:59-66.
Macias VC, Amaro C, Freitas I, Vieira R, Cardoso J. Mastocitose cutânea na infância – estudo retrospetivo de 32 doentes. Rev Soc Port Dermatol Venereol. 2013;70:5.
Weber FP, Hellenschmied R. Telangiectasia macularis eruptiva perstans. Br J Dermatol. 1930; 42:374-82.
Weber FP. Urticaria pigmentosa in an adult. Proc R Soc Med. 1930; 24:95-6.
Brockow K, Akin C, Huber M, Metcalfe DD. Assessment of the extent of cutaneous involvement in children and
adults with mastocytosis: Relationship to symptomatology, tryptase levels, and bone marrow pathology. J Am Acad Dermatol. 2003; 48:508-16.
Escribano L, Álvarez-Twose I, Sánchez-Muñoz L, Garcia-Montero A, Núñez R, Almeida J, et al. Prognosis in adult indolent systemic mastocytosis: A long-term study of the Spanish Network on Mastocytosis in a series of 145 patients J Allergy ClinImmunol. 2009; 124:514-21.
Garcia-Montero AC, Jara-Acevedo M, Teodosio C, Sanchez ML, Nunez R, Prados A, et al.. KIT mutation in mast cells and other bone marrow hematopoietic cell lineages in systemic mast cell disorders: a prospective study of the Spanish Network on Mastocytosis (REMA) in a series of 113 patients. Blood. 2006; 108:2366-72.
Vega-Ruiz A, Cortes JE, Sever M, Manshouri T, Quintás-Cardama A, Luthra R, et al. Phase II study of imatinib
mesylate as therapy for patients with systemic mastocytosis. Leuk Res. 2009; 33: 1481-4.
Watkins CE, Bokor WB, Leicht S, Youngberg G, Krishnaswamy G. Telangiectasia macularis eruptiva perstans:
more than skin deep. Dermatol Reports. 2011; 3: e12.
Pardanani A. How I treat patients with indolent and smoldering mastocytosis (rare conditions but difficult to
manage). Blood. 2013; 121:3085-94.
Lim KH, Pardanani A, Butterfield JH, Li C-Y, Tefferi A. Cytoreductive therapy in 108 adults with systemic mastocytosis:
Outcome analysis and response prediction during treatment with interferon-alpha, hydroxyurea, imatinib mesylate or 2-chlorodeoxyadenosine. Am J Hematol. 2009; 84:790-4.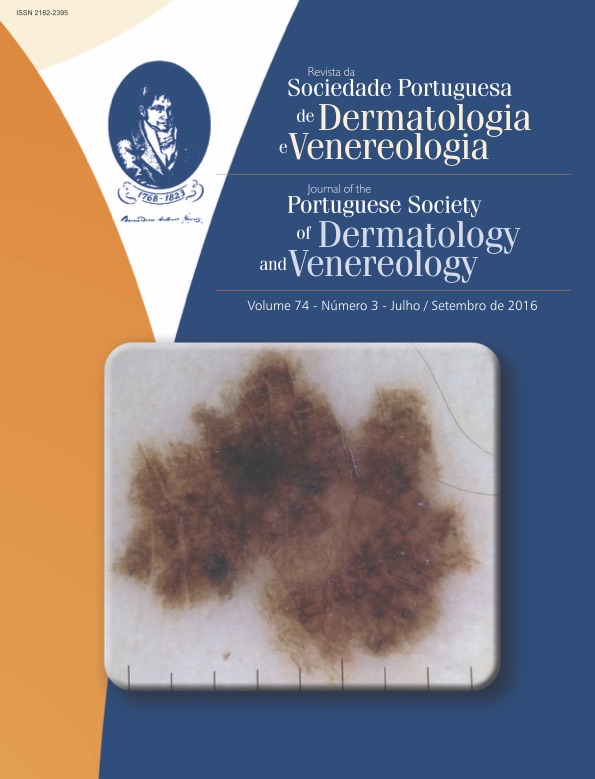 How to Cite
Pinho, A., Cardoso, J. C., Oliveira, H., Tellechea, Óscar, & Figueiredo, A. (2016). A New Insight over Telangiectasia Macularis Eruptiva Perstans. Journal of the Portuguese Society of Dermatology and Venereology, 74(3), 291-297. https://doi.org/10.29021/spdv.74.3.601
All articles in this journal are Open Access and meet the requirements of funding bodies or academic institutions. Each article published in the Journal is published under the Creative Commons Attribution-NonCommercial-NoDerivatives 4.0 International License (CC BY-NC-ND 4.0). Articles can be read, downloaded, printed, and shared.
Submission of an article for publication implies the authors' consent to publication under the applicable Creative Commons license and the terms and conditions of the Publisher's Licensing Agreement.
It is the author's responsibility to obtain permission to reproduce illustrations, tables, etc. from other publications.
Upon acceptance of an article, authors will be asked to complete a 'Journal Publishing Agreement'. An e-mail will be sent to the corresponding author confirming receipt of the manuscript together with a 'Journal Publishing Agreement' form or a link to the online version of this agreement.
Author rights: As an author you (or your employer or institution) have certain rights to reuse your work.
The Journal reserves the right to use plagiarism detection software on any submitted material.