ERYTHROPOIETIC PROTOPORPHYRIA – A Family Study and Report of a Novel Mutation in the FECH Gene
Paulo Morais

Serviço de Dermatologia e Venereologia do Hospital de S. João, EPE; Faculdade de Medicina da Universidade do Porto;

Alberto Mota

Serviço de Dermatologia e Venereologia do Hospital de S. João, EPE; Faculdade de Medicina da Universidade do Porto;

Teresa Baudrier

Serviço de Dermatologia e Venereologia do Hospital de S. João, EPE

Olga Ferreira

Serviço de Dermatologia e Venereologia do Hospital de S. João, EPE; Faculdade de Medicina da Universidade do Porto;

Filipe Trigo

Instituto Português de Oncologia do Porto

Rita Cerqueira

CGC Genetics, Porto

Aida Palmeiro

CGC Genetics, Porto

Purificação Tavares

CGC Genetics, Porto

Filomena Azevedo

CGC Genetics, Porto
Keywords:
Erythropoietic protoporphyria, Ferrochelatase, FECH, Protoporphyrin
Abstract
Erythropoietic protoporphyria (EPP) is a rare inherited disorder of heme biosynthesis caused in most patients by a deficient activity of the enzyme ferrochelatase (FECH), with a consequent accumulation of protoporphyrin (PP) in various tissues. We report a 16-year-old male (index case) with EPP characterized by acute episodes of painful photosensitivity in the photoexposed areas since his early infancy, permanent changes, microcytic anemia, thrombocytopenia and mild hepatic dysfunction. His 18-year-old sister presented slighter acute symptoms and had no chronic changes. Lesional biopsy performed in index case disclosed perivascular deposition of PAS positive hyaline material. Rimington-Cripps test was positive in both cases and PP erythrocyte levels were markedly elevated, but normal in their asymptomatic parents and younger brother. Genetic study in both patients and their mother (father's sample not available) revealed heterozygosity for a novel mutation (c.1052delA) in FECH gene of both children, and heterozygosity for the hypomorphic allele IVS3-48T>C in all of them. This report confirms the "pseudodominant" inheritance pattern observed in most studied families, explained by the combined presence of a disabling FECH mutation and a common intronic polymorphism affecting the counterpart allele (IVS3-48T>C). The mutant allele was probably inherited from the father. This is the first description of a Portuguese family with EPP characterized at the molecular level.
Downloads
Download data is not yet available.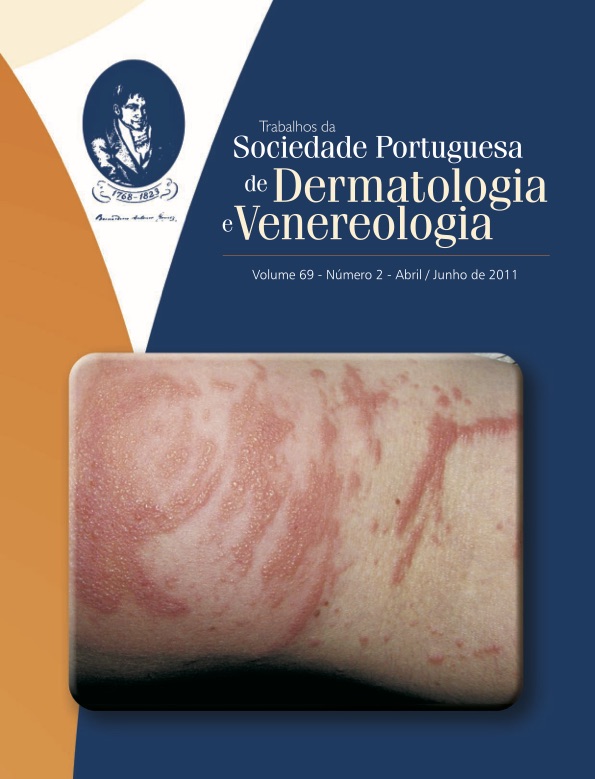 How to Cite
Morais, P., Mota, A., Baudrier, T., Ferreira, O., Trigo, F., Cerqueira, R., Palmeiro, A., Tavares, P., & Azevedo, F. (2011). ERYTHROPOIETIC PROTOPORPHYRIA – A Family Study and Report of a Novel Mutation in the FECH Gene. Journal of the Portuguese Society of Dermatology and Venereology, 69(2), 247-254. https://doi.org/10.29021/spdv.69.2.612
All articles in this journal are Open Access under the Creative Commons Attribution-NonCommercial 4.0 International License (CC BY-NC 4.0).