Hiperpigmentação na Doença de Addison – Relato De Caso
Rafael Figueiredo Gatti

Faculdade Estadual de Medicina de São José do Rio Preto (FAMERP)

Caroline Medeiros Prohmann

Camila Araújo Dantas

Lorena Barcelos e Silva

Thalita Marçal Machado

Fernanda Rodrigues de Oliveira Mattar

João Roberto Antônio
Abstract
A insuficiência adrenal primária ou doença de Addison é um raro distúrbio das glândulas supra-renais e representa uma condição de risco, já que seu diagnóstico é frequentemente não reconhecido nas fases inicias da doença. Atualmente sua principal causa é a adrenalite auto-imune, mas pode decorrer devido a causas infecciosas, traumáticas e neoplásicas. Os sintomas da patologia incluem: astenia, fraqueza, náuseas, perda de peso, hipotensão arterial e hiperpigmentação. A hiperpigmentação cutânea e mucosa é o sintoma mais característico da doença, porém pode estar presente em outros diagnósticos diferencias, como: hemocromatose, doença renal crônica, hipertireoidismo, ocronose, entre outras. Relatamos um caso de uma paciente que foi encaminhada para investigação de hiperpigmentação cutânea difusa e mucosa. A paciente ainda referia queixas de perda de peso, fadiga, anorexia, hipotensão e constipação. Foram realizados diversos exames para investigação e realizado o diagnóstico de doença de Addison.
Downloads
Download data is not yet available.
References
Addison T. On the constitutional and local effects of disease of the supra-renal capsules. Med Classics 1937;2:244-93.
Stuart-Mason A, Meade TW, Lee JAH, Morris JN. Epidemiological and clinical picture of Addison's disease. Lancet 1968;2:744-7.
Nerup J. Addison's disease – a review of some clinical, pathological and immunological features. Dan Med Bull 1974;21:201-17.
Kong MF, Jeffcoat W. Eighty-six cases of Addison's disease. Clin Endocrinol 1994;41:757-61.
Willis AC, Vince FP. The prevalence of Addison's disease in Coventry, UK. Postgrad Med J 1997;73:286-8.
Laureti S, Vecchi L, Santeusanio F, Falorni A. Is the prevalence of Addison's disease underestimated? J Clin Endocrinol Metab 1999;84:1762.
Federman DD. The adrenal. Scientific American Medicine. 1995;1-18
Silva C, Castro M, Kater CE, Cunha AA, Moraes AM, Alvarenga DB, Moreira AC, Elias LL. Primary adrenal insufficiency in adults: 150 years after Addison. Arq Bras Endocrinol Metabol. 2004; 48:724-38.
Michels A, Michels N. Addison Disease: Early Detection and Treatment Principles. Am Fam Physician. 2014 Apr 1;89(7):563-568.
Silva RC, Faical S, Laureti S et al. Detection of adrenocortical auto-antibodies in Addisons disease with peroxidase-labelled protein A technique. Braz J Med Biol Res. 1998; 31(9): 1141-48.
Orth DN, Kovacs WJ. The adrenal cortex. In: Wilson JD, Foster DW, Kronenberg HM, Larsen PR, eds. Williams Textbook of Endocrinology, 9th edn. Philadelphia Saunders, 1998: 517-664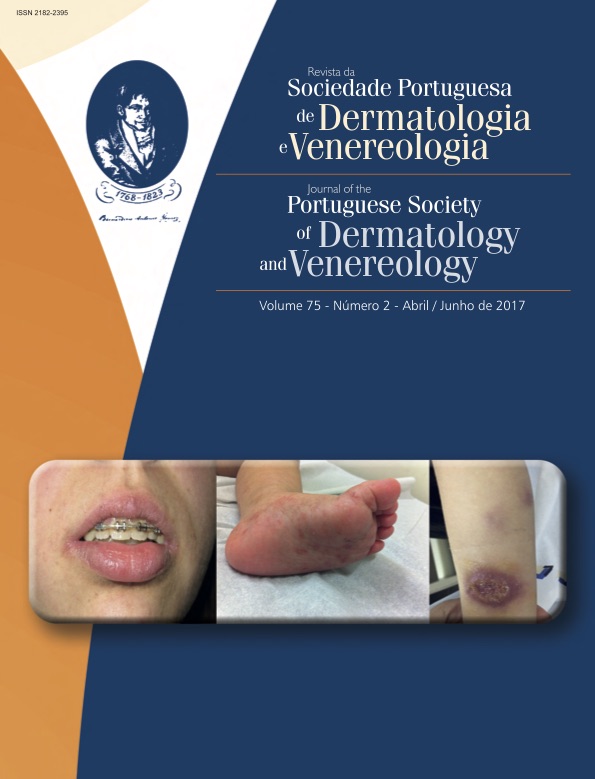 How to Cite
Gatti, R. F., Prohmann, C. M., Dantas, C. A., e Silva, L. B., Machado, T. M., Mattar, F. R. de O., & Antônio, J. R. (2017). Hiperpigmentação na Doença de Addison – Relato De Caso. Journal of the Portuguese Society of Dermatology and Venereology, 75(2). https://doi.org/10.29021/spdv.75.2.620
All articles in this journal are Open Access and meet the requirements of funding bodies or academic institutions. Each article published in the Journal is published under the Creative Commons Attribution-NonCommercial-NoDerivatives 4.0 International License (CC BY-NC-ND 4.0). Articles can be read, downloaded, printed, and shared.
Submission of an article for publication implies the authors' consent to publication under the applicable Creative Commons license and the terms and conditions of the Publisher's Licensing Agreement.
It is the author's responsibility to obtain permission to reproduce illustrations, tables, etc. from other publications.
Upon acceptance of an article, authors will be asked to complete a 'Journal Publishing Agreement'. An e-mail will be sent to the corresponding author confirming receipt of the manuscript together with a 'Journal Publishing Agreement' form or a link to the online version of this agreement.
Author rights: As an author you (or your employer or institution) have certain rights to reuse your work.
The Journal reserves the right to use plagiarism detection software on any submitted material.