The Impact of Field Cancerization in the Development of Skin Cancer
Ana Rita Travassos

Assistente Hospitalar de Dermatovenereologia/Assistant in Dermatology, Serviço de Dermatologia, Hospital de Santa Maria – CHLN, Lisboa, Portugal

Maria Mendonça Sanches

Interna de Dermatovenereologia/Resident in Dermatology, Serviço de Dermatologia, Hospital de Santa Maria – CHLN, Lisboa, Portugal

Luís Soares-de-Almeida

3Assistente Hospitalar Graduado de Dermatovenereologia/Senior Graduate Assistant in Dermatology; Professor Associado/ Associated Professor, Faculdade de Medicina de Lisboa, Unidade de Investigação em Dermatologia, Instituto de Medicina Molecular da Universidade de Lisboa, Serviço de Dermatovenereologia, Hospital de Santa Maria; Centro Hospitalar Lisboa Norte, Portugal
Keywords:
Carcinoma, Squamous Cell, Cell Transformation, Neoplastic, Keratosis, Actinic, Skin Neoplasms
Abstract
The concept of field cancerization, described in various types of cancer, has been intensely studied in skin cancer. It can be defined as the process in which the cells in a tissue or organ are transformed, with genetic modifications, but with normal clinical and histologic features, prior to neoplastic development or coexisting with malignant cells, independently of clonality. Applying this concept to clinical practice could have potentially important implications in early diagnosis, risk stratification, primary and secondary chemoprevention, definition of resection margins, and approach to local and distance recurrences. This paper presents a literature review on the concept of field cancerization, with emphasis on the potential implications for daily clinical practice.
Downloads
Download data is not yet available.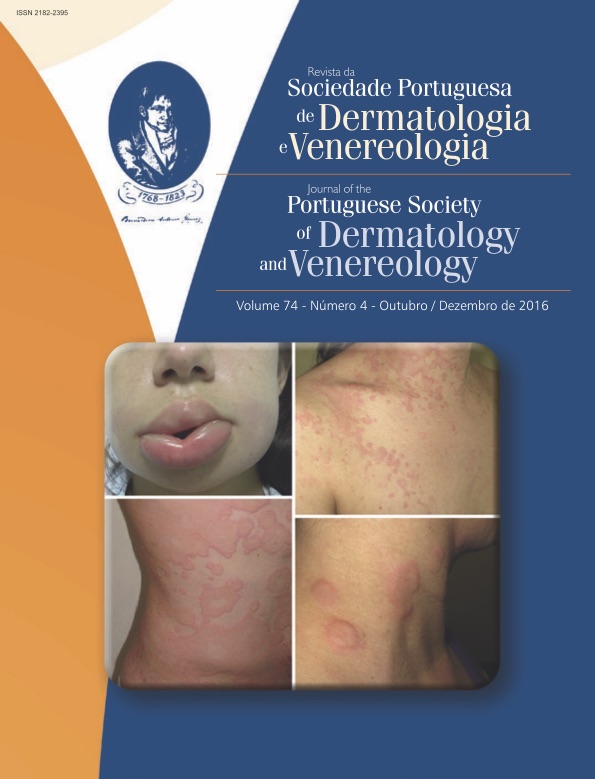 How to Cite
Travassos, A. R., Mendonça Sanches, M., & Soares-de-Almeida, L. (2016). The Impact of Field Cancerization in the Development of Skin Cancer. Journal of the Portuguese Society of Dermatology and Venereology, 74(4), 327-333. https://doi.org/10.29021/spdv.74.4.671
All articles in this journal are Open Access under the Creative Commons Attribution-NonCommercial 4.0 International License (CC BY-NC 4.0).