Vitamin D – Current Perspectives
Alexandre Miroux Catarino

Médico Interno de Dermatovenereologia/Resident of Dermatology and Venereology, Serviço de Dermatologia, Centro Hospitalar de Lisboa Ocidental

Cristina Claro

Assistente Hospitalar Graduada de Dermatovenereologia, Serviço de Dermatologia, Centro Hospitalar de Lisboa Ocidental, Lisboa, Portugal/Consultant of Dermatology and Venereology, Dermatology Department, Centro Hospitalar de Lisboa Ocidental, Lisbon, Portugal

Isabel Viana

Assistente Hospitalar Graduada de Dermatovenereologia, Serviço de Dermatologia, Centro Hospitalar de Lisboa Ocidental, Lisboa, Portugal/Consultant of Dermatology and Venereology, Dermatology Department, Centro Hospitalar de Lisboa Ocidental, Lisbon, Portugal
Keywords:
Skin Neoplasms, Ultraviolet Rays, Vitamin D, Vitamin D Deficiency
Abstract
The main biological effect of vitamin D is to promote bone mineralization and regulate calcium-phosphorus metabolism, but its extra-skeletal biological function has also been extensively studied. Vitamin D deficit has been associated with an increased risk for various diseases, including autoimmune, neoplastic, cardiovascular and neurological disorders. However, areas of controversy remain: a direct cause-effect relationship between vitamin D deficiency and non-skeletal pathology and the benefit of vitamin D supplementation with this goal still has to be confirmed. In individuals at risk for vitamin D deficiency vitamin D supplementation is safe, inexpensive and with demonstrated benefit in preventing fractures and falls. The authors present an overview of the synthesis, metabolism and action of vitamin D and perform a brief review of the pathophysiology of vitamin D in the skin, namely its influence on skin pigmentation and the effect of photoprotection on vitamin D synthesis and its relationship with skin diseases.
Downloads
Download data is not yet available.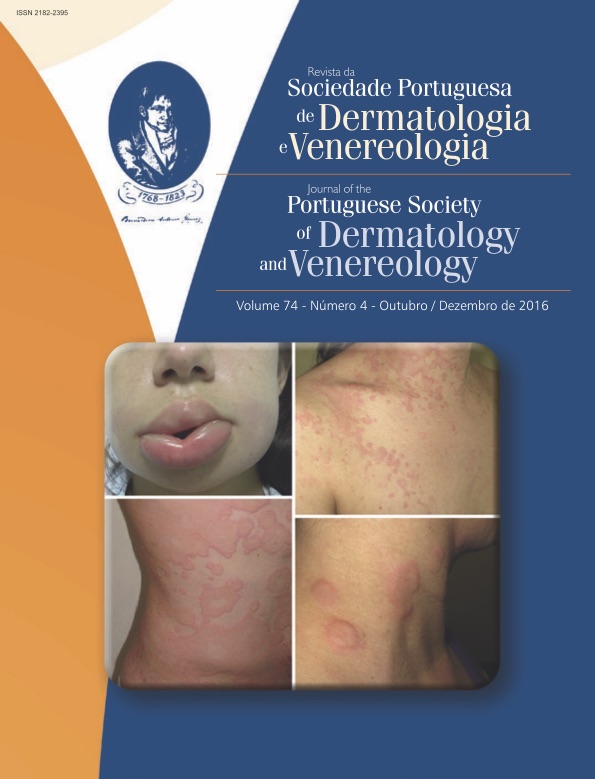 How to Cite
Miroux Catarino, A., Claro, C., & Viana, I. (2016). Vitamin D – Current Perspectives. Journal of the Portuguese Society of Dermatology and Venereology, 74(4), 345-353. https://doi.org/10.29021/spdv.74.4.673
All articles in this journal are Open Access under the Creative Commons Attribution-NonCommercial 4.0 International License (CC BY-NC 4.0).