Phototherapy Protocols used in the Treatment of Psoriasis
Ana Isabel Teixeira

Interna do Internato Complementar de Dermatovenereologia/Resident, Dermatovenereology; Serviço de Dermatovenereologia, Centro Hospitalar Lisboa Norte, Portugal

Paulo Leal Filipe

Assistente Hospitalar Graduado de Dermatologia/Graduated Consultant of Dermatology; Serviço de Dermatologia do Hospital de Santa Maria, Professor de Dermatologia e Venereologia da Clínica Universitária de Dermatologia, Hospital de Santa Maria, Centro Hospitalar Lisboa Norte, Portugal; Unidade de Investigação em Dermatologia, IMM Lisboa, Portugal
Keywords:
Phototherapy, Psoriasis
Abstract
Psoriasis is a chronic inflammatory disease frequently seen in dermatologic practice. Although it is possible to control the majority of patients using only topical therapies, a significant percentage is refractory to these treatments, requiring systemic therapies. In these cases, one of the possible options is phototherapy. This paper details the various available therapeutic modalities of phototherapy in the treatment of psoriasis and the most frequently used protocols.
Downloads
Download data is not yet available.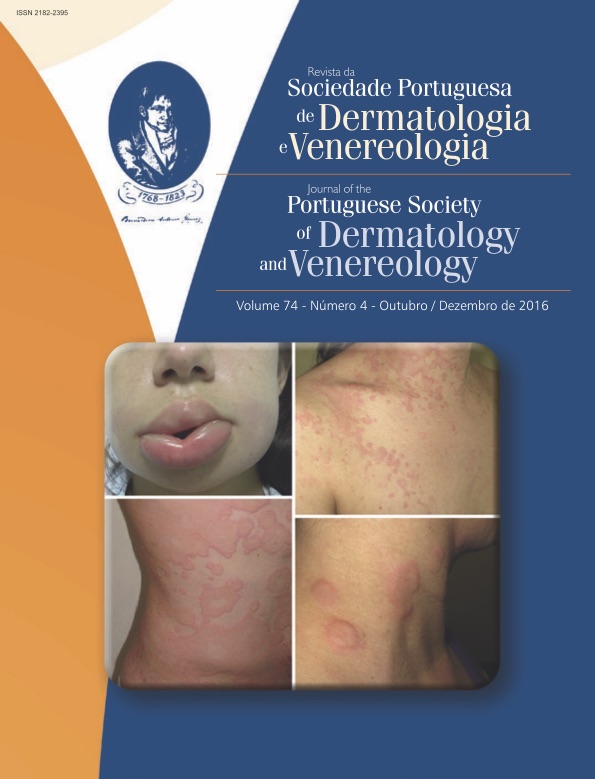 How to Cite
Teixeira, A. I., & Leal Filipe, P. (2016). Phototherapy Protocols used in the Treatment of Psoriasis. Journal of the Portuguese Society of Dermatology and Venereology, 74(4), 355-362. https://doi.org/10.29021/spdv.74.4.674
All articles in this journal are Open Access under the Creative Commons Attribution-NonCommercial 4.0 International License (CC BY-NC 4.0).