Dermatosis Neglecta - Difficult Diagnostic Suspicion Condition
Gabriela Mosena

Médico Residente/Resident of Dermatology, Serviço de Dermatologia da Irmandade Santa Casa de Misericórdia de Porto Alegre, RS, Brasil

Fernanda Bonkevitch

Médico Residente/Resident of Dermatology, Serviço de Dermatologia da Irmandade Santa Casa de Misericórdia de Porto Alegre, RS, Brasil

Leandro Damiani

Médico Residente/Resident of Dermatology, Serviço de Dermatologia da Irmandade Santa Casa de Misericórdia de Porto Alegre, RS, Brasil

Paulo Ricardo Martins Souza

Médico Preceptor/Tutor of Residence in Dermatology, Serviço de Dermatologia da Irmandade Santa Casa de Misericórdia de Porto Alegre, RS, Brasil
Keywords:
Hygiene, Skin Care, Skin Diseases
Abstract
Dermatosis neglecta is characterized by accumulation of sebum, sweat, keratin and impurities due to inadequate skin cleansing, hyperesthesia and immobility secondary to trauma and/or surgery. Recognizing this condition avoids unnecessary, aggressive diagnostic and therapeutic procedures. We report a case of dermatosis neglecta in a patient with neglected hygiene in an area of previous surgery.
Downloads
Download data is not yet available.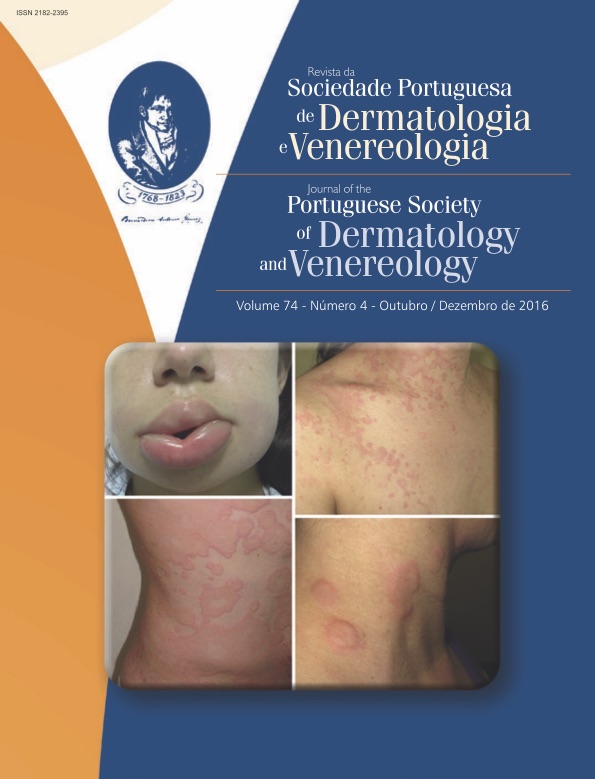 How to Cite
Mosena, G., Bonkevitch, F., Damiani, L., & Martins Souza, P. R. (2016). Dermatosis Neglecta - Difficult Diagnostic Suspicion Condition. Journal of the Portuguese Society of Dermatology and Venereology, 74(4), 409-411. https://doi.org/10.29021/spdv.74.4.684
All articles in this journal are Open Access under the Creative Commons Attribution-NonCommercial 4.0 International License (CC BY-NC 4.0).