Portuguese Position Paper on the Use of Biosimilars in Psoriasis
Tiago Torres

Assistente Hospitalar de Dermatovenereologia e Responsável pela Consulta de Psoríase/Consultant Dermatology and Venereology, Head for the Psoriasis Outpatient Clinic, Serviço de Dermatologia Centro Hospitalar do Porto/Department of Dermatology, Centro Hospitalar do Porto, Portugal Professor Auxiliar Convidado de Dermatologia do Mestrado Integrado em Medicina do Instituto de Ciências Biomédicas Abel Salazar, Universidade do Porto/ Assistant Professor of Dermatology, University of Porto, Portugal

Paulo Filipe

Consultor em Dermatovenereologia e Coordenador da Consulta de Psoríase/ Consultant Dermatology and Venereology, Head for the Psoriasis Outpatient, Serviço de Dermatologia do Centro Hospitalar Lisboa Norte/Department of Dermatology Centro Hospitalar Lisboa Norte, Portugal; Director de Serviço/Head of Department, Serviço de Dermatologia do Centro Hospitalar Lisboa Norte, Portugal; Professor Auxiliar Convidado de Dermatologia da Faculdade de Medicina, Universidade de Lisboa/ Assistant Professor of Dermatology, University of Lisbon, Portugal; Director da Unidade de Investigação em Dermatologia do Instituto de Medicina Molecular, Universidade de Lisboa
Keywords:
Biological Agents, Biosimilar Pharmaceuticals, Portugal, Psoriasis/drug therapy
Abstract
.
Downloads
Download data is not yet available.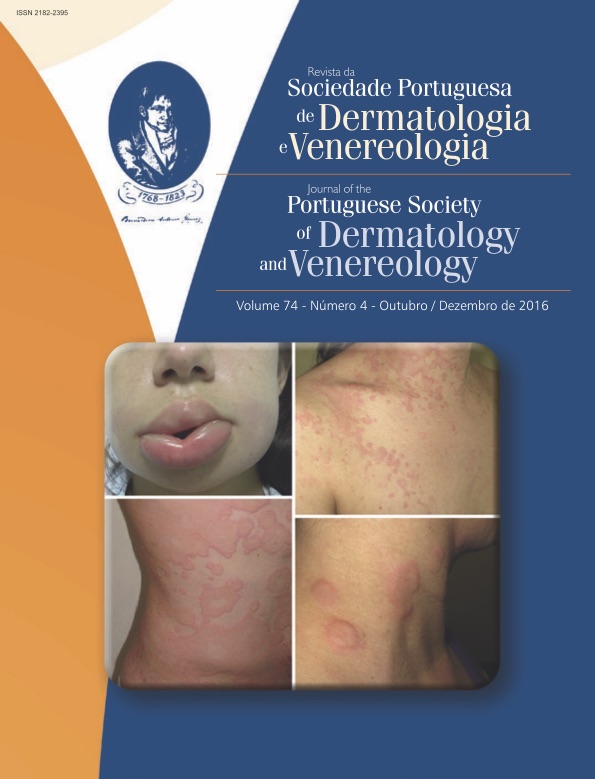 How to Cite
Torres, T., & Filipe, P. (2016). Portuguese Position Paper on the Use of Biosimilars in Psoriasis. Journal of the Portuguese Society of Dermatology and Venereology, 74(4), 415-416. https://doi.org/10.29021/spdv.74.4.686
Section
Letter to the Editor
All articles in this journal are Open Access under the Creative Commons Attribution-NonCommercial 4.0 International License (CC BY-NC 4.0).