Dermoscopic and Confocal Microscopic Presentation of Rare Melanoma of the Nipple
André Laureano Oliveira

Assistente Hospitalar de Dermatovenereologia/Consultant of Dermatovenereology, Centro Académico de Medicina de Lisboa, Faculdade de Medicina, University of Lisbon, Lisbon, Portugal

Laila El-Shabrawi-Caelen

Professora de Dermatologia/Professor of Dermatology, Department of Dermatology, Medical University of Graz, Graz, Austria

Edith Arzberger

Assistente Hospitalar de Dermatovenereologia/Consultant of Dermatovenereology, Department of Dermatology, Medical University of Graz, Graz, Austria

Iris Zalaudek

Professora de Dermatologia/Professor of Dermatology, Department of Dermatology, Medical University of Graz, Graz, Austria
Keywords:
Dermoscopy, Melanoma, Microscopy, Confocal, Nipples, Skin Neoplasms
Abstract
.
Downloads
Download data is not yet available.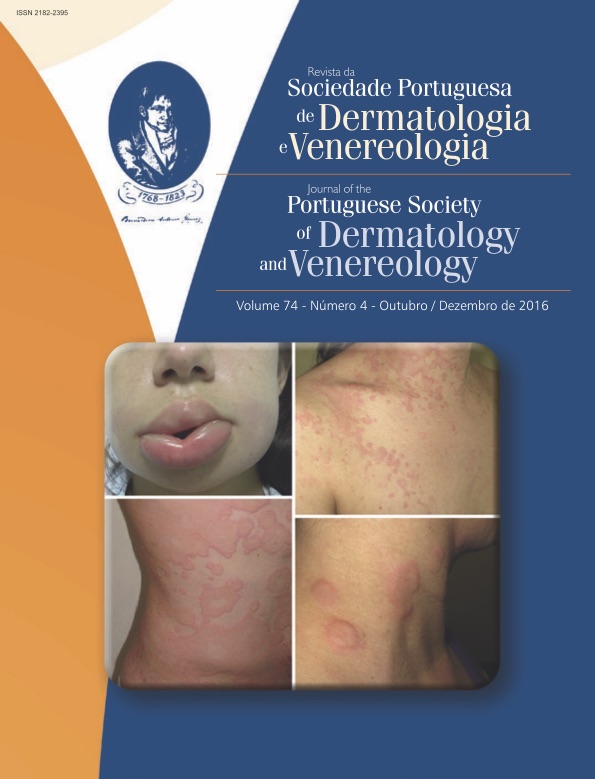 How to Cite
Laureano Oliveira, A., El-Shabrawi-Caelen, L., Arzberger, E., & Zalaudek, I. (2016). Dermoscopic and Confocal Microscopic Presentation of Rare Melanoma of the Nipple. Journal of the Portuguese Society of Dermatology and Venereology, 74(4), 417-418. https://doi.org/10.29021/spdv.74.4.687
Section
Letter to the Editor
All articles in this journal are Open Access under the Creative Commons Attribution-NonCommercial 4.0 International License (CC BY-NC 4.0).