CUTANEOUS SARCOMA – FROM DIAGNOSIS TO TREATMENT
Sónia Fernandes

Interna do Internato Complementar de Dermatologia e Venereologia/Resident, Dermatology and Venereology, Serviço de Dermatologia e Venereologia, Hospital Curry Cabral, Lisboa, Portugal

Gabriela Marques Pinto

Assistente Hospitalar Graduada de Dermatologia e Venereologia/Graduated Consultant, Dermatology and Venereology, Serviço de Dermatologia e Venereologia, Hospital Curry Cabral, Lisboa, Portugal

Cecília Moura

Assistente Hospitalar Graduada de Dermatologia e Venereologia/Graduated Consultant, Dermatology and Venereology, Serviço de Dermatologia, IPOLFG – Instituto Português de Oncologia de Lisboa Francisco Gentil, Lisboa, Portugal

Ana Afonso

Director de Serviço de Anatomia Patológica/Head of Pathology Department,Serviço de Anatomia Patológica, Hospital Curry Cabral, Lisboa, Portugal

Jorge Cardoso

Director de Serviço de Dermatologia e Venereologia/Head of Dermatology and Venereology Department, Serviço de Dermatologia e Venereologia, Hospital Curry Cabral, Lisboa, Portugal
Abstract
The clinical diagnosis of cutaneous sarcomas is not an easy task, mainly due to their complex and hetero- geneous nature. Differential diagnosis may be difficult because there is substantial overlap of clinical features between a sarcoma that develop in superficial tissues (skin and subcutaneous tissue) and benign neoplasm and inflammatory dermatoses. Although not frequent, some types of cutaneous sarcomas have great importance, as they can be associa- ted with recurrence, aggressive local growth or metastasis, and can present high morbi-mortality rates.
The authors report five clinical-pathological cases of cutaneous sarcomas – Kaposi's sarcoma, dermatofibrosarcoma protuberans, atypical fibroxanthoma, leiomyosarcoma and angiosarcoma. A review of the relevant literature about cutaneous sarcomas with particular interest to dermatologists is presented, and we highlight some important clinical, laboratorial, histological and therapeutic findings.
KEYWORDS – Skin neoplasms; Sarcoma; Sarcoma, Kaposi; Dermatofibrosarcoma; Histiocytoma, benign fibrous; Leio- myosarcoma; Hemangiosarcomal liposarcoma; Nerve sheath neoplasms.
Downloads
Download data is not yet available.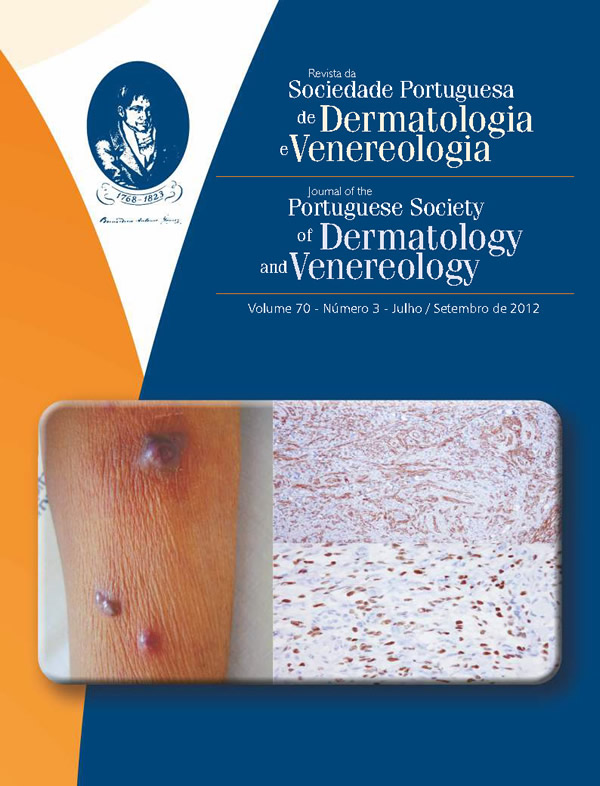 How to Cite
Fernandes, S., Pinto, G. M., Moura, C., Afonso, A., & Cardoso, J. (2013). CUTANEOUS SARCOMA – FROM DIAGNOSIS TO TREATMENT. Journal of the Portuguese Society of Dermatology and Venereology, 70(3), 319. https://doi.org/10.29021/spdv.70.3.7
Section
Original Articles
All articles in this journal are Open Access under the Creative Commons Attribution-NonCommercial 4.0 International License (CC BY-NC 4.0).