Unstable Vitiligo in the Setting of Diffuse Hypermelanosis: A Peculiar Presentation of Schmidt's Syndrome
Rui Tavares Bello

Unidade de Dermatologia/Dermatology Department, Hospital dos Lusíadas, Lisboa, Portugal

Carlos Tavares Bello

Serviço de Endocrinologia/Endocrinology Department, Hospital Egas Moniz, Centro Hospitalar de Lisboa Ocidental, Lisboa, Portugal

João Sequeira Duarte

Serviço de Endocrinologia/Endocrinology Department, Hospital Egas Moniz, Centro Hospitalar de Lisboa Ocidental, Lisboa, Portugal

Carlos Vasconcelos

Serviço de Endocrinologia/Endocrinology Department, Hospital Egas Moniz, Centro Hospitalar de Lisboa Ocidental, Lisboa, Portugal
Keywords:
Melanosis, Polyendocrinopathies, Autoimmune, Vitiligo
Abstract
Vitiligo is an acquired prevalent pigmentary disorder characterized by its chronicity, refractoriness and significant psychosocial burden. Concerning its pathogenesis, several genetic, environmental, oxidative stress mechanisms and immune disturbances combine in an intricate, complex way. Diverse immunemediated comorbidities do occur in a variable yet significant manner, so as to fully justify the careful approach and follow-up of these patients. polyglandular autoimmune syndrome type II – Schmidt`s syndrome – is defined by the association of Addison`s disease with immunemediated thyroid disease and/or type 1 diabetes mellitus. The case of a 64year old Caucasian female patient with a long lasting history of several immunemediated disorders (namely Hashimoto thyroiditis and hypothyroidism, atrophic gastritis, lichen planus and stable acrofacial vitiligo) is reported. who For the last 3 months her vitiligo had suffered significant extension and morphologic changes – confettilike lesions, trichromic vitiligo and Koebner`s phenomenon – along with discrete and subtle generalized hypermelanosis. Laboratory work up disclosed a state of hypocortisolism –further confirmed by functional, immunological and image studies: autoimmune Addison`s disease in the context of Schmidt`s syndrome. An effective endocrine insufficiency correction prompted for a quick patient`s recovery as far as hydroelectrolytic and metabolic metabolism, with a concomitant reversion of the hypermelanosis and a stabilization of the vitiligo. In this case it is noteworthy the rapid expansion of a previous stable vitiligo along with the acquisition of peculiar new morphologic features, in the context of a subtle diffuse hypermelanosis in a patient with a past history of several immunemediated disorders. We underline the need to acknowledge the possible association of vitiligo with immunemediated comorbidities, particularly whenever atypical semiological or evolutive features are present.
Downloads
Download data is not yet available.
References
Krüger C, Schallreuter KU. A review of the worldwide prevalence
of vitiligo in children/adolescents and adults. Int
J Dermatol.2012; 51:120612.
TaïebA, Picardo M, VETF Members. The definition and
assessment of vitiligo: a consensus report of the Vitiligo
European Task Force. Pigment Cell Res. 2007; 20:2735.
Sheth VM, Guo Y, Qureshi AA. Comorbidities associated
with vitiligo: a tenyear
retrospective study. Dermatology.
; 227:3115.
Laddha NC, Dwivedi M, Mansuri MS, Gani AR, Ansarullah
M, Ramachandran AV, et al. Vitiligo: interplay between
oxidative stress and imune system. Exp Dermatol.
; 22:24550.
Spritz RA. The genetics of vitiligo. J Invest Dermatol.
; 131:E18E20.
Le Poole IC, Das PK, van den Wijngaard RM, Bos JD, Westerhof
W. Review of the ethiopathomechanism of vitiligo:
A convergence theory. Exp Dermatol- 1993; 2:14553.
Gauthier Y, CarioAndré
M, Taïeb A. A critical appraisal
of vitiligo etiologic theories. Is melanocyte loss a
melanocytorrhagia? Pigment Cell Res. 2003; 16:3227.
Ezzedine K, Sheth V, Rodrigues M, Eleftheriadou V, Harris
J, Hamzavi IH, et al. Vitiligo is not a cosmetic disease. J
Am Acad Dermatol. 2015; 73:8835.
Passeron T. Leucodermies. EMC – Dermatologie. 2016;
:111.
Lee H, Lee MH, Lee DY, Kang HY, Kim KH, Choi GS, et
al. Prevalence of Vitiligo and Associated Comorbidities in
Korea. Yonsei Med J. 2015; 56:71925.
Carey RM. The changing clinical spectrum of adrenal insufficiency.
Ann Intern Med. 1997; 127:11035.
Odkers W. Adrenal insufficiency. N Engl J Med. 1996,
:120612.
Eason RJ, Croxon MS, Perry MC, Somerfield SD.
Addison`s disease, adrenal autoantibodies and computerized
adrenal tomography. NZ Med J. 1982; 95:56973.
Laureti S, Vecchi L, Santeusiano F, Falorni A. Is the prevalence
of Addison's disease underestimated? J Clin Endocrinol
Metab. 1999; 84:1762.
Stewart PM, Krone NP. The adrenal cortex. Williams Textbook
of Endocrinology. Amsterdam: Elsevier; 2011.
Hagg E, Asplund K, Lithner F. Value of basal plasma cortisol
assays in the assessment of pituitaryadrenal
insufficiency.
Clin Endocrinol. 1987; 26:2216.
Betterle C, Dal Pra C, Mantero F, Zanchetta R. Autoimmune
adrenal insufficiency and autoimmune polyendocrine
syndromes: autoantibodies, autoantigens, and their
applicability in diagnosis and disease prediction. Endocr
Rev. 2002; 23: 32764.
Addison T. On the constitutional and local effects of disease
of the suprarrenal capsules. In a collection of the
published writing of the late Thomas Addison, MD., physician
to Guy`s Hospital. London: New Sydenham Society;
Zelissen, PM, Bast EJ, Croughs RJ. Associated autoimmunity
in Addison's disease. J Autoimmun. 1995; 8:12130.
Gürkan E, Çetinarslan B, Güzelmansur İ, Kocabaş B. Latent
polyglandular autoimmune syndrome type 2 diagnosed
during a shock manifestation. Gynecol Endocrinol.
; 32:521-3.
Kahaly GJ. Polyglandular autoimmune syndrome type II.
Presse Med. 2012; 41:e66370.
Ditmar M, Kahaly GJ. Polyglandular autoimmune syndromes:
immunogenetics and longterm
follow-up. J Clin
Endocrinol Metab. 2003; 88:298392.
Michels A, Gottlieb P. Autoimmune polyglandular syndromes.
Nat Rev Endocrinol. 2010; 6:2707.
Trence DL, Morley JE, Handwerger BS. Polyglandular autoimmune
syndromes. Am J Med. 1984; 77:10716.
McDermott MT. Endocrine Secrets. 6th ed. Philadelphia:
Saunders; 2013.
Bain A, Stewart M, Mwamure P, Nirmalaraj K. Addison's
disease in a patient with hypothyroidism: autoimmune
polyglandular syndrome type 2. BMJ Case Rep. 2015;
pii: bcr2015210506.
Kemp EH, Waterman EA, Hawes BE, O'Neill K, Gottumukkala
RV, Gawkrodger DJ,et al. The melaninconcentrating
hormone receptor1,
a novel target of autoantibody responses in vitiligo. J Clin Invest. 2002;
:923-30.
Taïeb A. Immune/Inflammatory Aspects. In: Picardo M,
Taïeb A, editors. Vitiligo. Berlin: SpringerVerlag;
p. 239-47.
Gill L, Zarbo A, Isedeh P, Jacobsen G, Lim HW, Hamzavi
I. Comorbid autoimmune diseases in patients with vitiligo:
A cross-sectional study. J Am Acad Dermatol. 2016;
:295-302.
Liu JB, Li M, Yang S, Gui JP, Wang HY, Du WH,et al. Clinical
profiles of vitiligo in China: an analysis of 3742
patients. Clin Exp Dermatol. 2005; 30:327-31.
Mollet I, van Geel N, Lambert J. Autoimmune/inflammatory
and other diseases associated with vitiligo. In: Picardo
M, Taïeb A, editors. Vitiligo. Berlin: SpringerVerlag;
p. 79-90.
Vrijman C, Kroon MW, Limpens J, Leeflang MM, Luiten
MR, van der Veen JP, et al.The prevalence of thyroid disease
in patients with vitiligo: a systematic review. Br J
Dermatol. 2012; 167:1224-35.
Sardana K, Sharma RC, Koranne RV, Mahajan S. An interesting
case of colocalization of segmental lichen planus
and vitiligo in a 14-year-old-boy. Int J Dermatol. 2002;
:508-9.
Amerio P, Tracanna M, De Remigis P, Betterle C, Vianale
L, Marra ME, et al. Vitiligo associated with other autoimmune
diseases: polyglandular autoimmune syndrome
types 3B+C and 4. Clin Exp Dermatol. 2006; 31:746-9.
Njoo MD, Das PK, Bos JD, Westerhof W. Association of
the Kobner phenomenon with disease activity and therapeutic
responsiveness in vitiligo vulgaris. Arch Dermatol.
;135:407-13.
Sahni K, Parsad D. Stability on vitiligo: is there a perfect
way to predict it? J Cutan Aesth Surg. 2013; 6:77-82.
Sosa JJ, Currimbhoy SD, Ukoha U, Sirignano S, O'Leary
R, Vandergriff T, t al. Confettilike
depigmentation: A potential
sign of rapidly progressing vitiligo. J Am Acad
Dermatol. 2015; 73:272-5.
Harning R, Cui J, Bystrin JC.
Relation between the incidence
and level of pigment cell antibodies and disease
activity in vitiligo. J Invest Dermatol. 1991; 97:1078-80.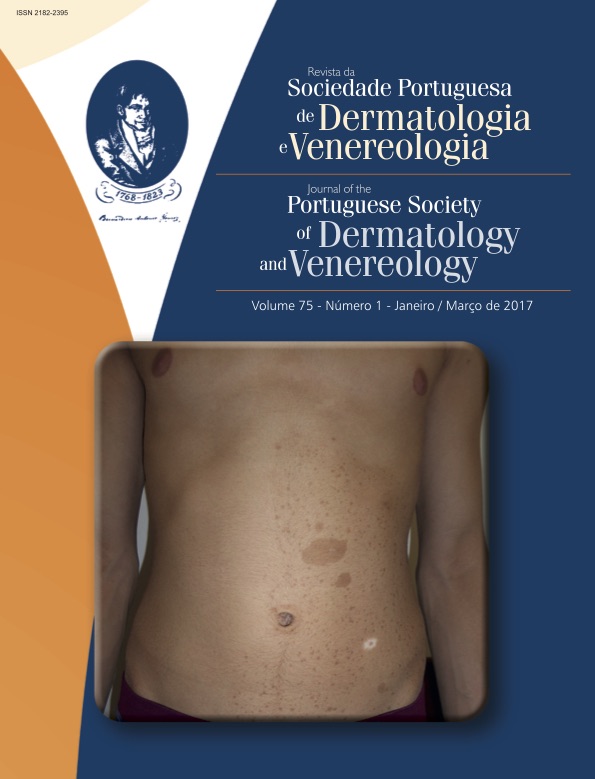 How to Cite
Tavares Bello, R., Tavares Bello, C., Sequeira Duarte, J., & Vasconcelos, C. (2017). Unstable Vitiligo in the Setting of Diffuse Hypermelanosis: A Peculiar Presentation of Schmidt's Syndrome. Journal of the Portuguese Society of Dermatology and Venereology, 75(1), 65-71. https://doi.org/10.29021/spdv.75.1.720
All articles in this journal are Open Access under the Creative Commons Attribution-NonCommercial 4.0 International License (CC BY-NC 4.0).