Infectious Dermatitis Associated with HTLV-1 in Adults: Difficult Diagnosis and Important Clinical Management
Priscila Silva Correia

Pós-graduandos e Residentes do Serviço de Dermatologia/Residents, Dermatology, Universidade do Estado do Rio de Janeiro (UERJ/HUPE), Brasil

Fernanda Cabral

Pós-graduandos e Residentes do Serviço de Dermatologia/Residents, Dermatology, Universidade do Estado do Rio de Janeiro (UERJ/HUPE), Brasil

Gabriela Higino de Souza

Pós-graduandos e Residentes do Serviço de Dermatologia/Residents, Dermatology, Universidade do Estado do Rio de Janeiro (UERJ/HUPE), Brasil

Miguel Barrella Neto

Interno de Medicina/Resident, Internal Medicine,Universidade do Estado do Rio de Janeiro (UERJ), Brasil

Daniel Lago Abadia

Médico Dermatologista voluntário do Serviço de Dermatologia/Resident Volunteer, Dermatology, Universidade do Estado do Rio de Janeiro (UERJ/HUPE), Brasil

Igor Brum Cursi

Médico Dermatologista voluntário do Serviço de Dermatologia/Resident Volunteer, Dermatology, Universidade do Estado do Rio de Janeiro (UERJ/HUPE), Brasil
Keywords:
Brazil, Dermatitis, Human T-lymphotropic virus 1, HTLV-I Infections Skin Diseases, Viral
Abstract
Infectious dermatitis is a severe, chronic and relapsing dermatitis, associated with human T-cell lymphotropic virus type 1 (HTLV-1). Although most reported cases have onset in childhood, adult cases of infectious dermatitis have been reported. The dermatological framework mimics common conditions such as seborrheic dermatitis, atopic dermatitis, contact dermatitis, impetigo and mycosis fungoides. In endemic countries for HTLV-1, like Brazil, it is essential that the infectious dermatitis is considered as a differential diagnosis in these cases. Early diagnosis is important to prevent the dissemination and provide appropriate monitoring and treatment of possible complications associated with the virus, such as HTLV-1 associated myelopathy or tropical spastic paraparesis, and Adult T-cell leukemia / lymphoma. We report two female patients with adult-onset infectious dermatitis. In order to enrich the report, we also presented the daughter's photos from one of the patients, with the same diagnosis.
Downloads
Download data is not yet available.
References
Nobre V, Guedes AC, Proietti FA, Martins ML, Nassif G,
Serufo JC, et al. Increased prevalence of human T cell
lymphotropic virus type 1 in patients attending a Brazilian
dermatologic clinic. Intervirology.2007; 50:316-8.
Maragno L, Casseb J, Fukumori LM, Sotto MN, Duarte
AJ, Festa-Neto C, et al. Human T-cell lymphotropic virus
type 1 infective dermatitis emerging in adulthood. Int J
Dermatol. 2009; 48:723-30.
Cook LB, Elemans M, Rowan AG, Asquith B. HTLV-1: persistence
and pathogenesis. Virology. 2013; 435:131-40.
Romanelli LC, Caramelli P, Proietti AB. O vírus linfotrópico
de células T humanos tipo 1 (HTLV-1): quando suspeitar
da infecção? Rev Assoc Med Bras.2010; 56:340-7.
Lee R, Schwartz AR. Human T-lymphotropic virus type
-associated infective dermatites: A comprehensive
rewiew. J Am Acad Dermatol. 2011; 64:152-60.
McGill NK, Vyas J, Shimauchi T, Tokura Y, Piguet V.
HTLV-1-associated infective dermatitis: updates on the
pathogenesis. Exp Dermatol. 2012; 21:815-21.
Trope BM, Lenzi ME. Infective dermatitis. Clin Dermatol.
; 27:281-4.
Hlela C, Bittencourt A. Infective dermatitis associated
with HTLV-1 mimics common eczemas in children and
may be a prelude to severe systemic diseases. Dermatol
Clin. 2014; 32:237-48.
Oliveira MF, Fatal PL, Primo JR, da Silva JL, Batista
ES, Farré L, et al. Infective dermatitis associated with
human T-cell lymphotropic virus type 1: evaluation of 42
cases observed in Bahia, Brazil. Clin Infect Dis. 2012;
:1714-9.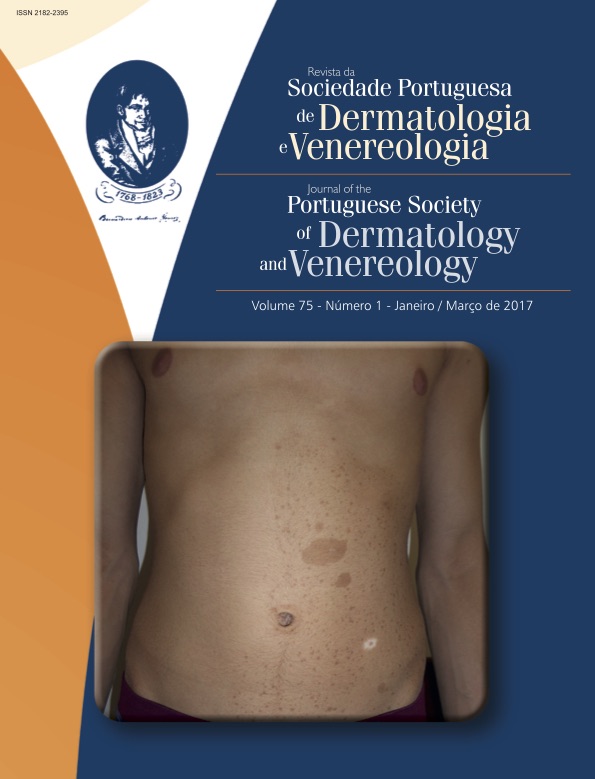 How to Cite
Silva Correia, P., Cabral, F., Higino de Souza, G., Barrella Neto, M., Lago Abadia, D., & Brum Cursi, I. (2017). Infectious Dermatitis Associated with HTLV-1 in Adults: Difficult Diagnosis and Important Clinical Management. Journal of the Portuguese Society of Dermatology and Venereology, 75(1), 73-77. https://doi.org/10.29021/spdv.75.1.721
All articles in this journal are Open Access under the Creative Commons Attribution-NonCommercial 4.0 International License (CC BY-NC 4.0).