Single Papule on the Penis
Ana Marcos-Pinto

Clínica Universitária de Dermatologia de Lisboa, Hospital de Santa Maria, CHLN

Luís Soares-de-Almeida

Clínica Universitária de Dermatologia de Lisboa, Hospital de Santa Maria, CHLN; Unidade de Investigação em Dermatologia, IMM, Faculdade de Medicina da Universidade de Lisboa, Lisboa, Portugal

João Borges-Costa

Clínica Universitária de Dermatologia de Lisboa, Hospital de Santa Maria, CHLN; Unidade de Investigação em Dermatologia, IMM, Faculdade de Medicina da Universidade de Lisboa, Lisboa, Portugal; Instituto de Higiene e Medicina Tropical, Lisboa, Portugal
Keywords:
Penis, Psoriasis
Abstract
.
Downloads
Download data is not yet available.
References
Andreassi L, Bilenchi R. Non-infectious inflammatory genital
lesions. Clin Dermatol.2014; 32: 307-14.
Meeuwis KA, de Hullu JA, Massuger LF, van de Kerkhof
PC, van Rossum MM. Genital psoriasis: A systematic literature
review on this hidden skin disease. Acta Derm
Venereol. 2011; 91:5-11.
Buechner SA. Common skin disorders of the penis. BJU
Int 2002; 90:498-506.
Quan MB, Ruben BS. Pustular psoriasis limited to the
penis. Int J Dermatol. 1996; 35:202-4.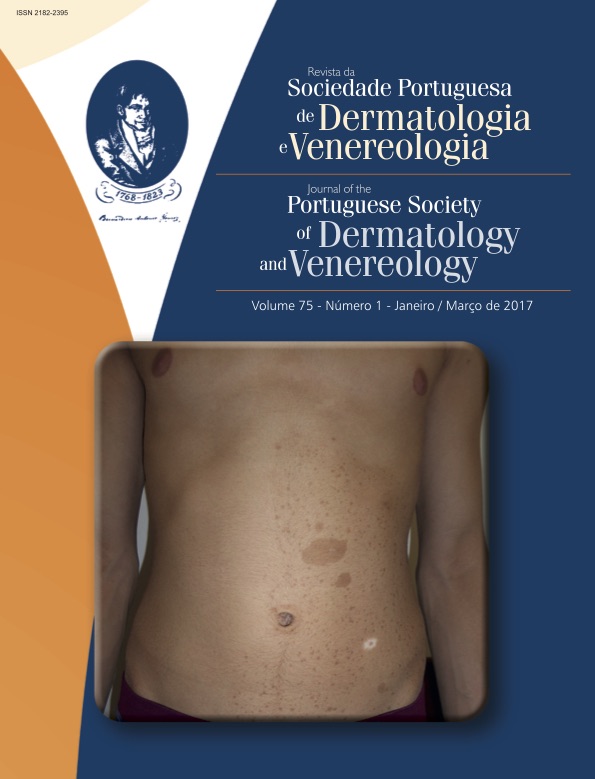 How to Cite
Marcos-Pinto, A., Soares-de-Almeida, L., & Borges-Costa, J. (2017). Single Papule on the Penis. Journal of the Portuguese Society of Dermatology and Venereology, 75(1), 97-98. https://doi.org/10.29021/spdv.75.1.726
All articles in this journal are Open Access under the Creative Commons Attribution-NonCommercial 4.0 International License (CC BY-NC 4.0).