Size of the Junctional Nests can Predict in situ Melanoma Behavior
Luciana Pantaleão

Assistant Professor of Anatomic Pathology, Department of Pathology, Fluminense Federal University, Niterói, RJ – Brazil; Dermatopathologist certified by the International Society of Dermatopathology

Licínio Esmeraldo Silva

Adjunct professor of Biostatistics; Department of Statistic, Fluminense Federal University, Brazil

Mayra Carrijo Rochael

Associate professor of Anatomic Pathology; Department of Pathology, Fluminense Federal University Dermatopathologist certified by the International Society of Dermatopathology, Brazil
Keywords:
Carcinoma in situ, Neoplasm Metastasis, Melanoma, Skin Neoplasms, Neoplasm Staging, Prognosis, Recurrence
Abstract
.
Downloads
Download data is not yet available.
References
Gimotty PA, Guerry D. Prognostication in thin cutaneous
melanoma. Arch Pathol Lab Med. 2010; 134:1758-63.
Guitart J, Lowe L, Piepkorn M, Prieto VG, Rabkin MS,
Ronan SG, et al. Histological characteristics of metastasizing
thin melanomas - a case-control study of 43
cases. Arch Dermatol. 2002; 138:603-7.
Megahed M, Schön M, Selimovic D, Schön MP. Reliabiliy
of diagnosis of melanoma in situ. Lancet. 2002;
:1921-2.
Cook MG, Spatz A, Bröcker EB, Ruiter DJ. Identification
of histological features associated with metastatic
potential in thin (<1.0mm) cutaneous melanoma with
metastases. A study on behalf of the EORTC Melanoma
Group. J Pathol. 2002; 197:188-93.
Kutzner H, Metzler G, Argenyi Z, Requena L, Palmedo
G, Mentzel T, et al. Histological and genetic evidence
for a variant of superficial spreading melanoma composed
predominantly of large nests. Mod Pathol. 2012;
: 838-45.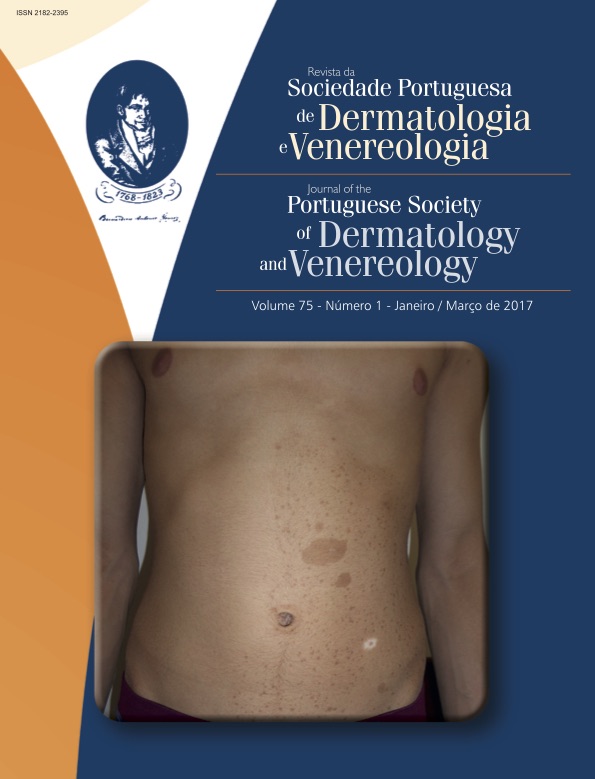 How to Cite
Pantaleão, L., Esmeraldo Silva, L., & Carrijo Rochael, M. (2017). Size of the Junctional Nests can Predict in situ Melanoma Behavior. Journal of the Portuguese Society of Dermatology and Venereology, 75(1), 99-100. https://doi.org/10.29021/spdv.75.1.727
Section
Letter to the Editor
All articles in this journal are Open Access under the Creative Commons Attribution-NonCommercial 4.0 International License (CC BY-NC 4.0).