The Importance of the Dermatologist in Atopic Dermatitis
Margarida Gonçalo

Co-editora da Revista da SPDV; Assistente Hospitalar Sénior do Centro Hospitalar e Universitário de Coimbra; Professora Auxiliar de Dermatologia da faculdade de Medicina de Coimbra
Abstract
.
Downloads
Download data is not yet available.
References
Borges AS, Brasileiro A. Dermite Atópica – os novos conhecimentos sobre a fisiopatologia da doença. Rev Soc Port Dermatol Venereol. 2017; 75.
Borges AS, Pinheiro R, Brasileiro A. Implicações terapêuticas dos novos conhecimentos sobre a fisiopatologia dermite atópica. Rev Soc Port Dermatol Venereol.
; 75.
Bieber T, Akdis C, Leuener R, Traidl-Hoffmann C, Schmid-Grindelmeier P, Schapp G, et al. Global Allergy Forum and 3rd Davos Declaration 2015. Atopic dermatitis /
Eczema: challenges and opportunities toward precision medicine. Allergy. 2016: 71: 288-92.
Muraro A, Lemanske RF, Hellings PW, Akdis CA, Bieber T, Casale TB, et al. Precision medicine in patients with allergic diseases: Airway diseases and atopicdermatitis
-PRACTALL document of the European Academy of Allergy and Clinical Immunology and the American Academy of Allergy, Asthma & Immunology. J Allergy Clin Immunol. 2016; 137:1347-58.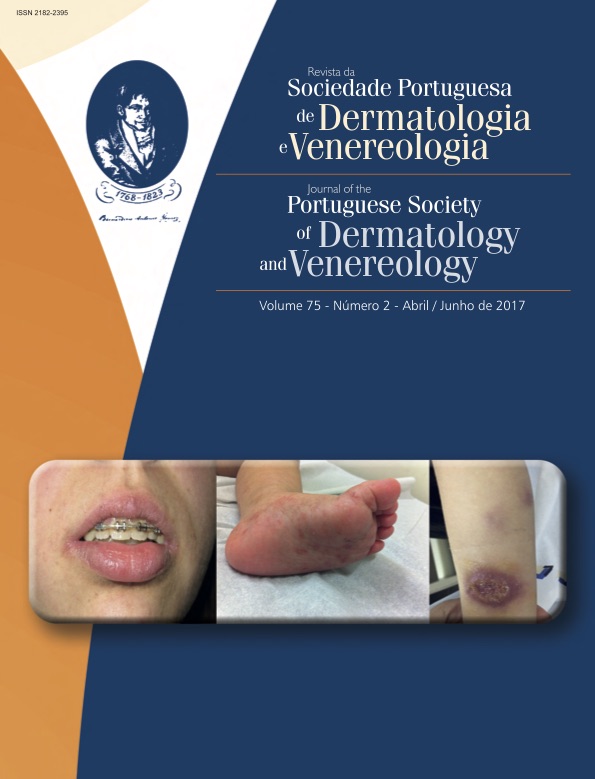 How to Cite
Gonçalo, M. (2017). The Importance of the Dermatologist in Atopic Dermatitis. Journal of the Portuguese Society of Dermatology and Venereology, 75(2), 115-116. https://doi.org/10.29021/spdv.75.2.764
All articles in this journal are Open Access under the Creative Commons Attribution-NonCommercial 4.0 International License (CC BY-NC 4.0).