Exantema Durante Férias na Região Amazónica
Fabio Francesconi do Valle

Preceptores da residência de dermatologistas da Fundação de Medicina Tropical - Heitor Dourado Vieira (FMT-HDV), Manaus, Brasil

Isaac de Aguiar Neres

Residente de Dermatologia da Fundação de Medicina Tropical - Heitor Dourado Vieira (FMT-HDV), Manaus, Brasil

Mara Lúcia Gomes de Souza

Preceptores da residência de dermatologistas da Fundação de Medicina Tropical - Heitor Dourado Vieira (FMT-HDV), Manaus, Brasil

Valeska Albuquerque Francesconi

Preceptores da residência de dermatologistas da Fundação de Medicina Tropical - Heitor Dourado Vieira (FMT-HDV), Manaus, Brasil

Virginia Vilasboas Figueiras

Preceptores da residência de dermatologistas da Fundação de Medicina Tropical - Heitor Dourado Vieira (FMT-HDV), Manaus, Brasil
Abstract
.
Downloads
Download data is not yet available.
References
Cruz AA, Alencar VM, Medina NH, Volkmer-Ribeiro C,
Gattás VL, Luna E. Dangerous waters: outbreak of eye lesions
caused by fresh water sponge spicules. Eye. 2013;
:398-402.
Magalhães AO, Volkmer-Ribeiro C, Fujimoto LB, Barbosa
MF, Cardoso JL, Barcellos JF, et al. Induction of cell migration
and activation by the sponge Drulia uruguayensis.
J Venom Anim Toxins incl Trop Dis. 2011; 17:66-73.
Haddad Jr V. Animais aquáticos potencialmente perigosos
do Brasil: guia médico e biológico. São Paulo: Editora
Roca; 2008.
Haddad Jr V. Environmental dermatology: skin manifestations
of injuries caused by invertebrate aquatic animals.
An Bras Dermatol. 2013; 88:496-506.
Pernis B. Silica and the immune system. Acta Biomed.
; 2;38-44.
Magalhães AO. Estudo comparativo dos diferentes componentes
da esponja Dulciaquícola Drulia uruguayensis
Boneto & Ezcurra de Drago, 1968 (Porifera: Metaniidae)
na indução de zoodermatose experimental em camundongos
[Dissertação de Mestrado –Universidade Federal
do Amazonas]. Manaus: UFAM / PPGPT; 2008.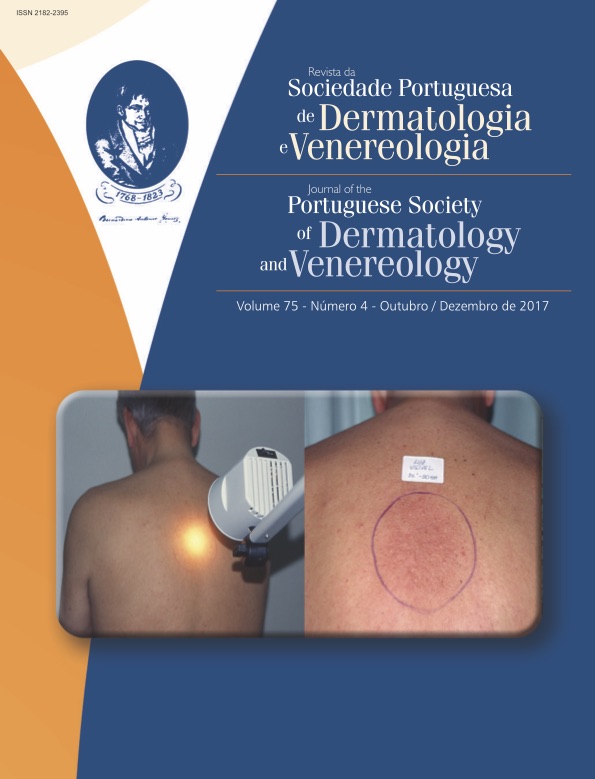 How to Cite
Francesconi do Valle, F., de Aguiar Neres, I., Gomes de Souza, M. L., Albuquerque Francesconi, V., & Vilasboas Figueiras, V. (2018). Exantema Durante Férias na Região Amazónica. Journal of the Portuguese Society of Dermatology and Venereology, 75(4), 429-431. https://doi.org/10.29021/spdv.75.4.786
All articles in this journal are Open Access under the Creative Commons Attribution-NonCommercial 4.0 International License (CC BY-NC 4.0).