Postirradiation Multiple Minute Digitate Porokeratosis: Case Report
Joana Lima

Médica Interna de Oncologia Médica, Serviço de Oncologia, Centro Hospitalar de Trás-Os-Montes e Alto Douro EPE – Vila Real, Portugal

Marta Sousa

Assistente Hospitalar de Oncologia Médica, Serviço de Dermatologia, Centro Hospitalar de Trás-Os-Montes e Alto Douro EPE – Vila Real, Portugal

Pedro Andrade

Assistente Hospitalar de Dermatovenereologia, Serviço de Dermatologia, Centro Hospitalar de Trás-Os-Montes e Alto Douro EPE – Vila Real, Portugal; Assistente Hospitalar de Dermatovenereologia, Serviço de Dermatologia, Hospital Pedro Hispano, ULS Matosinhos EPE – Matosinhos, Portugal
Keywords:
Antineoplastic Agents/adverse effects, Drug Eruptions, Psoriasis/chemically induced, Taxoids/adverse effects
Abstract
Docetaxel is a second-generation taxane commonly used in the treatment of advanced malignant tumours such as breast adenocarcinoma. We describe the case of a 67-year-old female undergoing adjuvant chemotherapy with docetaxel for invasive ductal carcinoma of the left breast presenting with typical psoriatic lesions on the dorsum and limbs - the most representative of them arising close to the venous access for docetaxel infusion. No personal or family history of psoriasis was reported. The patient started and maintained treatment with oral acitretin and topical betamethasone diproprionate/calcipotriol for nearly eight months, with almost complete regression of cutaneous lesions. Drug-induced psoriasis is a rare condition. The most commonly reported drugs include beta-blockers, interferon and antimalarials. In this case we demonstrate that docetaxel should be included in the group of drugs that can potentially induce psoriasis.
Downloads
Download data is not yet available.
References
Donati A, Castro LG. Cutaneous adverse reactions to
chemotherapy with taxanes: the dermatologist's point of
view. An Bras Dermatol. 2011; 86:755-8.
Heidary N, Naik H, Burgin S. Chemotherapeutic agents
and the skin: An update.J Am Acad Dermatol. 2008;
:545-70.
Chen M, Crowson AN, Woofter M, Luca MB, Magro CM.
Docetaxel (taxotere) induced subacute cutaneous lupuserythematosus: report of 4 cases. J Rheumatol. 2004;
:818-20.
Vasudevan B, Sawhney MP, Sharma N. Docetaxel-induced
photolichenoid eruption. Indian J Pharmacol. 2009;
:203-4.
Kerob D, Le Maignan C, Vignon-Pennamen MD, Lebbe
C. Docetaxel-induced psoriasis. Ann Dermatol Venereol.
; 137:738-40.
Mapelli ET, Gualandri L, Menni S, Cerri A. Diffuse psoriasis
induced in a 62-year-old woman with breast carcinoma.
G Ital Dermatol Venereol. 2016; 151:309-10.
Allende I, González-Hermosa R, Lázaro M, Díaz-Pérez
JL. Docetaxel-induced psoriasis. Actas Dermosifiliogr.
; 100:629-30.
Ceilley RI. Mechanisms of action of topical 5-fluorouracil:
review and implications for the treatment of dermatological
disorders. J Dermatolog Treat. 2012; 23:83-9.
Wang TS, Tsai TF. Intralesional therapy for psoriasis. J
Dermatol Treat. 2013; 24:340-7.
Higgins LC Jr, Thompson JG. Psoriasis with arthritis:
chemotherapy with cyclophosphamide, nitrogen
mustard and 6-mercaptopurine. South Med J. 1966;
:1191-3.
Xiucong F, Jinjin C, Qi S. Docetaxel-nicotinamide complex-
loaded nanostructured lipid carriers for transdermal
delivery. Int J Pharm. 2013; 458: 296-304
Ehrlich A, Booher S, Becerra Y, Borris DL, Figg WD, Turner
ML, Blauvelt A. Micellar paclitaxel improves severe
psoriasis in a prospective phase II pilot study. J Am Acad
Dermatol. 2004; 50:533-40.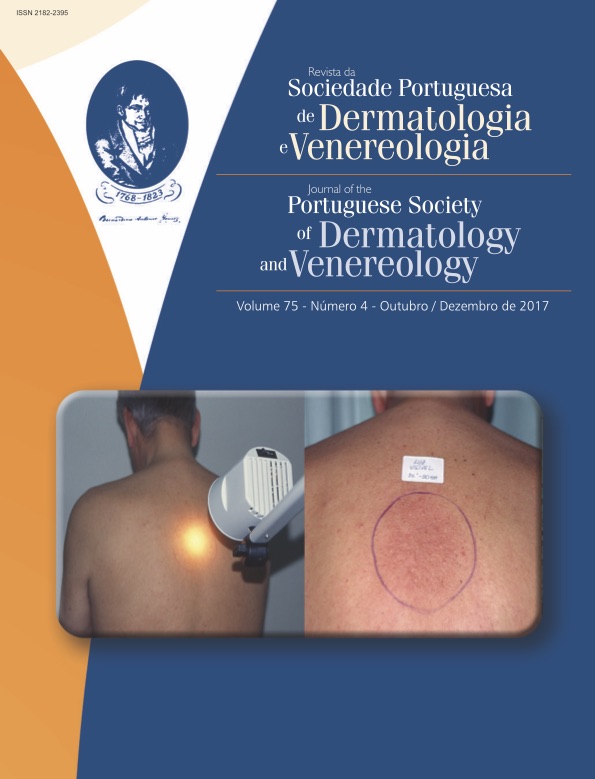 How to Cite
Lima, J., Sousa, M., & Andrade, P. (2018). Postirradiation Multiple Minute Digitate Porokeratosis: Case Report. Journal of the Portuguese Society of Dermatology and Venereology, 75(4), 425-428. https://doi.org/10.29021/spdv.75.4.798
All articles in this journal are Open Access under the Creative Commons Attribution-NonCommercial 4.0 International License (CC BY-NC 4.0).