Psoriasis and Cardiovascular Disease: Impact of Therapy with TNF-alpha Inhibitors
Filipa Andrade

Instituto de Ciências Biomédicas Abel Salazar, Universidade do Porto, Portugal

Sandra Ferreira

Serviço de Dermatologia do Centro Hospitalar do Porto, Porto, Portugal

Tiago Torres

Instituto de Ciências Biomédicas Abel Salazar, Universidade do Porto, Portugal; Serviço de Dermatologia do Centro Hospitalar do Porto, Porto, Portugal
Keywords:
Atherosclerosis, Cardiovascular Diseases/chemically induced, Endothelium, Vascular/drug effects, Psoriasis/drug therapy, Tumor Necrosis Factor-alpha/antagonists & inhibitors
Abstract
Psoriasis is a chronic inflammatory disease that affects 2 to 3% of the population. Several studies have shown that psoriasis is associated with an increased risk of cardiovascular disease due to the increased prevalence of traditional cardiovascular risk factors, and chronic systemic inflammation that promotes the development of endothelial dysfunction and premature atherosclerosis. This literature review aims to evaluate the impact of tumor necrosis factor inhibitors in endothelial function and the risk of cardiovascular disease in patients with moderate to severe psoriasis. The studies conducted to date suggest that treatment of psoriasis with these drugs is associated with improvement in endothelial dysfunction markers and subclinical atherosclerosis and a decreased risk of cardiovascular disease.
Downloads
Download data is not yet available.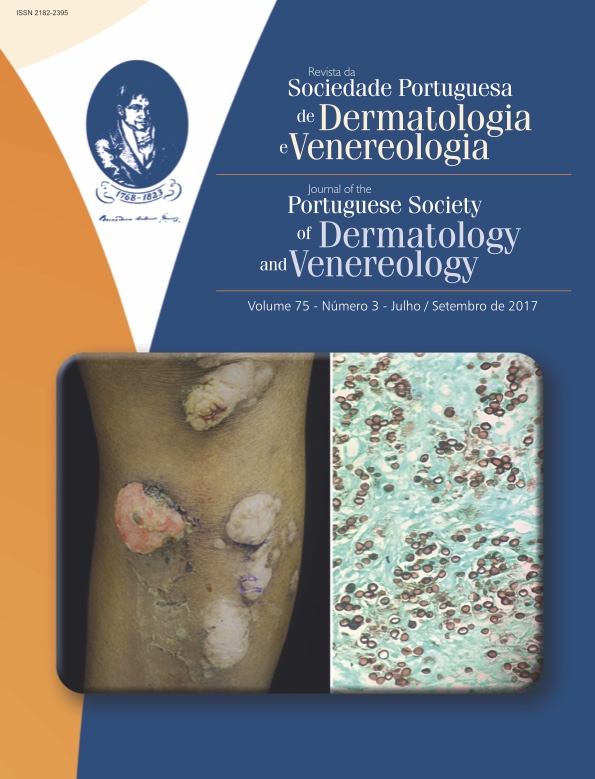 How to Cite
Andrade, F., Ferreira, S., & Torres, T. (2018). Psoriasis and Cardiovascular Disease: Impact of Therapy with TNF-alpha Inhibitors. Journal of the Portuguese Society of Dermatology and Venereology, 75(3), 251-258. https://doi.org/10.29021/spdv.75.3.813
All articles in this journal are Open Access under the Creative Commons Attribution-NonCommercial 4.0 International License (CC BY-NC 4.0).