Thyroid Dysfunction and Psoriasis: A Possible Association Revisited
A. S. Borges

Interna Formação Específica de Dermatovenerologia do serviço de Dermatovenerologia, Hospital Santo António dos Capuchos, Centro Hospitalar Lisboa Central, Lisboa, Portugal

A. Brasileiro

Assistente Hospitalar de Dermatovenerologia do serviço de Dermatovenerologia, Hospital Santo António dos Capuchos, Centro Hospitalar Lisboa Central, Lisboa, Portugal
Keywords:
Hashimoto Disease, Psoriasis, Thyroid Diseases, Thyroid Hormones
Abstract
Psoriasis is a chronic, common skin disease, which affects the patient's quality of life to the highest degree. Several exogenous and endogenous factors may act as triggers for psoriasis, as certain hormonal changes. Previous studies have shown that thyroid hormones may be implicated in the physiopathology of psoriasis. This paper reviews the role of thyroid hormones in psoriasis as well as the current scientific evidence of a possible association between psoriasis and thyroid dysfunction.
Downloads
Download data is not yet available.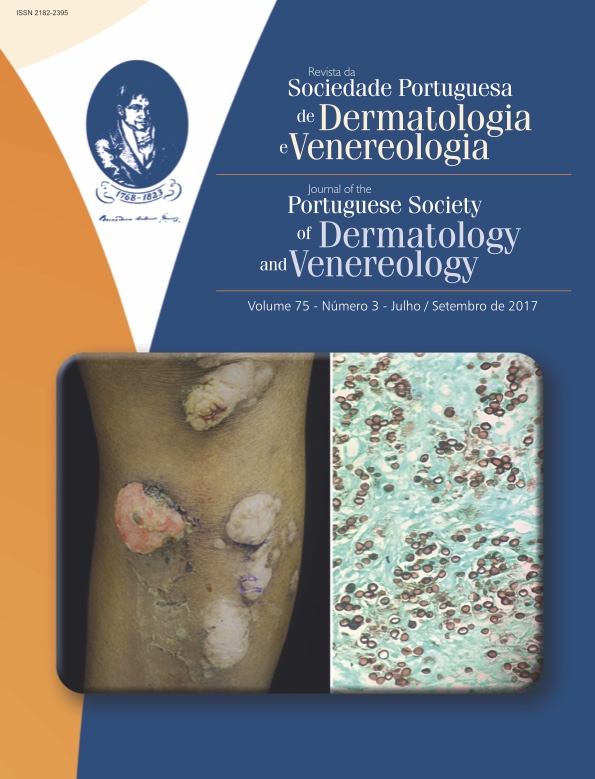 How to Cite
Borges, A. S., & Brasileiro, A. (2018). Thyroid Dysfunction and Psoriasis: A Possible Association Revisited. Journal of the Portuguese Society of Dermatology and Venereology, 75(3), 259-263. https://doi.org/10.29021/spdv.75.3.814
All articles in this journal are Open Access and meet the requirements of funding bodies or academic institutions. Each article published in the Journal is published under the Creative Commons Attribution-NonCommercial-NoDerivatives 4.0 International License (CC BY-NC-ND 4.0). Articles can be read, downloaded, printed, and shared.
Submission of an article for publication implies the authors' consent to publication under the applicable Creative Commons license and the terms and conditions of the Publisher's Licensing Agreement.
It is the author's responsibility to obtain permission to reproduce illustrations, tables, etc. from other publications.
Upon acceptance of an article, authors will be asked to complete a 'Journal Publishing Agreement'. An e-mail will be sent to the corresponding author confirming receipt of the manuscript together with a 'Journal Publishing Agreement' form or a link to the online version of this agreement.
Author rights: As an author you (or your employer or institution) have certain rights to reuse your work.
The Journal reserves the right to use plagiarism detection software on any submitted material.