Pain Management in Dermatology (Part I)
Bruno Duarte

Serviço de Dermatologia e Venereologia, Hospital de Santo António dos Capuchos – Centro Hospitalar de Lisboa Central, Lisboa, Portugal

André Roberto

Serviço de Anestesiologia, Hospital de Santa Marta – Centro Hospitalar de Lisboa Central, Lisboa, Portugal

Salomé Cruz

Serviço de Anestesiologia, Hospital de Santa Marta – Centro Hospitalar de Lisboa Central, Lisboa, Portugal

Joana Cabete

Serviço de Dermatologia e Venereologia, Hospital de Santo António dos Capuchos – Centro Hospitalar de Lisboa Central, Lisboa, Portugal
Keywords:
Dermatologic Surgical Procedures, Dermatology, Pain, Pain Management, Pain Measurement, Skin Diseases
Abstract
Pain is a major clinical symptom in medicine. In the scope of Dermatology, pain occurs most commonly in the surgical setting, but it is also associated with a wide spectrum of chronic medical entities. Control of acute perioperative pain is an indicator of healthcare quality and a significant determinant of procedure morbidity and patient's satisfaction. Chronic pain is responsible for excessive suffering, poorer quality of life and important socioeconomic costs. This paper reviews the general principles of acute perioperative and chronic pain management in Dermatology. It aims to raise awareness for its significance and to further reduce the burden of untreated pain and, consequently, improve dermatological patient care. The first part of this revision has a focus on epidemiological aspects, the definition of pain and current conceptual model, and the management of acute perioperative pain.
Downloads
Download data is not yet available.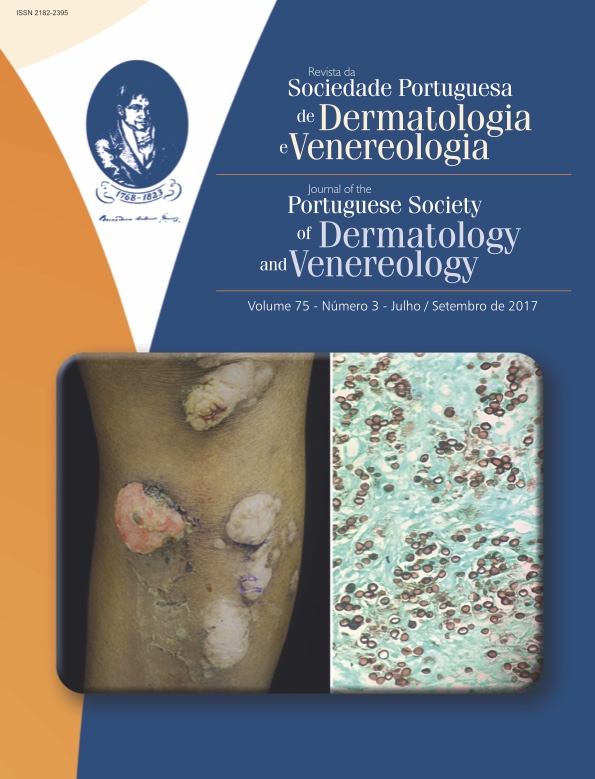 How to Cite
Duarte, B., Roberto, A., Cruz, S., & Cabete, J. (2018). Pain Management in Dermatology (Part I). Journal of the Portuguese Society of Dermatology and Venereology, 75(3), 265-272. https://doi.org/10.29021/spdv.75.3.815
All articles in this journal are Open Access under the Creative Commons Attribution-NonCommercial 4.0 International License (CC BY-NC 4.0).