Trichophytic Suture: Advantages and Surgical Applications
Ana Marta António

Interna do Internato de Formação Específica em Dermatovenereologia, Serviço de Dermatovenereologia, Hospital Garcia de Orta, Almada, Portugal

Rui Oliveira Soares

Assistente Hospitalar de Dermatovenereologia, Centro de Dermatologia, Hospital Cuf Descobertas, Lisboa, Portugal
Keywords:
Cicatrix, Dermatologic Surgical Procedures, Hair/transplantation, Scalp/surgery, Suture Techniques
Abstract
In hair transplant surgery, the final cosmetic result of donor area has been a growing concern among hair transplant surgeons. In the follicular unit transplant, the closure technique of donor area has been improved in order to produce thin and virtually invisible scars even in males with short hair. Trichophytic closure is a special suture technique that allows hair to grow through the donor scar and make it less visible. This technique has been explored in the follicular unit transplant but is also very useful in treatment of imperfect old scars and closure of wounds in hair-bearing areas such as the scalp, eyebrows and beard. The authors describe this surgical technique, its advantages and applications in other dermatology surgeries.
Downloads
Download data is not yet available.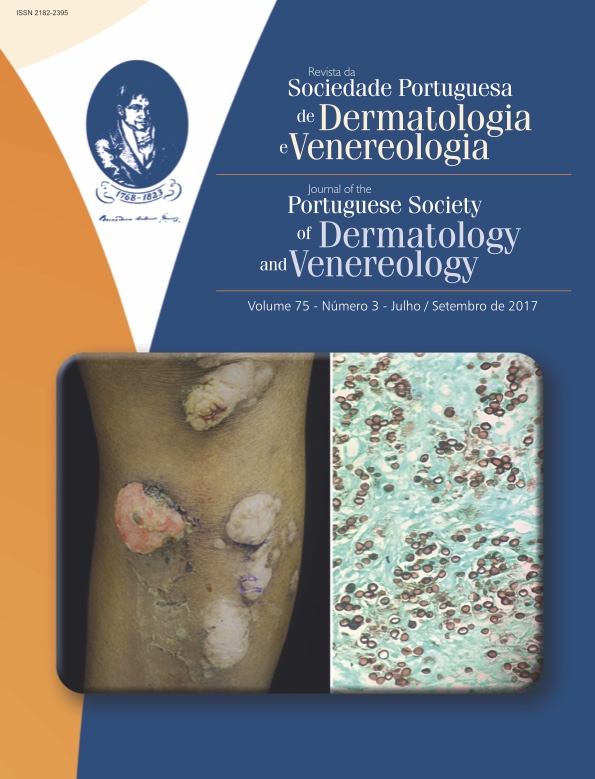 How to Cite
António, A. M., & Oliveira Soares, R. (2018). Trichophytic Suture: Advantages and Surgical Applications. Journal of the Portuguese Society of Dermatology and Venereology, 75(3), 273-275. https://doi.org/10.29021/spdv.75.3.816
Section
Surgical Dermatology
All articles in this journal are Open Access and meet the requirements of funding bodies or academic institutions. Each article published in the Journal is published under the Creative Commons Attribution-NonCommercial-NoDerivatives 4.0 International License (CC BY-NC-ND 4.0). Articles can be read, downloaded, printed, and shared.
Submission of an article for publication implies the authors' consent to publication under the applicable Creative Commons license and the terms and conditions of the Publisher's Licensing Agreement.
It is the author's responsibility to obtain permission to reproduce illustrations, tables, etc. from other publications.
Upon acceptance of an article, authors will be asked to complete a 'Journal Publishing Agreement'. An e-mail will be sent to the corresponding author confirming receipt of the manuscript together with a 'Journal Publishing Agreement' form or a link to the online version of this agreement.
Author rights: As an author you (or your employer or institution) have certain rights to reuse your work.
The Journal reserves the right to use plagiarism detection software on any submitted material.