Lobomycosis
Francisco Ronaldo Moura Filho

Médico Residente do Serviço de Dermatologia do Hospital Universitário Getúlio Vargas (HUGV), Universidade Federal do Amazonas (UFAM), Manaus (AM), Brazil

Aline Guimarães Grana

Médica Residente do Serviço de Dermatologia do Hospital Universitário Getúlio Vargas (HUGV), Universidade Federal do Amazonas (UFAM), Manaus (AM), Brazil

Gabriel Kenhinde Sobreira Fernandes de Macedo

Acadêmico de Medicina da Universidade Federal do Amazonas, Manaus (AM), Brazil

Walquiria Lima Tupinambá

Dermatologista Especialista pela Sociedade Brasileira de Dermatologia, Manaus (AM), Brazil

Sandra Adolfina Reyes Romero

Dermatologista Especialista pela Sociedade Brasileira de Dermatologia, Mestre em Medicina Tropical pela Universidade do Estado do Amazonas, Manaus (AM), Brazil

Patricia Chicre Bandeira de Melo

Dermatologista Especialista pela Sociedade Brasileira de Dermatologia, Mestre em Medicina Tropical pela Universidade do Estado do Amazonas, Manaus (AM), Brazil
Keywords:
Brazil, Dermatomycoses, Lacazia, Lobomycosis
Abstract
Lobomycosis or Jorge Lobo's disease is a chronic granulomatous infection, caused by the traumatic implantation of the fungus Lacazia loboi, that affects the skin and subcutis. This dermatosis is typical of tropical and subtropical regions and affects mainly active adult males working in the forest, but it has also been already diagnosed in dolphins. The lesions primarily involve exposed skin areas , such as the auricle, and the upper and lower limbs. Keilodal lesions are the main clinical presentation. Surgical removal is the therapeutic procedure of choice in the initial cases, whereas itraconazole and clofazimine, alone or in combination, may be used in disseminated lesions.
Downloads
Download data is not yet available.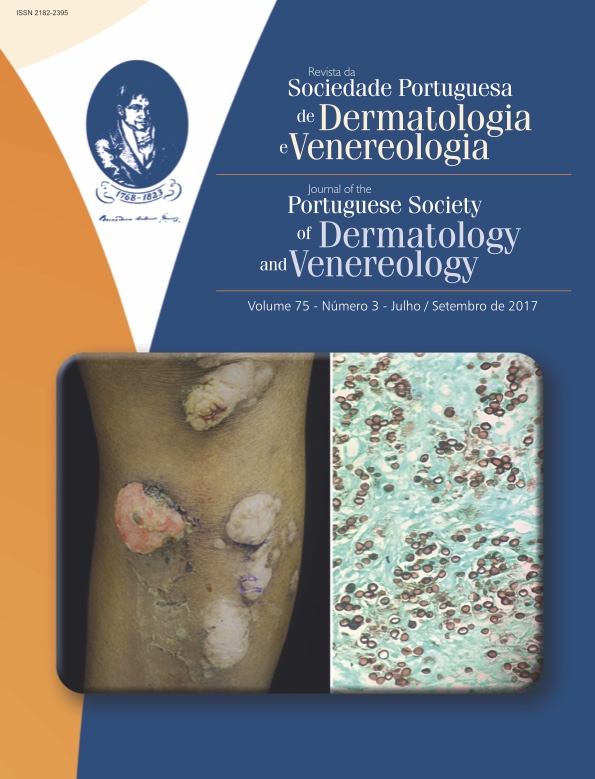 How to Cite
Moura Filho, F. R., Guimarães Grana, A., Kenhinde Sobreira Fernandes de Macedo, G., Lima Tupinambá, W., Reyes Romero, S. A., & Bandeira de Melo, P. C. (2018). Lobomycosis. Journal of the Portuguese Society of Dermatology and Venereology, 75(3), 289-292. https://doi.org/10.29021/spdv.75.3.819
All articles in this journal are Open Access under the Creative Commons Attribution-NonCommercial 4.0 International License (CC BY-NC 4.0).