Multiple and Superimposed Mongolian Spots in a Caucasian Child
Ana Marta António

Interna do Internato de Formação Específica em Dermatovenereologia; Serviço de Dermatovenereologia, Hospital Garcia de Orta, Almada, Portugal

Adelina Costin

Interna do Internato de Formação Específica em Dermatovenereologia; Serviço de Dermatovenereologia, Hospital Garcia de Orta, Almada, Portugal

Henriqueta Cunha

Assistente Hospitalar Graduada em Dermatovenereologia Serviço de Dermatovenereologia, Consulta de Dermatologia Pediátrica, Hospital Garcia de Orta, Almada, Portugal
Keywords:
European Continental Ancestry Group, Infant, Nevus, Pigmented, Mongolian Spot
Abstract
Mongolian spots are common birthmarks in newborns and their incidence and prevalence vary considerably between races, being the lowest in caucasian infants. Although traditionally regarded as benign, some reports suggested that extensive and multiple mongolian spots at aberrant locations and persistent beyond early childhood may co-exist with inborn errors of metabolism. However, this association is not well established. Besides, very few cases in literature reported a particular type of superimposed mongolian spots, whose physiopathological mechanism and clinical significance are unknown. We report a case of a 7-months-old caucasian male infant with multiple, extensive and progressive mongolian spots and also a superimposed mongolian spot located on the right hip.
Downloads
Download data is not yet available.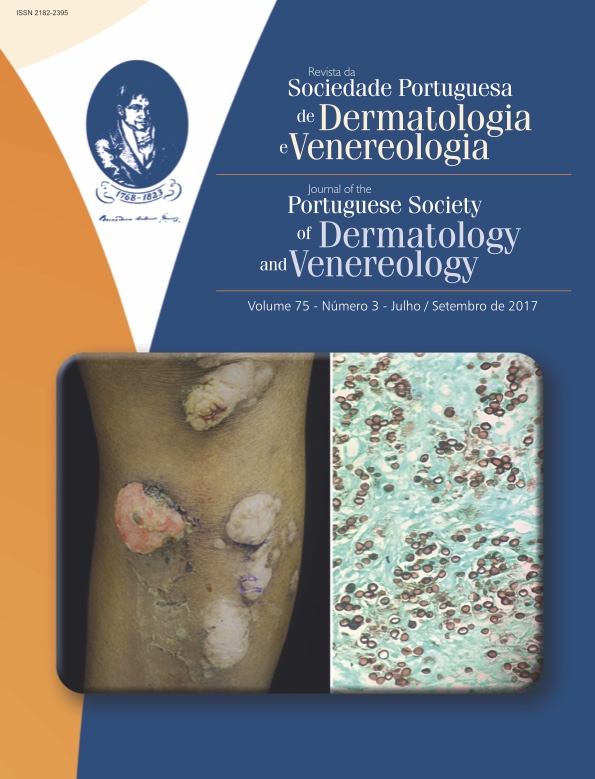 How to Cite
António, A. M., Costin, A., & Cunha, H. (2018). Multiple and Superimposed Mongolian Spots in a Caucasian Child. Journal of the Portuguese Society of Dermatology and Venereology, 75(3), 293-296. https://doi.org/10.29021/spdv.75.3.820
All articles in this journal are Open Access under the Creative Commons Attribution-NonCommercial 4.0 International License (CC BY-NC 4.0).