Advanced Merkel Cell Carcinoma: A New Case of Spontaneous Regression
Victoria Guiote

Centro Hospitalar Leiria-Pombal, Leiria, Portugal

Fernanda Cunha

Centro Hospitalar Leiria-Pombal, Leiria, Portugal

André Pinho

Centro Hospitalar e Universitário de Coimbra, Coimbra, Portugal

Ana Brinca

Centro Hospitalar e Universitário de Coimbra, Coimbra, Portugal

Ricardo Vieira

Centro Hospitalar e Universitário de Coimbra, Coimbra, Portugal
Keywords:
Aged, Carcinoma, Merkel Cell, Neoplasm Regression, Spontaneous
Abstract
Merkel cell carcinoma is an aggressive skin neoplasm affecting predominantly older or immunosuppressed patients. The progression to metastatic disease is frequent while spontaneous regression is quite uncommon. Chronic sun exposure and infection by Merkel cell polyomavirus are known etiopathogenic factors. An 89-year-old female was observed with a locally advanced Merkel cell carcinoma of the left nasal ala. Lymph node metastases in left submandibular region were clinically apparent and confirmed by fine-needle aspiration. A solitary metastasis in the liver was identified by positron-emission tomography/computed tomography with (68)Ga-DOTATOC. While she was waiting for palliative radiation therapy, the patient experienced a complete clinical remission of the primary tumor and regional lymph nodes metastases occurring after 6 weeks. A liver ultrasonography disclosed remission of the liver metastasis as well. The spontaneous remission is rarely reported in medical literature. As far as we know, this is the first report in Portugal. The underlying mechanism of the spontaneous remission remains unknown, although theoretically it can be explained by the development of an efficient immune response against the tumor.
Downloads
Download data is not yet available.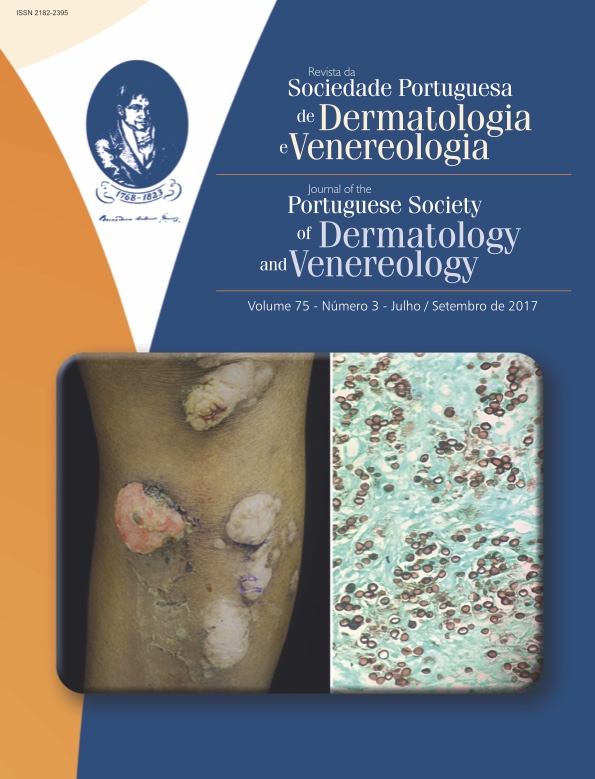 How to Cite
Guiote, V., Cunha, F., Pinho, A., Brinca, A., & Vieira, R. (2018). Advanced Merkel Cell Carcinoma: A New Case of Spontaneous Regression. Journal of the Portuguese Society of Dermatology and Venereology, 75(3), 301-304. https://doi.org/10.29021/spdv.75.3.822
All articles in this journal are Open Access and meet the requirements of funding bodies or academic institutions. Each article published in the Journal is published under the Creative Commons Attribution-NonCommercial-NoDerivatives 4.0 International License (CC BY-NC-ND 4.0). Articles can be read, downloaded, printed, and shared.
Submission of an article for publication implies the authors' consent to publication under the applicable Creative Commons license and the terms and conditions of the Publisher's Licensing Agreement.
It is the author's responsibility to obtain permission to reproduce illustrations, tables, etc. from other publications.
Upon acceptance of an article, authors will be asked to complete a 'Journal Publishing Agreement'. An e-mail will be sent to the corresponding author confirming receipt of the manuscript together with a 'Journal Publishing Agreement' form or a link to the online version of this agreement.
Author rights: As an author you (or your employer or institution) have certain rights to reuse your work.
The Journal reserves the right to use plagiarism detection software on any submitted material.