Trichoscopy as a Clue to the Diagnosis
Katarína Kieselová

Interna de Dermatologia e Venereologia/Resident of Dermatology and Venereology, Centro Hospitalar de Leiria, Leiria, Portugal

Felicidade Santiago

Assistente Hospitalar de Dermatologia e Venereologia/Consultant of Dermatology and Venereology, Centro Hospitalar de Leiria, Leiria, Portugal

Victória Guiote

Assistente Hospitalar de Dermatologia e Venereologia/Consultant of Dermatology and Venereology, Centro Hospitalar de Leiria, Leiria, Portugal

Martinha Henrique

Assistente Hospitalar de Dermatologia e Venereologia/Consultant of Dermatology and Venereology, Centro Hospitalar de Leiria, Leiria, Portugal
Keywords:
Dermatitis, Exfoliative, Netherton Syndrome
Abstract
A 43-year-old man presented to our department with generalized erythroderma since early childhood, previously treated with topical and systemic corticosteroids with only partial improvement. The physical examination revealed polycyclic erythematous scaly plaques on the trunk and extremities and lichenification of the body folds (Fig. 1). In addition to skin lesions, we observed sparse hair of both eyebrows and eyelashes, however hair of the scalp was normal. The patient had a history of asthma in childhood. The family history was non- -contributory and the patient didn't have any children. Analytically, routine blood tests were normal, however an elevated serum level of IgE 29650 UI/mL (N < 165) was detected. We performed trichoscopy of the eyebrows that showed nodules along the hair shaft and distal fractures (Fig.s 2a and 2b). The trichoscopic examination of the hair of the scalp did not identify any changes.
Downloads
Download data is not yet available.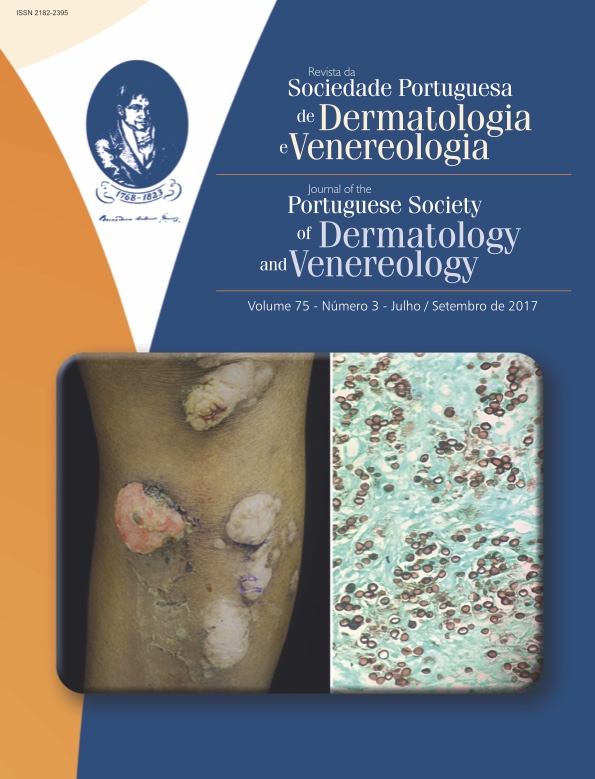 How to Cite
Kieselová, K., Santiago, F., Guiote, V., & Henrique, M. (2018). Trichoscopy as a Clue to the Diagnosis. Journal of the Portuguese Society of Dermatology and Venereology, 75(3), 309-311. https://doi.org/10.29021/spdv.75.3.824
All articles in this journal are Open Access and meet the requirements of funding bodies or academic institutions. Each article published in the Journal is published under the Creative Commons Attribution-NonCommercial-NoDerivatives 4.0 International License (CC BY-NC-ND 4.0). Articles can be read, downloaded, printed, and shared.
Submission of an article for publication implies the authors' consent to publication under the applicable Creative Commons license and the terms and conditions of the Publisher's Licensing Agreement.
It is the author's responsibility to obtain permission to reproduce illustrations, tables, etc. from other publications.
Upon acceptance of an article, authors will be asked to complete a 'Journal Publishing Agreement'. An e-mail will be sent to the corresponding author confirming receipt of the manuscript together with a 'Journal Publishing Agreement' form or a link to the online version of this agreement.
Author rights: As an author you (or your employer or institution) have certain rights to reuse your work.
The Journal reserves the right to use plagiarism detection software on any submitted material.