Aquagenic Plantar Keratoderma: A Case Report
Fernanda Silveira Costa

Pós-graduanda de dermatologia pelo Hospital Universitário Pedro Ernesto/ Universidade Estadual do Rio de Janeiro, Brasil

Victor Bechara de Castro

Residente de dermatologia pelo Hospital Universitário Pedro Ernesto/ Universidade Estadual do Rio de Janeiro, Brasil

Marina Câmara de Oliveira

Pós-graduanda de dermatologia pelo Hospital Universitário Pedro Ernesto/ Universidade Estadual do Rio de Janeiro, Brasil

Maria de Fátima Guimarães Scotelaro Alves

Professora adjunta do Serviço de Dermatologia do Hospital Universitário Pedro Ernesto/ Universidade do Estado do Rio de Janeiro, Dermatologista pela Sociedade Brasileira de Dermatologia, Brasil

Arles Brotas Martins

Médico Dermatologista pela Sociedade Brasileira de Dermatologia e pelo Serviço de Dermatologia do Hospital Universitário Pedro Ernesto/ Universidade do Estado do Rio de Janeiro, Brasil
Keywords:
Keratoderma, Palmoplantar/diagnosis, Palmoplantar/therapy
Abstract
Aquagenic keratodermais a rare acquired disorder, most prevalent in young female patients, affecting mainly palmar and plantar regions. Clinically, it presents as translucent edematous papules that after a brief immersion in water turn into a wrinkling skin surface, and resolve after drying the affected region. There are associations with several diseases and Cystic Fibrosis is the most related. We report a peculiar clinical case of the disease, with unilateral edematous hypochromic plaque on left heel with good response to treatment with 3% salycilic acid in vaseline. There was no respiratory involvement.
Downloads
Download data is not yet available.
References
Coelho-Macias V, Fernandes S, Lamarão P, Assis-Pacheco
F, Cardoso J. Acroqueratodermia aquagenica associada
a uma mutacão do gene da fibrose quística.
Rev Port Pneumol. 2013;19:125-8. doi: 10.1016/j.rppneu.
10.005.
Garçon N, Roguedas AM, Misery L, Audrezet MP, Ferec C.
Keratodermie palmoplantaire aquagenique chez un patient
heterozygote pour la mutation Delta F508 de lamucoviscidose.
Ann Dermatol Venereol. 2008;135:232–4.
Tchernev G, Semkova K, Cardoso JC, Ananiev J, Wollina
U. Aquagenic keratoderma. Two new case reports
and a new hypothesis. Indian Dermatol Online J. 2014;
:30-3. doi: 10.4103/2229-5178.126025.
Ertürk-Özdemir E, Özcan D, Seçkin D. Acquired aquagenic
syringeal acrokeratoderma: A case series of
patients. Australas J Dermatol. 2015; 56:e43-5.
doi: 10.1111/ajd.12122. Angra D, Angra BK, Rodney
J. Aquagenic palmo plantar keratoderma with
dorsal hand involvement in an adolescent female.
JAAD Case Reports. 2016; 2:239-40. doi: 10.1016/j.
jdcr.2016.05.016.
Pastos MA, Gonzales L, Kilmurray L, Bautista P, Lopez,
A.; Puig, A.M. Queratodermia acuagénica: três nuevos
casos y revisión de la literatura. Actas Dermosifiliogr.
;99:399-406.
Garcon-Michel N, Roguedas-Contios AM, Rault G, Le
Bihan J, Ramel S, Revert K, et al. Frequency of aquagenic
palmoplantar keratoderma in cystic fibrosis: a new
sign of cystic fibrosis? Br J Dermatol. 2010; 163:162–6.
doi: 10.1111/j.1365-2133.2010.09764.x.
Houle MC, Al Dhaybi R, Benohanian A. Unilateral
aquagenic keratoderma treated with botulinum toxin
A. J Dermatol Case Rep. 2010;4:1–5. doi: 10.3315/
jdcr.2010.1045.
Khuu PT, Duncan KO, Kwan A, Hoyme HE, Bruckner AL.
Unilateral aquagenic wrinkling of the palms associated
with aspirin intake. Arch Dermatol. 2006; 142:1650-
doi : 10.1001/archderm.142.12.1661.
D'erme AM, Braggion C, Martino M, Greco A. Aquagenic
palmoplantar keratoderma: a sign of cystic fibrosis
early in life. Int J Dermatol. 2014; 53:e536–8. doi:
1111/ijd.12452. Epub 2014 Jul 29.
Cabrol C, Bienvenu T, Ruaud L, Girodon E, Noacco G,
Delobeau M, et al. Aquagenic palmoplantar keratoderma
as a CFTR-related disorder. Acta Derm Venereol.
; 96:848-49. doi: 10.2340/00015555-2424.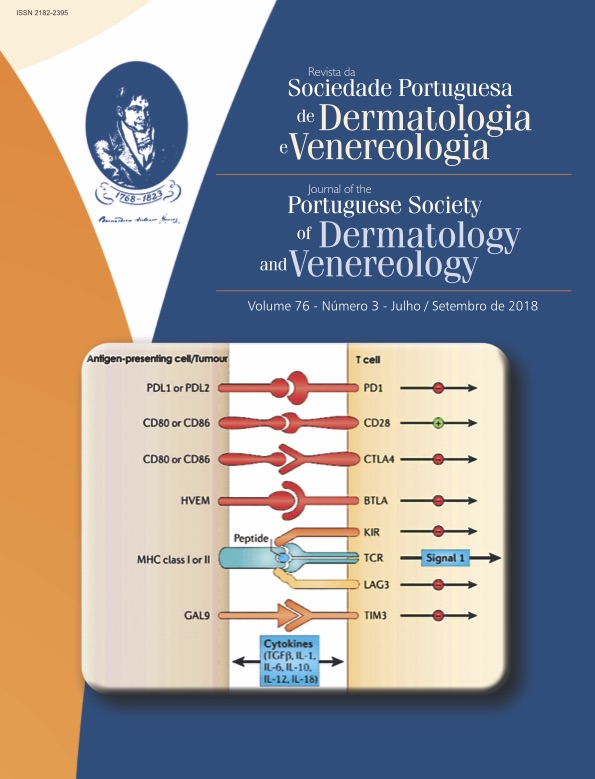 How to Cite
Silveira Costa, F., Bechara de Castro, V., Câmara de Oliveira, M., Guimarães Scotelaro Alves, M. de F., & Brotas Martins, A. (2018). Aquagenic Plantar Keratoderma: A Case Report. Journal of the Portuguese Society of Dermatology and Venereology, 76(3), 333-336. https://doi.org/10.29021/spdv.76.3.841
All articles in this journal are Open Access under the Creative Commons Attribution-NonCommercial 4.0 International License (CC BY-NC 4.0).